Why Clayton Echard Is Reportedly Nervous About His Fantasy Suites Episode Airing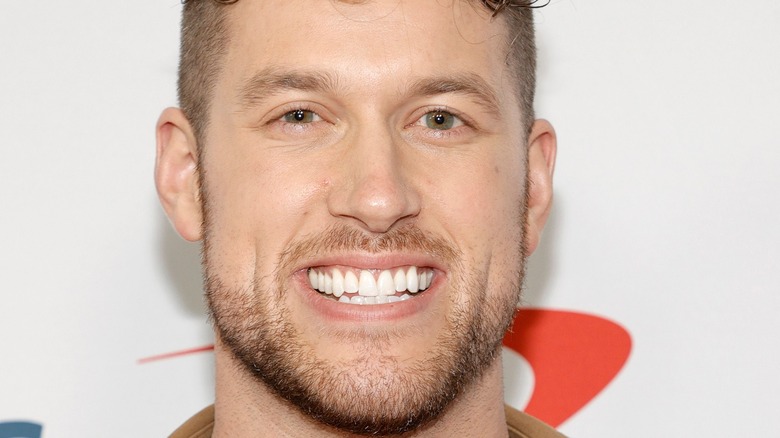 Amy Sussman/Getty Images
Clayton Echard began taking criticism as soon as he was named the newest star of "The Bachelor." The former football player has been trolled by online haters, and he was even questioned by former stars of the "Bachelor" franchise. However, through it all, Echard said he's tried to show his personality and heart to viewers (via People).
"I thought, 'This is going to be great. Everyone's going to come around, start seeing my personality,' and people weren't," Echard revealed during an appearance on Nick Viall's podcast, The Viall Files (via People). "It seemed like no matter what they showed, even when they showed my personality, showed me being goofy, people would still say, 'He has no personality.' It's like, what more do you want to see?" Echard continued.
"It doesn't matter at this point to me, because I'm happy with people I have in my life and that's ultimately what's pushing me forward," Echard stated, adding that he believes he "handled" the role of "Bachelor" to the "best of his ability," and even picked up some valuable lessons along the way.
Despite these declarations, it seems like Echard may be in for more online criticism in the coming weeks as his journey winds down and situations play out for the audience on the remaining episodes of the show. In particular, the "Bachelor" star is reportedly nervous about his fantasy suites episodes airing.
Clayton is worried about criticism surrounding his season
According to E! News, Clayton Echard is mentally preparing himself for what fans of "The Bachelor" are going to see in upcoming episodes. Watching the show play out has reportedly been tough for Echard, who is said to be struggling with the criticism he's been facing for the decisions he's made as "The Bachelor." The 28-year-old is worried about what fans will think of the way his season ends.
"He knows things could get worse for him over the next few weeks as fantasy suites come into play," a source told the outlet. "Clayton does indeed fall in love with multiple women, and many hearts are broken in ways we have really never seen before," the insider continued. They added that Echard even enlisted the advice of former "Bachelor" stars to help him through the situation. "Clayton is so concerned with how things will play out that he even reached out to former Bachelors Matt James and Nick Viall for their advice and support."
Meanwhile, "Bachelor" host Jesse Palmer told fans back in January that Echard's season will be unlike any before it. "Viewers at home will see things this season that they've never seen in 20 years having watched The Bachelor," Palmer said. "Sometimes those decisions to a lot of people at home may feel like they're sort of straying off the beaten path. It's not as formulaic as what we've seen in recent seasons, but I think that's a little bit refreshing about him."
Only time will tell how fans will react to these particular episodes!