The Heartbreaking Death Of British Actress Anna Karen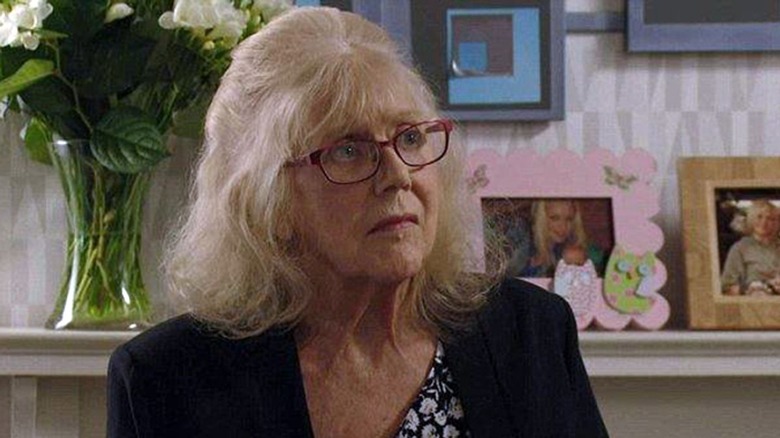 BBC
On Tuesday night, the London Fire Brigade confirmed that famed British actress Anna Karen had died in a house fire in east London. The actress was 85 years old. According to BBC, the fire does not appear to be suspicious in any way. "She was a great actress, a great comedian, and a great soul," Karen's agent, Shane Collins, told BBC.
At least in Great Britain, Karen was a legend, rising to A-list status as Olive on the popular sitcom "On the Buses," which ran from 1969 to 1973, and as Aunt Sal on the British soap opera "EastEnders" until 2017, per BBC. More than anything, Karen had proven herself to be a great actress and comedian, and had received the admiration of millions for decades — though sometimes this affection was a bit raunchy. "I shall always be grateful to 'On The Buses' for such happy memories," Karen told The Mirror in 1996. "... All our mail at 'On The Buses' was censored because some of it was really quite raunchy. ... I used to get a lot of fan mail as Olive, believe it or not. It was all from men. Let's face it, she's the ideal wife for a lot of blokes, sex-mad and she kept her mouth shut!"
Upon learning of her death, many of Karen's former co-stars and friends took to social media to pay tribute to the actress.
Several of Karen's co-stars and friends wrote touching tributes to the actress
After learning that their friend and co-star died, many wrote meaningful messages about Anna Karen on social media. Singer Cheryl Baker, Karen's friend, posted her own message on Twitter. "I have just heard the awful news that my fabulous mate, #AnnaKaren has died in a house fire," Baker tweeted. "What a horrific way to die, I can't bear to think about it. I adored her — She was an absolute treasure, both on and off the screen."
A spokesperson for "EastEnders" also wrote a tribute to Karen and her popular tenure on the soap opera. "We are deeply saddened to hear that Anna Karen has passed away," the spokesperson said in a tweet. "Anna created a sharp, quick-witted and extremely popular character in Aunt Sal that the audience will never forget, just as those who worked with her at EastEnders will never forget her warmth, kindness fun, and good humor. Our love and thoughts are with Anna's family and friends."
According to BBC, Karen was married to actor Terry Duggan from 1967 until his death back in 2008. Since she had a fall at home in 2016, Karen had been mostly bed-bound. The couple had no children together.