The Adorable Story Behind Zahara Jolie-Pitt's Eternals Red Carpet Look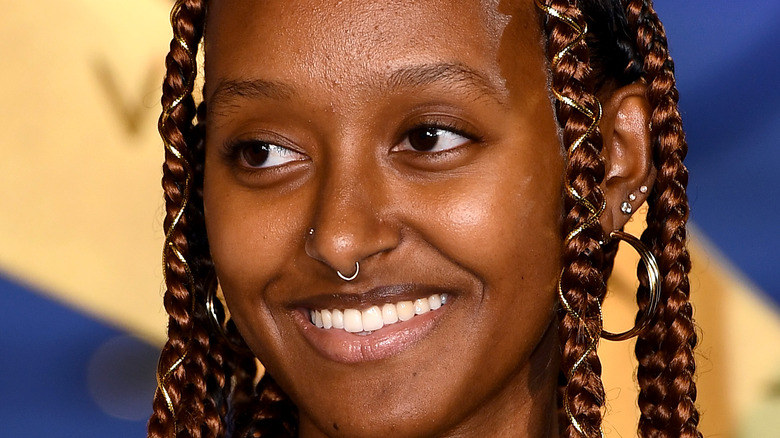 Dave J Hogan/Getty Images
Could you imagine growing up with a celebrity parent? What about being raised by one of Hollywood's most popular couples? For Zahara Jolie-Pitt, that has been her reality (via Hollywood Life). She was adopted at six months old by Brad Pitt and Angelina Jolie from her native country, Ethiopia. She grew up in the Hollywood scene with five siblings, and two of the most famous actors for her parents.
Jolie-Pitt has chosen to follow in the footsteps of Angelina and Pitt. According to her IMDb profile, Jolie-Pitt broke into acting as the voice of Meng Meng in the hit animated film "Kung Fu Panda 3." Prior to that, she had an uncredited extra role in her mom's film "Maleficent," and was featured as one of the 20 cutest celebrity babies in an episode of "VH1: All Access."
Jolie-Pitt is no stranger to hitting the red carpet, either. She's been posing in front of the cameras even before she began acting. Recently, she took to the red carpet for a Marvel Cinematic Universe premiere with her family, and fans can't get enough of the cute story behind her look.
She wore a special dress to the premier
Angelina Jolie and her family recently attended the premiere of her latest movie, Marvel's "Eternals," a film she loved being a part of (via The Indian Express). She saw parallels to her own family in the diversity of the cast. "Obviously, with my own family, I'm a big believer in love and diversity and see every day the strength that comes from and the deeper understanding of each other. So I was really drawn to that (the film) for that reason," Jolie explained in a roundtable interview about the film, per The Indian Express.
While she looked stunning, it was her daughter Zahara Jolie-Pitt who stole the show on the red carpet at film's premiere. She was seen wearing a beautiful dress that once belonged to Jolie herself (via USA Today). The dress features a beautiful sheer neckline and silver rhinestones and both Angelina and Zahara have looked stunning in it. Jolie previously wore the garment at the 2014 Oscars. Now, she passed it down to her eldest daughter, making this premiere extra special.