The Most Loved General Hospital Couple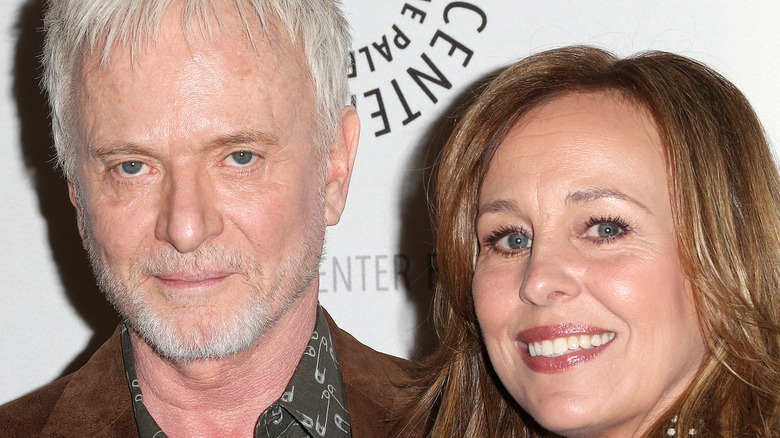 Frederick M. Brown/Getty Images
"General Hospital" is the soap that gave daytime television fans Luke and Laura. Played by Genie Francis and Tony Geary, Luke and Laura were perhaps the most popular and famous soap opera couple of all time. The two have been a thing of the past since Geary left the soap for good in 2015 and new love stories have emerged through the years.
In 2021, "GH" did what fans often call a massive couple shuffle. Essentially, the show took some of its most popular pairs and broke them up to see how they would work with others. From Jason (Steve Burton) and Sam (Kelly Monaco) to Finn (Michael Easton) and Anna (Finola Hughes), it was surprise break up time. The couple shuffle also mixed and matched different characters together to see who would work with whom and then did a slow burn throughout the year. Rather than instant love, characters got the chance to know one another so that 2022 could bring the love in the afternoon ABC soap fans have been used to for decades.
Several new burgeoning pairs emerged from a year full of on-screen chemistry experiments and things are finally starting to happen between them. It feels like a soap opera again on "GH" as first kisses and stolen kisses become the norm, but who do fans love the most out of these new Port Charles pairs?
'GH' fans can't wait to see what happens to Chase and Brook Lynn
When Josh Swickard's Harrison Chase (typically called Chase) and Amanda Setton's Brook Lynn Quartermaine first met in 2019, it seemed like instant hate. In fact, Brook Lynn did so many things to bend the law that Detective Chase had to arrest her frequently and bring her down to the Port Charles police station. That didn't set them on the best course, but in 2020, they finally became friends when Brook Lynn needed a place to stay and Chase gave her his couch.
In 2021, Chase and Brook Lynn grew even closer with Brook as his friend to confide in when he nearly died from Peter August poisoning him and finally broke free of his relationship with Willow Tait (Katelyn MacMullen). He also figured out that Brook Lynn was not baby Bailey's mother, but he pretended to be the baby's father to protect her from her real father, Peter August (Wes Ramsey) — with her mom hiding the baby in plain sight with Chase and Brook Lynn.
That brought them closer as they played house together and finally shared their first real kiss in early February. When the website Soap Hub polled readers and asked which new couple is their favorite, 69% of those who responded chose Brook Lynn and Chase as the one that intrigues them the most. However, there are two other burgeoning pairs who have fans' attention.
Two more 'General Hospital' pairs who are becoming quick favorites
While "General Hospital" fans can't seem to get enough of Chase and Brook Lynn, they also enjoy watching Anna Devane (Finola Hughes) and Valentin Cassadine (James Patrick Stuart) finally admit they have feelings for one another. While, Valentin has harbored feelings for Anna for decades, when he arrived in Port Charles in 2016, they were enemies. They eventually became frenemies and then eventually friends. A few quick kisses in 2021 turned into long and lasting kisses as they rang in 2022, making them a runner up in Soap Hub's poll with 21% of readers excited to see what happens with this pair next.
Maxie Jones (Kirsten Storms) is finally free of the dastardly Peter August and got her baby back from Chase and Brook Lynn, but the mystery doctor who found Maxie in the woods and delivered that baby last spring summer seems to like Maxie as more than just a patient. Maxie also seems to like Austin Holt (Roger Howarth) as more than just a doctor, which makes them a third pair the "GH" audience has on its radar with 10% of the vote in Soap Hub's poll.