These Are The Best Orange Lipsticks Out There
The end of mask mandates and the beginning of vaccine card systems signaled a new 2022 makeup trend: the orange lipstick. "For makeup lovers, our lips and faces have been under wraps for so long," celebrity makeup artist Victoria Stiles told Bustle. "We're now gravitating toward bolder colors to express ourselves in new ways." Now, as the Omicron variant recedes, we're probably going to see bright orange again this spring.
The popularity of orange lipsticks may also lie in the fact that they complement all skin tones in a way that rivals the ever-popular red lipstick. "It's a power color that adds vibrancy to every complexion and mood any time of year," makeup artist Tommy told Allure. Of course, you still need to factor your skin's undertones and the finish you want — but we've done the research for you. Read on to find some of the best orange lipsticks out there, for every skin tone.
This color works with every skin tone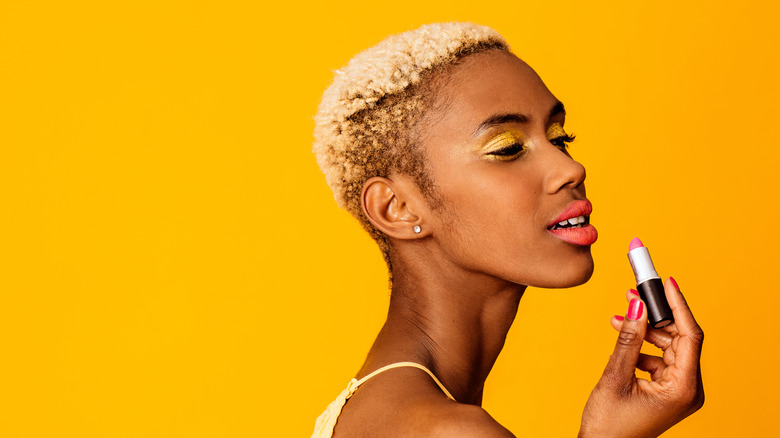 CarlosDavid/Shutterstock
There's a pretty simple formula when figuring out what shade of orange works on you. Makeup artist Molly Thompson-Tubridy explained to Bustle, "It all depends on the amount of yellow in your undertone: The more warm and golden your skin is, the more yellow your lipstick should be, and vice versa." However, for bolder looks, do the opposite.
If you're new to the orange lipstick trend and just want to test the colors, a great way to start is with a lip stain. The L'Oreal Paris Rouge Signature Lightweight Matte Lip Stain ($4.99) in the color Achieve offers an orange stain with a matte finish that you can build on with other colors. It has 4.4 out of 5 stars from 8000 reviewers so you know it's a purchase worth making. Ready for commitment? Try Charlotte Tilbury's K.I.S.S.I.N.G Lipstick ($34) in Coral Kiss, for a perfect satin-finish of rosy pink and orange that earned it an Allure Best of Beauty Award.
Makeup artist Tommy recommends the MAC Lipmix ($18) in Orange to Allure, as the highly pigmented formula can be added and mixed with other shades. The Milani Color Statement Lipstick ($5.99) in Orange-Gina is another option that a reviewer says is her "new go-to for Spring lips" (via Musings of a Muse). Clearly, it's the perfect addition for your spring (and then summer) ensembles. Now, check out the best eye makeup looks to pair with orange lipstick.