The Truth Of The Tonight Show's Band The Roots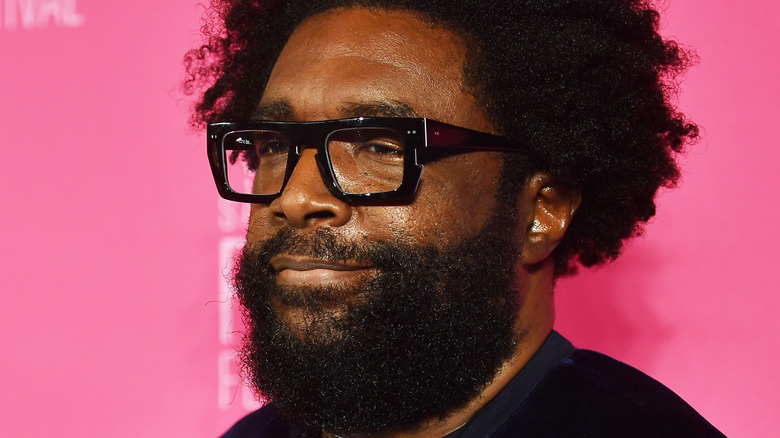 Paras Griffin/Getty Images
Most of us can't imagine "The Tonight Show Starring Jimmy Fallon" without its iconic house band The Roots. So, you may be surprised to learn that it was initially an unexpected entertainment pairing (via Brooklyn Magazine).
First of all, it's important to keep in mind that The Roots have been around since the '90s. The band has long been known for its eclectic jazzy, hip-hop vibe and fervent expression of social critique. Rapper Black Thought (Tariq Trotter) — one of the group's founding members — drove the point home in an interview with Rolling Stone. "I'm always going for a level of sociopolitical commentary. That's the no-brainer element that's going to be there no matter what."
It's also generally a no-brainer that network television programs like to play it safe in business collaborations (via Brittanica). So, how did The Roots — fresh off two albums of scorching hellfire social commentary on racism and school shootings (2006's "Game Theory" and 2008's "Rising Down") — land one of the cushiest jobs in late-night television music (via Uproxx)?
It turns out that it can be summed up in one unexpected word — silliness.
Jimmy Fallon wooed The Roots with a spontaneous cheerleader-pyramid
The Roots are known for a serious but artistic approach to self-expression, but band is simultaneously celebrated for its eclectic appeal (via Today). They've collaborated with musicians as wide-ranging as Mos Def, Elvis Costello, and John Legend and even toured with Dave Matthews Band in 2017 (via Discogs, Brooklyn Magazine). That universal reach caught the eye of Jimmy Fallon when he was looking for a house band for his talk show in 2008.
Band co-founder Questlove recalls Fallon's unexpected play in the early discussion stage. In an interview with Brooklyn Magazine, he explains that Fallon visited them at UCLA's Spring Fling and up-ended their existing assumptions about what it might be like to work together. "I was doing an interview in a trailer, and when I walked out ... the eight of them — Fallon and the seven Roots — were making a human pyramid. He was able to disarm us in seconds."
The spur-of-the-moment shenanigans immediately put Questlove at ease. If the comedian could get his bandmates to scuff up their kicks on a whim, who knows what else they could accomplish together? "He was silly and was just proud of it. And was so silly that it made us silly. Like, we rock $500 sneakers. I'm not getting my knees dirty on the grass at UCLA to do a human pyramid! Like, imagine the Wu-Tang Clan decided to play in a playground. That's what it looked like."
The Roots' down-for-anything work ethic is a perfect fit for Jimmy Fallon's show
As Britannica recounts, there was a lot of skepticism surrounding The Roots joining "Late Night with Jimmy Fallon." Many fans felt the gig was far too corporate and would be the creative downfall of the innovative hip-hop band.
As it turns out, the doubters could not have been more wrong. From a music standpoint, Uproxx reports that the band released six new albums since joining the show. In addition to that, The Roots stayed with Jimmy Fallon when the comic earned the highly-coveted gig hosting "The Tonight Show," which, in 2014, was rebranded "The Tonight Show Starring Jimmy Fallon."
The team has been unstoppable, and The Roots contribute, not just musically but also within skits and bits. Black Thought, Questlove, and other band members aren't shy about the occasional costume. They are central to recurring segments "Freestylin' With The Roots," "Slow Jam The News," and the "History of Hip-Hop," which features both Fallon and Justin Timberlake.
Above all, the member of The Roots have prioritized creativity and collaboration. So, it's pretty logical that a silly, hard-working comedian convinced them to take a chance on a corporate gig.