Why People Are Loving The Flapper-Girl Eye Look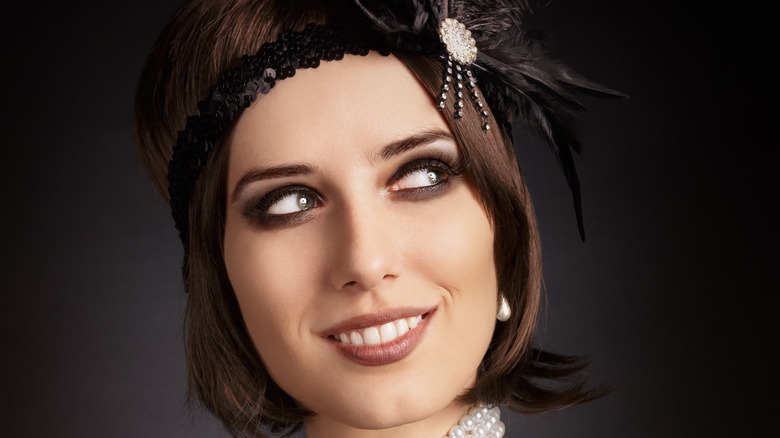 Nicoleta Ionescu/Shutterstock
When the latest issue of Variety hit shelves in late February, chart-topping singer and flutist Lizzo graced the cover with a 1920s inspired hair and makeup look. The shot featured Lizzo sporting a side parted pixie cut, highly arched eyebrows, and a bold mint green shadow. Accessorized with art deco-inspired baubles, the flapper-inspired ensemble was a hit. The modern take on retro trends from the "Truth Hurts" artist all but confirmed that vintage vibes would be making a major comeback this season (via Allure). 
Celebrities like Zendaya, Julia Fox, and Rihanna have also been seen rocking 1920s inspired glam on magazine covers and red carpets, officially bringing the Roaring '20s to the forefront of beauty (via Marie Claire). 
When the ultra gram looks first rose to mass popularity in the 1920s, women were experiencing new freedoms that came with a desire for more self expression and fun with beauty (via History). While the pandemic coming to an end looks a bit different than the Prohibition era parties of the past, the desire to let loose echoes a similar feeling.
The flapper beauty trend has been popping up in the form of finger wave hairstyles, bold red lips, and graphic eyeliner, making it the perfect time to experiment with the bolder products that have been sitting in your makeup drawer. This is why people are loving the flapper-girl eye look in particular.
Flapper looks caught social media attention
Flapper inspired beauty is officially trending, according to TikTok. With millions of views on the "1920smakeup" hashtag, it's clear that the app's users have been experimenting with this new look (via Allure). Trend forecaster Marissa Spagnoli has noticed the increasing popularity of the flapper-girl eye look, and she's predicting that these trends will have some staying power.
Speaking with Allure, Spagnoli said, "Where I see this trend going is people trying very subtle versions of 1920s beauty. I've seen creators doing downturned eye shadow looks, or that super snatched, pulled-back blush look, or a little star, pearl, or diamond detail on the inner eye — that's where the subtle ['20s] inspiration comes in." Following the years of COVID-19 and having less focus on beauty and expression, Spagnoli theorizes that women are ready to incorporate some bold looks into their daily routine. 
To master this look yourself, start by thinning out your eyebrows. To do this, you'll use a dark brow pencil to fill in the upper portion of your eyebrows. This gives the illusion of thinning without committing to hair removal. Next, apply a few layers of black or dark gray eyeshadow across your entire lid to give yourself a smoky look. Be sure to bring the eyeshadow down to the lower lash line as well for optimal drama. 
Finally, you'll apply black eyeliner along your upper lash line, and a thick coat of mascara to your upper and lower lashes to complete the flapper-girl look that's all the rage (via Cosmopolitan).