Jeremiah Duggar's Wedding Date Follows A Family Tradition
It seems that any given week brings a new twist in the lives of the Duggar family, and this week is no exception. In an announcement they posted to their Instagram accounts on February 24, Jeremiah Duggar and his fiancée, Hannah Wissman, said, "Marrying my best friend 30 days from today!" What's more interesting, though, is that Jeremiah only just proposed on January 6. In that short time, Wissman has already chosen a dress and had her bridal shower, so she's no doubt busy with last-minute menu and seating details by now.
According to The Knot, most American engagements last an average of 15 months. However, the "19 Kids and Counting" clan operates on their own timetable. Of the 10 Duggar children who are already married, Joseph, Jessa, and Josiah all had three-month engagement periods (via Showbiz Cheat Sheet). Following suit, Justin married Claire Spivey in February 2021 after proposing to her in November 2020. Jeremiah's twin, Jedidiah, had one of the shortest engagements after marrying in April following a Valentine's Day proposal (via Hollywood Life). 
Another short engagement was with Jill Duggar Dillard, who wed Derick Dillard in June after getting her diamond in March 2014 (via Us Weekly). So, what's behind this unusual family tradition? 
The Duggars don't see the need for long engagements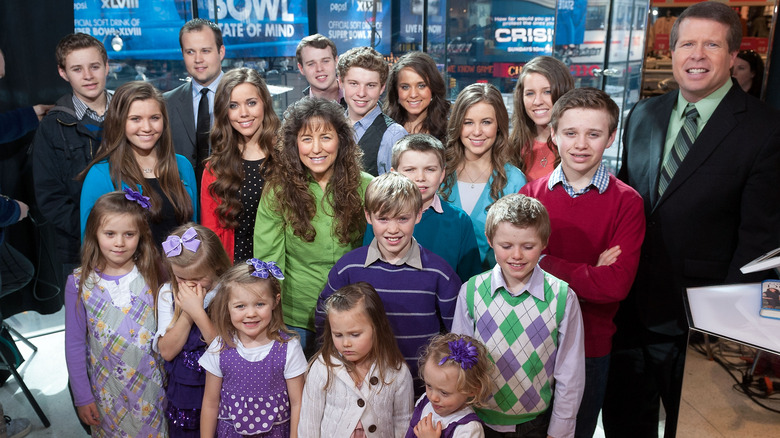 D Dipasupil/Getty Images
As fans of the "Counting On" series know, the Duggar family belongs to an independent Baptist denomination that holds a very traditional view of marriage and family. They believe that casual dating is too often "just for fun," rather than a means of finding the spouse that God has in mind for them. With that in mind, the Duggars prefer to practice a "courtship" process in which couples get to know one another through supervised family outings. 
Courting couples are also expected to be accountable to an older mentor who can "[support] the couple's goal to honor God and one another with purity in their words and actions," per the Duggar website. That purity includes physical contact; the Duggar daughters didn't even hold hands until they were engaged (via Romper). If the courtship works out, a proposal is expected to follow. Since the ultimate goal is marriage, it makes sense that the Duggars wouldn't want to waste time with a long engagement.
One extended family member put it much more directly. Shortly after 18-year-old Justin Duggar announced his engagement, a fan remarked about it on sister Jill Duggar Dillard's Instagram account. "Why do you guys rush to marry [so soon in] life?" the fan asked. Jill's husband, Derick, replied bluntly: "Because we want to have sex" (via Daily Mail).
Indeed, once they said their vows, the 10 married Duggar children got busy starting families of their own. The siblings have 22 children between them, with one more expected this spring (per ET Online).