Jill Duggar Dillard's Husband Reveals The Shocking Truth Behind This Famous Interview
Once a seemingly cheerful member of the famous "19 Kids & Counting" family, Jill Duggar Dillard has since become almost as famous for breaking away from it. In recent years, she has revealed that she is estranged from her parents, in part because her father, Jim Bob Duggar, withheld her TV earnings (via In Touch Weekly). Now, another shocking twist to her story is coming to light.
As children, Jill, three of her sisters, and a babysitter were molested by their oldest brother, Josh Duggar, who was 15 at the time. Their parents sent Josh to a Christian "training center" and reported the incidents to the police (per The Washington Post). However, the report was leaked to a tabloid, and soon the world knew that TV's wholesome Duggars were living with a horrible secret. In a damage-control move, parents Jim Bob and Michelle, along with Jill and her sister Jessa Duggar Seewald, sat for an interview with Fox News' Megyn Kelly. 
Jim Bob and Michelle said their son had made "bad choices" out of adolescent curiosity. The fact that Josh had confessed his actions to them, they said, was a hopeful sign. Jill and Jessa directly denied that their brother was a child molester, and expressed their gratitude to their parents for "going the extra mile" to protect them.  All of them had said they had forgiven Josh and moved on, and blamed the media for sensationalizing an unfortunate indiscretion (via Salon and Us Weekly). 
But, was this show of family unity all an act?
Derick Dillard says Jill was 'coached' to defend her brother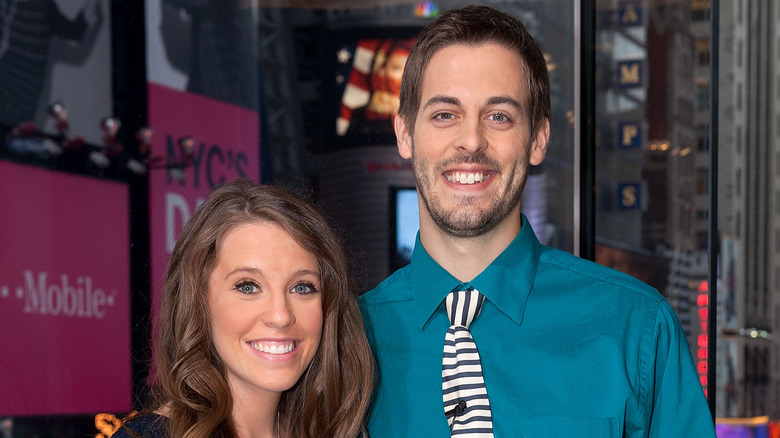 D Dipasupil/Getty Images
Recently, Jill Duggar Dillard and three of her sisters lost an invasion-of-privacy lawsuit against their Arkansas city and county for publicly identifying them as sexual abuse victims (via People). This prompted Jill and her husband, Derick Dillard, to express their angered reaction in a statement on their personal webpage, which in turn caused a stir on social media.
Katie Joy, who reports on the Duggars and other reality stars on her Without a Crystal Ball blog, posted about the Dillards' comments, which led to a lively discussion in which the Megyn Kelly interview was mentioned. One follower expressed skepticism about "get[ting] paid for an interview about the situation you're claiming to have been defamed by," and Derick himself retorted, "We were not paid a single cent, and the whole ordeal was borderline duress/coercion. ... The opposite is true, it was devastating."
Joy personally reached out to Derick to get clarification. "I asked him if Jill was given a script to follow during the interview," she said. "Derick Dillard told me this, 'I'm pretty sure, but I honestly don't remember 100%. It was nearly [seven] years ago. I do know she was heavily coached to stay within a certain narrative.' He then asserted that the interview was not done voluntary by Jill." 
If you, or anyone you know, have been a victim of sexual assault, help is available. Visit the Rape, Abuse & Incest National Network (RAINN) website or contact RAINN's National Helpline at 1-800-656-HOPE (4673).
Did Jim Bob Duggar coach his daughters?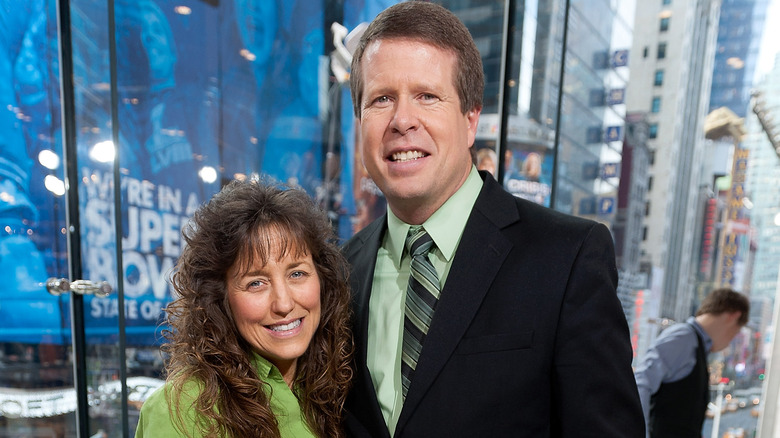 D Dipasupil/Getty Images
Though Derick Dillard didn't say so directly, he strongly implied that Jim Bob Duggar was the one who made his daughters go on Megyn Kelly's show to assure fans that they had moved on from their brother's abuse. It's not the first time Dillard has criticized his father-in-law online. In 2020, after he and wife Jill left the "Counting On" series, he claimed that Jim Bob "attack[ed] the victims if they threaten his show" (via Daily Mail). He also remarked to a follower that being Christians and good parents were less important to the TLC network than making money. 
Blogger Katie Joy explained to her followers that Derick "declined to provide specifics" on how Jim Bob had coerced his daughters to do the interview, but added, "Derick & Jill do plan to write a book at some point. He assured me that when the book is written and released the truth will come out."
Considering Derick's outspokenness toward Jim Bob, fans thought the Dillards' statement on the court ruling put the blame on the wrong people. "While your anger is correct, [Jim Bob and Michelle] are ultimately to blame for this happening and that can't be forgotten," a fan wrote on Derick's Instagram. "They failed to protect their daughters over and over again."
At this writing, the Dillards have not offered any further details about the Megyn Kelly interview. As for Josh Duggar, he is currently awaiting sentencing on child pornography charges (via USA Today).