Cher's Relationship Advice For Christina Aguilera Is Spot-On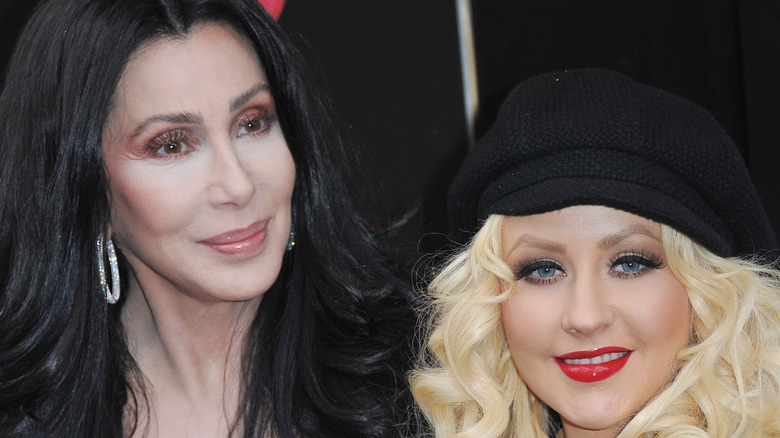 Francois G. Durand/Getty Images
If there's anyone to turn to for relationship advice, Cher is the person to call. Having once said "a man is not a necessity, a man is a luxury" during an interview with Dateline NBC (via YouTube), Cher isn't just a world-renowned musician but a bonafide relationship guru. "I love men, I think men are the coolest. But you don't really need them to live," she continued. "My experience with men is great because I pick them because I like them."
So, when Christina Aguilera filed for divorce from Jordan Bratman in 2010, Cher was one of the first people to give the singer advice — and conveniently so, as they were working on the musical "Burlesque" that same year. In between filming scenes, sitting in the makeup chair, and costume fittings, the two would often have heart to hearts. "We were like old chatty girlfriends that could not stop talking," Aguilera told People. "They had to drag us to set a few times because we were late just talking about love and relationships and life."
Cher is still open to finding lasting love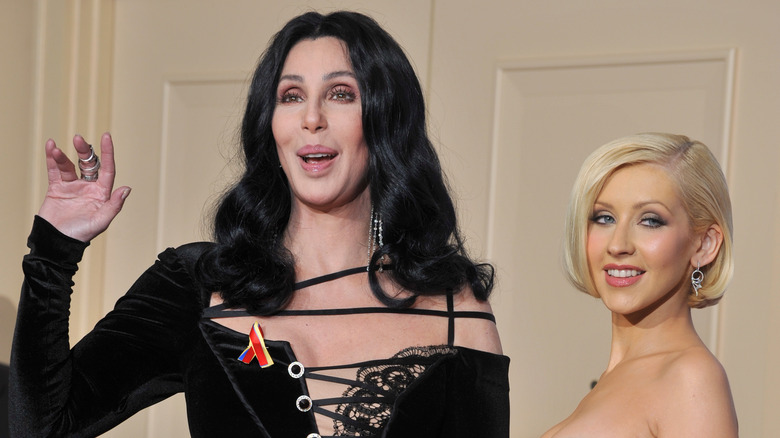 Featureflash Photo Agency/Shutterstock
But there was one quote that stuck out in particular to Christina Aguilera since she was in the midst of a divorce. As People notes, Cher gave Aguilera some solid advice about the reality of having a spouse. She told her, "You know, honey, husbands come and go, but I am still Cher at the end of the day" — pretty much echoing her previous sentiments that "you don't really need [men] to live."
That's not to say that Cher isn't still looking for love, however. According to Closer Weekly, the singer is "still open to finding lasting love" after dating the likes of Tom Cruise, Warren Beatty, and Gene Simmons — as well as being married to Sonny Bono and Gregg Allman (via ABC News Radio). "I enjoyed them all!" Cher told Closer Weekly in 2017. "But I am monogamous. I have relationships, not lovers," she added. "My relationships seem to go on for two-and-a-half years, maybe three, that's it. The moment [it] goes into the phase of more commitment, it changes. But I haven't given up!"