The Easiest Way To Paint Watercolor Nail Art At Home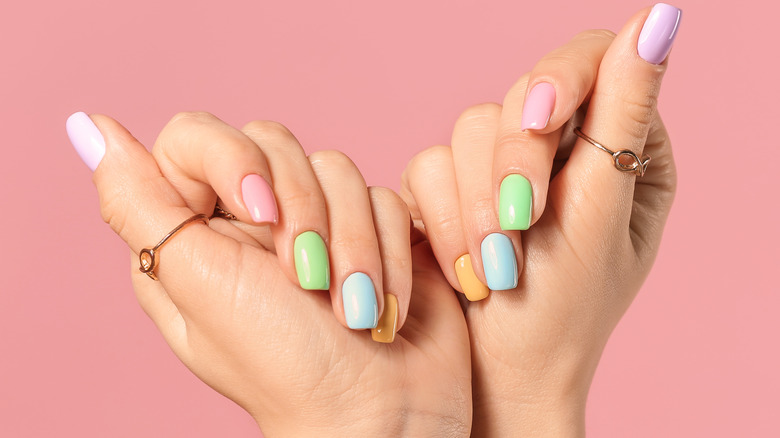 Pixel-Shot/Shutterstock
If you've recently seen the pretty, pastel-hued watercolor nails gracing the feeds of Instagram and TikTok, then you might be wondering how you can recreate the glorious look at home. According to NailPro, the newest nail art trend takes inspiration from the art world. "In this design, I'm using the traditional method of watercolor that you would typically find when painting on paper," international nail artist Sam Biddle told the outlet. "It doesn't require precision. In fact, the looser, the better."
Any interested nail art fans might be worrying that watercolor nails sound tricky to replicate. Instagram makes the trend look effortless to recreate, but is it really that simple? According to Cosmopolitan, the design is easier to do at home then you might think — and you don't even need too many tools for it either, as one beauty enthusiast explains via YouTube. To whip up some sugar-shade nails, all you'll need is a few simple tools and a handful of polish colors. Below, we've put together a guide that outlines the ins and outs of creating the easiest (but still super pretty) watercolor nails.
Follow these steps to achieve salon-worthy watercolor nails
As Cosmopolitan recommends, it's best to file your nails into your preferred shape and push back the cuticles, before you begin creating salon-style watercolor nails. In a tutorial video on YouTube, one user suggests that you first coat your nails in a clear base coat, which is important as it helps to keep watercolor nail art in place. Next, follow up on the clear coat with a few coats of white nail polish, which you should let dry before moving  on. Both Cosmopolitan and YouTube agree that it's best to create a DIY polish palette using a piece of tinfoil divided into a few sections, one for each nail polish color. Ideally, these colors should be pastel shades of polish with each shade dropped onto the makeshift palette.
To water the colors down and create a watercolor effect, add a small amount of acetone directly to the palette and mix the liquid into each polish, per YouTube. According to Cosmopolitan, you can also add the acetone once the color has been applied to the nail using a small nail brush. It's likely that you can't go wrong, and that whichever method you choose comes down to personal preference.
Finish off with acetone and a clear top coat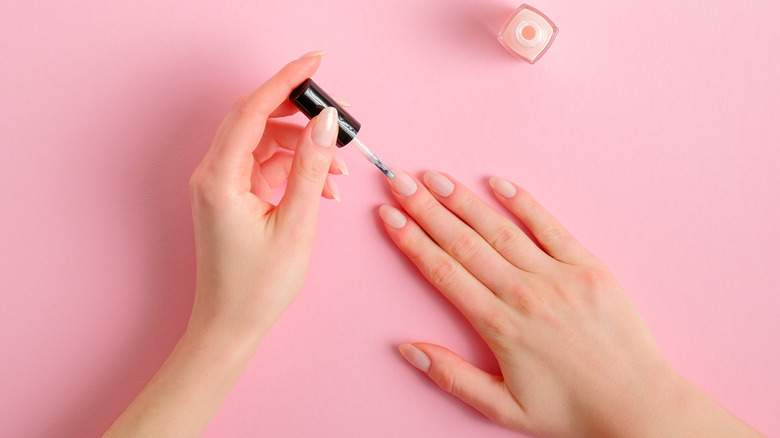 Savanevich Viktar/Shutterstock
As Cosmopolitan states, using a nail brush to dip into the acetone will give you more professional-looking watercolor nails. For best results, use a gentle dabbing motion, so as not to disturb the other colors. Then, apply each color using the same method, by dabbing the colors slightly over each other as you apply the polish and acetone mix. While you can choose your own colors, remember that pastel shades will help give you the ideal watercolor effect. As pro manicurist Karen Gutierrez told InStyle, "This trend is basically an ombré look that incorporates three colors into one nail." For her design, she opted for light blues shades that reminded her of "watching waves crash."
To add a softness to the colors and accentuate the watercolor look, dip the brush into the acetone and then dab over the entire nail. This should subtly mix the colors together and create an overall mottled look. Lastly, seal your nails with a clear top coat. According to Gutierrez, it's the top coat that makes the difference in the manicure. "Dragging the clear polish across each nail is what will make all the colors blend together," she advises, per InStyle.