Helen Mirren Has A Theory About Queen Elizabeth Watching Her 2006 Biopic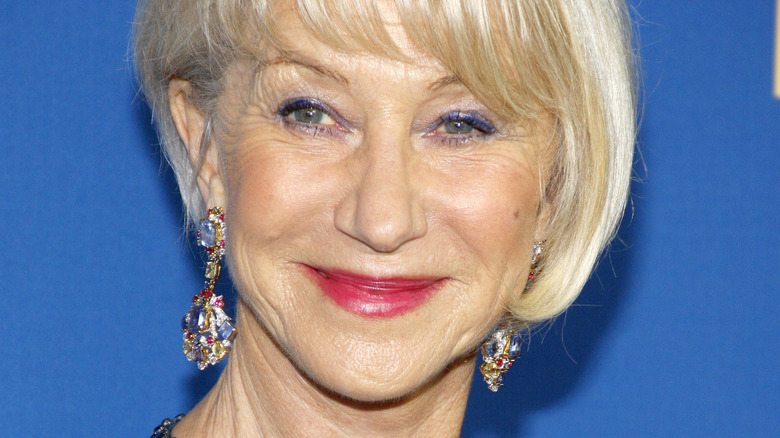 Tinseltown/Shutterstock
Anyone who has seen "The Queen," in which Helen Mirren plays Queen Elizabeth awkwardly navigating how to handle public perception after the death of Princess Diana, may have wondered how the royal actually felt about the film. It could be argued that the monarch does not come across in the best way, with Mirren showing her cold and stubborn sides most prominently.
And yet, according to the actress, who won an Oscar for the role, Queen Elizabeth is a fan of her portrayal (via Town & Country). To be fair, Mirren isn't 100 percent sure that the royal has even seen the 2006 movie. As she told The Hollywood Reporter in a new interview, "At the time, it had never been done before, playing the queen. It was quite nerve-racking because I didn't know — no one knew — how the public would receive it, let alone the establishment in Britain."
Mirren continued, "But I got the sense that it had been seen and that it had been appreciated." Still, the actress added, "I've never heard directly, and I never will."
Queen Elizabeth also reportedly watches The Crown
Town & Country notes that Mirren has met Queen Elizabeth on several occasions, but one doesn't imagine the two women discussed "The Queen" in passing. Apparently, Mirren was at one point invited to have a meal with the monarch, but her work schedule didn't allow the meeting to take place. So, for now, Mirren will have to go with her hunch that the woman she played in the movie is a fan of her work.
As Mirren went on to tell The Hollywood Reporter, "Of course, since my performance [there have] been many others [to play the queen]. I think Claire [Foy] and Olivia [Colman] on 'The Crown' have carried it on and been absolutely fantastic."
According to British Heritage, the Queen also watches the Netflix show, but a source said she thinks some of the storylines are "heavily dramatized." Meanwhile, Foy previously admitted she too met Queen Elizabeth, but she didn't say anything about her performance (via Town & Country). And while we don't know how the monarch feels about Colman's portrayal, the actress has said she feels a lot of pressure playing a living person.