All Of The Love Interests Of Taylor Hayes On The Bold And The Beautiful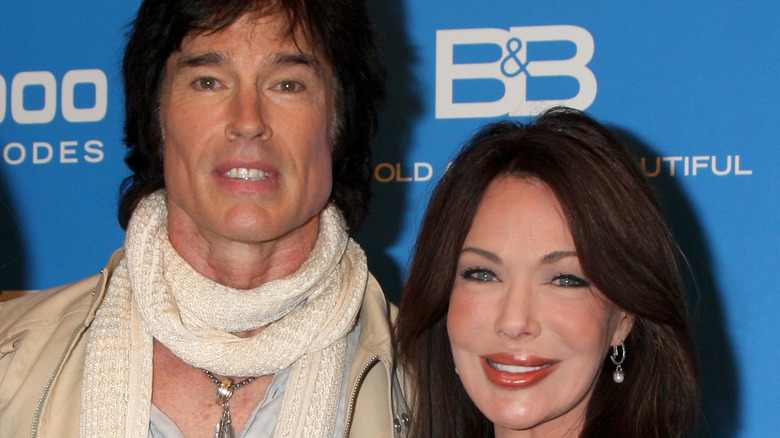 Kathy Hutchins/Shutterstock
It feels like "The Bold and the Beautiful"'s Taylor Hayes (first played by Hunter Tylo, now Krista Allen) has only had eyes for Ridge Forrester (first played by Ronn Moss, now Thorsten Kaye) since she first debuted on the soap in 1990. However, since Ridge wasn't always available for her, she had to find other men to keep her occupied during the times he was sure that Brooke Logan was the love of his life.
In early 2022, Taylor was thrilled when Ridge said he wanted her back, but she was also aware that this was only because he learned Brooke (Katherine Kelly Lang) kissed Deacon Sharpe (Sean Kanan), the man who fathered her daughter, Hope Logan Spencer (Annika Noelle). As Ridge has gone back and forth between Taylor and Brooke for decades, this only seems par for the course, but Taylor has had a few romances that have had nothing to do with Ridge. After all, a soap opera woman can't be lonely forever and seems to always have someone in her life to fall in love with.
So, take a look back at all the loves Taylor has had through the years not named Ridge Forrester.
Taylor did James Warwick a favor and became a prince's wife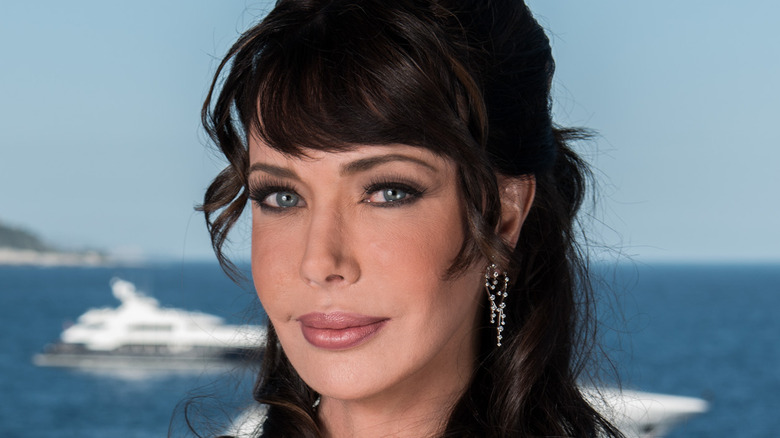 Francois Durand/Getty Images
Dr. James Warwick (Ian Buchanan) was a fellow psychiatrist who Taylor was friends with long before she met Ridge. One night while she was married to Ridge for the first time, Taylor and James got caught in an avalanche at the Forrester's Big Bear cabin, which was then destroyed. As they huddled together for shelter, Taylor learned that James was a virgin but he didn't want to die one. So, Taylor made sure that James wouldn't die a virgin. 
During that same era in the 1990s, Taylor was presumed dead in a plane crash but was alive with amnesia and found by Moroccan Prince Omar (Kabir Bedi) and made his bride. Taylor's memory eventually returned and she made her way back to Ridge. Of course, he had married Brooke by then, but Taylor managed to win him back for a while.
Taylor had trysts with Ridge's family members
Ridge isn't the only Forrester who Taylor has been intimately involved with on "The Bold and the Beautiful." At one point, she had an affair with Ridge's younger brother, Thorne Forrester (Winsor Harmon), as well as his youngest brother, Rick Forrester (Jacob Young), who also happens to be Brooke's son with Eric Forrester (John McCook), according to Soaps.com.
And speaking of Eric Forrester, Taylor once had a romantic entanglement with the patriarch of the family as well. In fact, Eric and Taylor tried to make it work between them on two different occasions, but her rivalry with Brooke got in the way. Eric was once married to her and would take Brooke's side in squabbles.
It also turned out that Eric wasn't Ridge's biological father after all and Massimo Marone (Joseph Mascolo) was. That offered Taylor another brother of Ridge's for her to have an affair with as that's exactly what she did when she met Massimo's other son, Nick Marone (Jack Wagner). At least when she fell for and briefly married a Forrester Creations PR expert named Whip Jones (Rick Hearst), he wasn't related to Ridge.
And Ridge is the man Taylor keeps coming back to over and over again. With Ridge and Taylor giving it yet another try, will it last this time?