Gigi And Bella Hadid Debuted An Unusual Look On The Versace Runway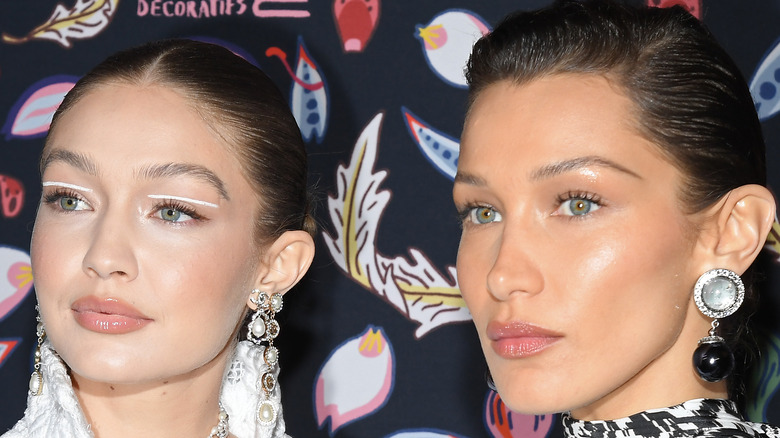 Pascal Le Segretain/Getty Images
It's hard to think of a more iconic sister duo than supermodels Gigi and Bella Hadid. From fashion icons to trendsetting queens, it often feels as though any and all big trends lead back to them. 
Aside from the obvious fact that they are both stunning, fans are especially obsessed with the close bond between the two. With both sisters working the same circuit in the exact same industry, the odds were certainly against them. Many speculate whether the two have any form of sibling rivalry going on, especially considering how Gigi first held the spotlight before Bella slowly but surely jumped in. 
Speaking about her relationship with her sister, Bella explained to Vogue, "We're definitely a lot more similar than people think. We have the same voice, the same mannerisms. Sometimes we'll finish each other's sentences, or we'll be the only people laughing." 
She added, "We've always been close. As kids, especially on weekends, our mum would drive us to the barn .... and we would spend the day together riding our horses, and washing and cleaning them."
It's heartwarming to see the Hadid sisters' deep connection and how they constantly uplift and support each other through their fashion ventures. It makes it all the more exciting when the sisters end up walking the same runway together, and, at Versace's runway show for Milan Fashion Week 2022, they took the opportunity to debut a bold new look.
Gigi and Bella Hadid rocked bleached brows on the Versace runway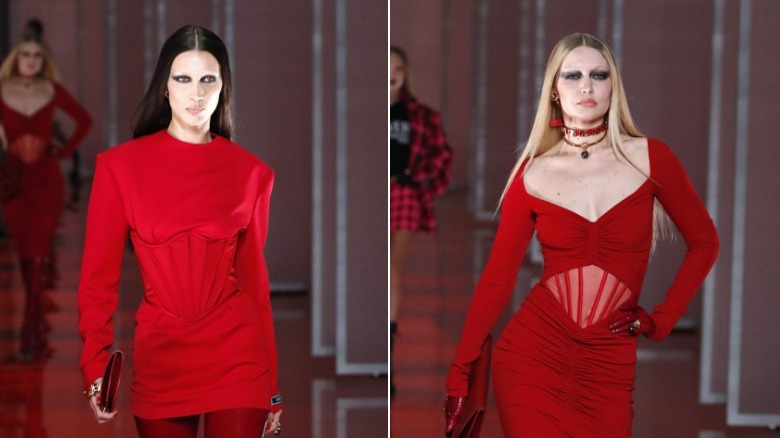 Estrop/Getty
Coming to a close on Feb. 28, 2022, Milan Fashion Week has proven to be more star-studded than ever this year, per Fashion Week Online. Rihanna showed off her adorable baby bump while wearing a gold headdress alongside her beau, A$AP Rocky, according to People. 
While the week was certainly all about fashion, it also had its fair share of drama. Fans couldn't believe their eyes when they realized Julia Fox and Kim Kardashian were both attending the event and even ended up matching in nearly identical outfits, per Us Weekly. 
However, the stars of the show remain the models — especially in the case of the Hadid sisters. Gigi and Bella stunned as they walked together in four shows during Milan Fashion Week. First, they walked for Max Mara and Moschino on Feb. 24, per Just Jared. They then doubled up again on Feb. 25 to walk the Tod's show before concluding with Versace.
Gigi and Bella walked for Versace's Fall 2022 show, and something stood out to fans even more than the fashion, according to People. The sisters are never shy to test out bold and unusual looks — after all, they have the natural beauty to carry it. 
For the Versace show, they debuted dramatic bleached eyebrows. They stunned in their fiery all-red ensembles, and their non-existent brows were emphasized by dark smoky eyes and middle-parted hair, according to Glamour. 
As always, Gigi and Bella stole the show, and Donatella Versace herself gave them a personal shoutout on Instagram with photos of her hugging the sisters. "I'm so lucky to have those I love around me on the days leading up to my show," she wrote.