Jen Shah Opens Up About Having Kim Kardashian On Her Legal Team
"The Real Housewives" have had their fair share of explosive scandals and shocking exposés, but nothing quite compares to their very public and very messy legal battles. Over the past couple of years, Housewives fans have had their fill of them. It kicked off with Erika Jayne's ex-husband Tom Girardi's ongoing embezzlement case that took over the entire storyline of "The Real Housewives of Beverly Hills" Season 11 (via Vanity Fair). While Jayne's saga continues to unfold and garner countless tabloids and fan intrigue, Jen Shah takes the cake by giving viewers a legal battle that involves her ending up in handcuffs, per People. 
Only two seasons into its run, "The Real Housewives of Salt Lake City" has already given fans a reason to eagerly tune in every week. In a rare Bravo event, Season 2 of "RHOSLC" actually featured, even if blurred, Homeland Security barging in on the beginning of a road trip in hot pursuit of none other than Shah, according to E! News. Things only got increasingly dramatic from there, with drinks thrown and threats cast amongst the ladies, all regarding whether or not Shah committed the crimes of which she was accused. The drama is far from over, too, with her trial right around the corner. Now, Shah has shared her thoughts on wanting a famous reality TV star to represent her in court.
Jen Shah wishes she could be represented by Kim Kardashian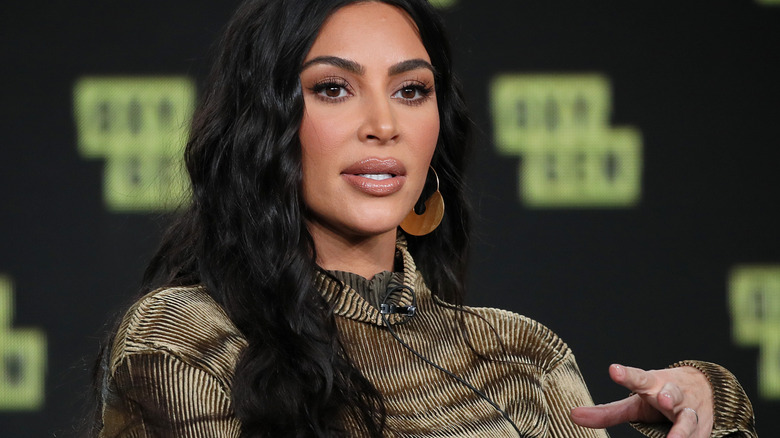 David Livingston/Getty Images
"The Real Housewives of Salt Lake City's" Jen Shah has been accused with one count of conspiracy to commit wire fraud in connection with telemarketing and one count of conspiracy to commit money laundering, according to People. Attorney Audrey Strauss explained in a press release, "In actual reality and as alleged, the so-called business opportunities pushed on the victims by Shah, Smith, and their co-conspirators were just fraudulent schemes, motivated by greed, to steal victims' money. Now, these defendants face time in prison for their alleged crimes."
After fans watched the now-infamous photos of Shah getting handcuffed in braids, as well as watching part of her arrest unfold on "RHOSLC," they are now eagerly awaiting her trial, which is set for March 2022, while the reality TV star is currently free on a $1 million bond (via Page Six). During a segment in Bravo's "The Real Housewives of Salt Lake City After Show," Shah dished on everything from her style in Season 2 to who she wanted to represent her in court. 
Shah revealed that her number one candidate was Kim Kardashian. Fans have followed along Kardashian's pursuit of a law degree, and the mogul even officially passed her baby bar exam in 2021, per USA Today. "Listen, Kim Kardashian is not officially part of the Shah squad legal team yet. People thought I was joking around when I was like, 'Do we need to add Kim Kardashian to our legal team?' I was dead**s...serious," Shah explained. She added that she has "mad respect" for Kardashian's legal journey and successes.