The Real Housewives Of Salt Lake City Season 2 - What We Know About The Release Date And Cast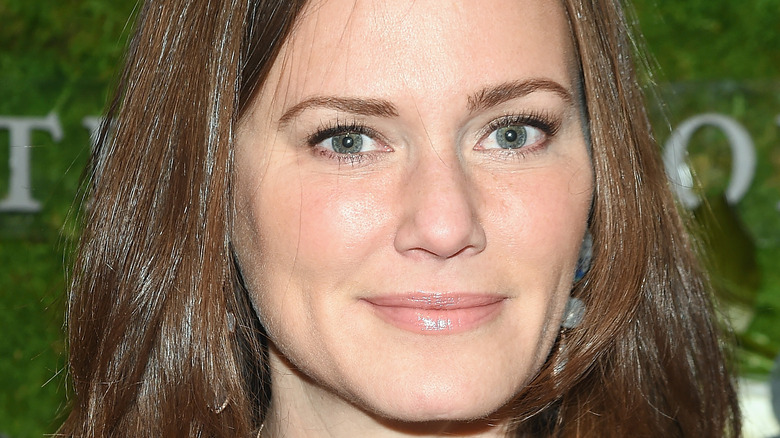 Jamie Mccarthy/Getty Images
If you're a fan of the Real Housewives shows, then you're probably used to the usual suspects galavanting around their respective urban jungles. But in the case of the "Real Housewives of Salt Lake City," things look a little bit different. The series takes place up in the magnificent mountains of Utah and even follows certain cast members navigating their lives through the Mormon Church. Mormonism is quite common in the western America, with many members settling in Utah, and Salt Lake City, specifically (via The Guardian). However, that doesn't mean this series features any less luxury, glamour, or drama. The Mormon housewives in the cast have simply learned how to balance a life of luxury while simultaneously abiding by their Mormon beliefs — or at least, they try.
"The Real Housewives of Salt Lake City" has cultivated an incredibly impressive amount of success already in the short time it's been on television. In fact, according to Oprah Daily, the show was renewed for a second season just two days after the season one finale.
Well, we're excited to share that that second season premiere is just around the corner. Here's everything we know so far.
Andy Cohen announced that season two is happening
In between the former first season of the show and the brand new season coming out, there was a nail biting season one reunion. It was a dramatic three parts, and consisted of the housewives chatting about some of the juiciest subjects from season one alongside Andy Cohen, per Oprah Daily. While we're still recovering from some of the juicy drama from the exciting three part reunion.
Unfortunately, an official release date for season two has yet to be officially confirmed. However, season one premiered in November of 2020, so if Bravo decides to stick to a seasonal schedule, it wouldn't be a stretch to imagine that season two might come in November 2021.
But don't worry, we know for a fact that it will be happening. It was confirmed by Andy Cohen during an After Show segment of "Watch What Happens Live With Andy Cohen." In this teaser, Cohen revealed that "they're coming back" for season two (via Cosmopolitan). But who exactly does he mean? Can we expect the OG cast to appear in season two?
Here's what Heather Gay had to say about what to expect from season two
According to Decider, Bravo hasn't yet given an official confirmation of which faces will appear in the newest season. But if we trust Andy Cohen, he seems to believe that the entire cast will be coming back, which is good enough for us! This would consist of Lisa Barlow, Mary Cosby, Heather Gay, Meredith Marks, Whitney Rose, and Jen Shah (via Page Six).
Sources predict that season two will consist of lots of the same kind of drama that we loved from season one. Heather Gay all but told us that this is what we can expect, teasing that their cast, or as she calls them, the "five horsemen of drama" will carry the show, she shared on Ryan Bailey's podcast, So Bad It's Good. Gay revealed on the podcast, "I mean, you've got intrigue, and crime, and passion, and loyalty, and friendships all on the backdrop of Salt Lake City, Utah." Sounds juicy.
She also shared on the podcast that audiences can expect some pretty intense drama in season two, even alluding to an arrest of one of the cast members during filming. "It's all very, very real, but it's also hyper-realized," she explained. "I don't think anything's bigger or more hyper-realized than a federal indictment or your friend facing prison. Like, this is hyper-realized drama, but it's real, and it's happening," per Screen Rant.
We'll be keeping our eyes peeled for an official release date.