Dramatic Makeup Ideas If Your Favorite Color Is Red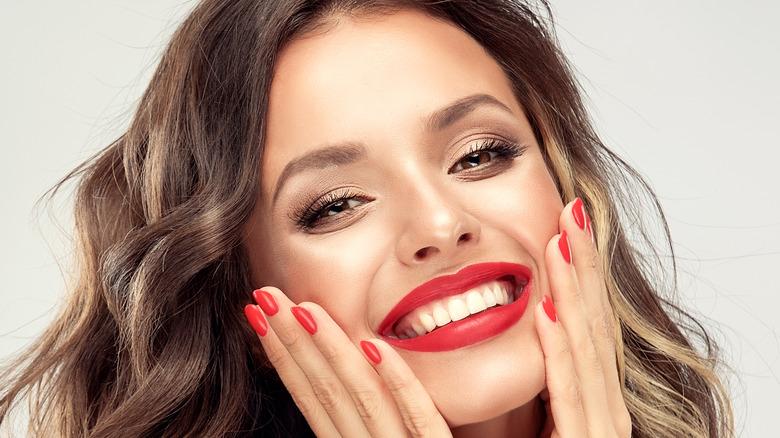 Sofia Zhuravetc/Shutterstock
Many people love the color red for its bold, intense look. Since it's such a bright and eye-catching color, it's often associated with sexuality and passion. According to Bustle, wearing red makes everyone appear more attractive, and people who prefer this color over any other color are "sexually charged, and want to make a lasting impression."
Since red is associated with attractiveness and lust, it can never hurt to add a few more red pieces to your wardrobe. Whether you prefer bright blood red, deep burgundy, vibrant red-orange, or a rosy hue with more pink undertones, there's a perfect shade out there for everyone. So, how else can you add some red to your look besides clothes? Elegant red makeup! Applying makeup is an excellent way to express yourself. There are plenty of ways to incorporate red into your makeup routine whether you are going to work, on a romantic date, or dancing the night away with friends. 
One of the easiest ways to add red to your makeup is through your lips. Who can resist a classic red lip? Lipstick is often portrayed as sexy and glamorous, so you can never go wrong with red lipstick if you want to look like a movie star. Sephora sells Anastasia Beverly Hills lipstick in American Doll, a traditional red shade with a matte finish. This $23 product currently has 4.5/5 stars, making it a beloved choice.
Adding these pops of red makeup will bring drama to your look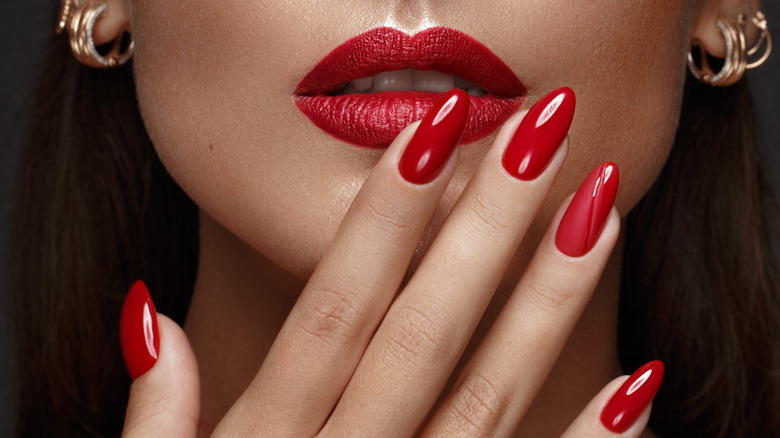 KOBRIN PHOTO/Shutterstock
If you're looking for something a bit more subtle, try exploring a tinted lip balm. Wearing lip balm will give you a bit of color without the intensity of a full-on lipstick. For only $4.99, Burt's Bees sells a tinted lip balm in Red Daliah, which adds a subtle bit of color while moisturizing your lips.
For those who prefer a shiny look, lip gloss is a fun, playful choice. Available at Ulta Beauty, NYX has a Butter Gloss, available in a plethora of colors, including Red Velvet, which has received remarkable reviews. Or, what better way to add some drama to your lips than with some sparkle? Sephora sells a red metallic lipstick by Gucci. This glittery product is currently $46, and it's the perfect splurge to help you stand out and turn heads wherever you go.
Although people typically associate red makeup with lips, you can add pops of this intense color to the eye area as well. In fact, red eyeshadow will never fail to make a head-turning statement. If you're looking for a dramatic eyeshadow palette, Huda Beauty's Obsessions Eyeshadow Palette in Ruby is sold at Sephora and perfect for a night out. If you really want to take your look to the next level, a red mascara is the perfect finish to complete your look. Currently at just $9, ColourPop's Left on Red BFF Mascara in True Red will make your eyelashes look breathtaking.