Body Language Expert Reveals The Differences In How Charles Acted With Diana And Camilla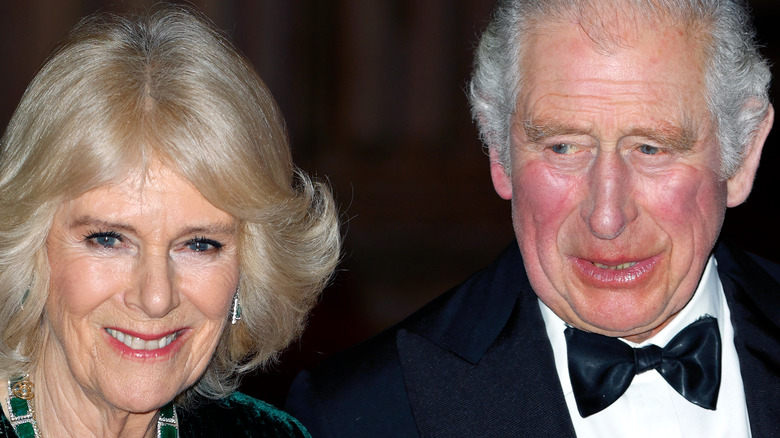 Max Mumby/indigo/Getty Images
Despite the fact that many royal experts believe that it was love at first sight between Camilla Parker Bowles and Prince Charles when they met in the early 1970s, Camilla went on to marry another man and Prince Charles married Princess Diana in 1981, per Brides. Still, Camilla's life was never the same after she met Prince Charles.
Even those who only have a vague understanding of the more tumultuous parts of the royal family's recent history are at least aware of the affair that took place between Prince Charles and Camilla during the prince's marriage to Princess Diana. Amid the release of details of the affair between Prince Charles and Camilla, Princess Diana and Prince Charles were photographed looking particularly miserable on an official trip to South Korea in 1992. In fact, the couple appeared to be so miserable together that they were called "The Glums" by the press, according to Vogue. Just one month later, in December 1992, it was officially announced that Princess Diana and Prince Charles were getting a divorce, which was eventually finalized in 1996, one year prior to Princess Diana's tragic death.
Only a few years later, in 1999, Camilla and Prince Charles were photographed together for the first time while attending her sister's 50th birthday party, which was organized by Prince Charles. From that point on, the pair began frequently attending events together. In 2005, the pair were officially married in a civil ceremony at Windsor Guildhall.
A body language expert has noted clear differences in Prince Charles' demeanor with Parker-Bowles and Princess Diana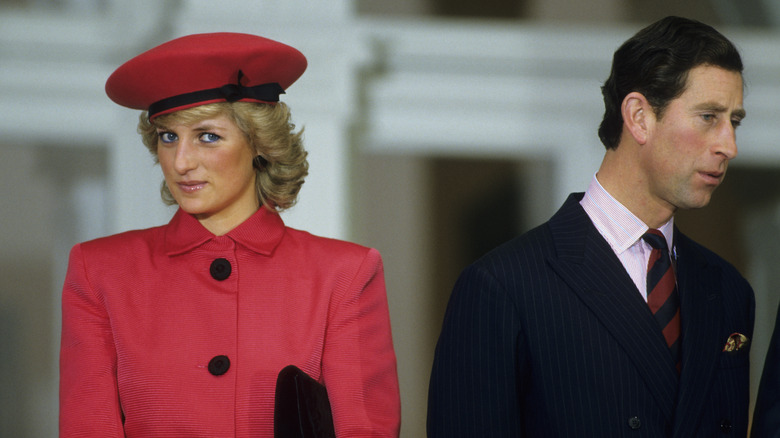 Georges De Keerle/Getty Images
In a report published on Monday, body language expert Inbaal Honigman told Express that there are distinct differences between Prince Charles' body language in photographs of Camilla Parker Bowles and Princess Diana. According to the body language expert, at least in public, Prince Charles reveals simply through his body language just how differently he felt about each woman.
While either posing or engaging in a candid conversation with Camilla in photographs, Honigman states that Prince Charles shows just how much he loves his second wife. "The pair are often observed with their arms interlocking, looking each other in the eye, smiling full into each other's faces, and generally seeking each other's closeness, that the collective consciousness sees him as this guy," Honigman told the outlet. "The warm, tactile, even romantic husband who is devoted to the lady beside him."
This is a stark contrast from Prince Charles' body language in photos with Princess Diana. "Official images and some personal press shots from the early years of the young couple's married life, show a blushing Diana and an often discontent Charles in absolute disarray towards one another," Honigman said. "There's always a good few feet of social distancing between them, and they rarely face the same way. ... But even on the occasions when they're not searching for something to look at on opposite ends of the room, they are not in harmony – if they both look ahead, it's never in the same direction. ... They both look like they wished they were elsewhere, with somebody else."
Princess Diana's body language also showcased her struggles and triumphs related to Prince Charles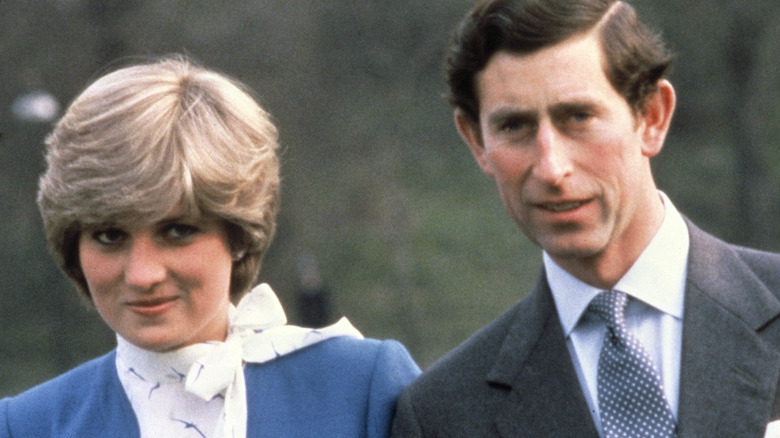 Anwar Hussein/Getty Images
Before the issues within Princess Diana and Prince Charles' relationship became public knowledge, it seems as though Princess Diana knew little of the world in which she had entered by marrying the royal. Shortly after their engagement in 1981, Princess Diana and Prince Charles sat down for an interview. As body language expert Darren Stanton told Coffee Friend (via Express), Princess Diana's body language during the interview suggested that she was rather naive to the difficulties she would soon face as a member of the royal family and even had doubts about her impending nuptials. 
"When asked if they were in love, Charles says the phrase, 'whatever in love means' and Diana rolls her eyes, trying to play off her disappointment with an awkward face," said Stanon). "It's clear that by her reaction, she believed back then that she had concerns and even doubts about their relationship."
After their marriage ended, though, Princess Diana's body language seemed to point to her newfound happiness. In one picture taken shortly after their divorce, Princess Diana is wearing what is now referred to as her "revenge" dress. "Just look at her confidence," body language expert Patti Wood told Reader's Digest. "You'll notice how every part of her is lifted, her smile, her arm reaching out, her hand and arm holding her purse, her step. You can see she knows she looks fantastic."