Barbie Ferreira Reveals The Special Meanings Behind Her Tattoos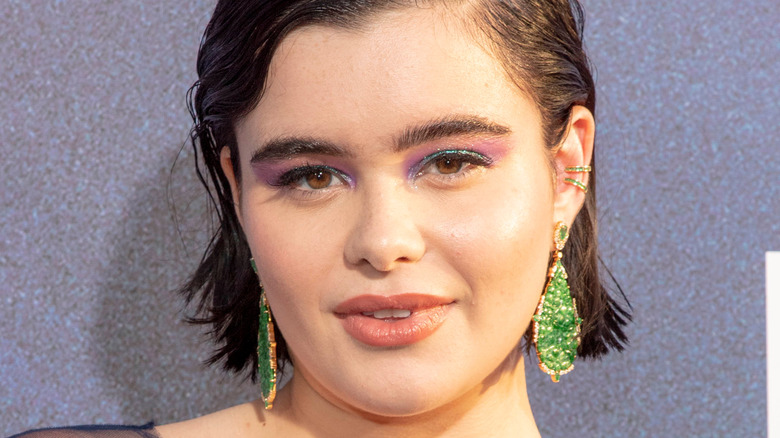 Eugene Powers/Shutterstock
Barbie Ferreira is best known for her role as Kat Hernandez on HBO's "Euphoria," which has kickstarted her acting career and made her a household name. While Kat was initially introduced as a self-conscious teenager who grapples with her image and body weight, the character delighted fans by the way she dealt with the aftermath of a sex tape scandal. After Season 1, Kat refused to let the sex tape ruin her — and instead became a sex-positive, mesh-wearing bada**.
The way Ferreira sees things, she and Kat are not so different. Ferreira regularly promotes body-positivity on Instagram. Per Cosmopolitan, her previous modeling gigs prove that girls can be gorgeous at any size. However, her positive outlook was challenged in the wake of the pandemic. As the actress told Allure in a December 2021 interview, Ferreira felt as though the world was ending. After "Euphoria" filming was halted by stay-at-home orders, Ferreira went rogue, and amassed a collection of tattoos to help her cope with her emotional pain. "It was just weird to come off of something that changed my life and the very next year, boom, nothing," she told Allure. While Ferreira has since gotten back to working — the Season 2 finale of "Euphoria" aired in February 2022 — her pandemic-era tattoos are still relevant and have their own special meanings.
Barbie Ferreira's tattoos signify a rough time in her life
For Barbie Ferreira, the forced down-time during the pandemic was rough. Instead of wallowing in self-pity, Ferreira took a different route: She got her first tattoo. Her partner, musician Elle Puckett, created a spiral using a stick-and-poke kit that Ferreira gifted her, according to Cosmopolitan. This spiral indicates her quarantine spiral. ""I have a spiral on my butt, because I was spiraling. I was like, 'F*** it. I can't die and not have tattoos,'" Ferreira told Allure, of the design.
According to the outlet, her second tattoo is a collection of simple lines near her breast, which was done by an artist using a machine. And while Ferreira told Allure that her tattoo designs have no significance, the placement of the tattoos certainly do. "I always do things around my boobies. I think it's because I grew up not liking my boobs," she told Allure. "So now it kind of makes me feel cute." Ferreira also revealed that getting tattoos is her own way of taking control of her body, which she was unable to do during her modeling days. "I really felt like I couldn't do anything [to my body] for so long. I couldn't even cut my hair one inch or I'd lose clients when I was a model. So I guess it does represent something — me taking over my own self," Ferreira added, per Allure.