Meghan And Harry's Message About Ukraine Had A Far More Unpleasant Response Than Kate And William's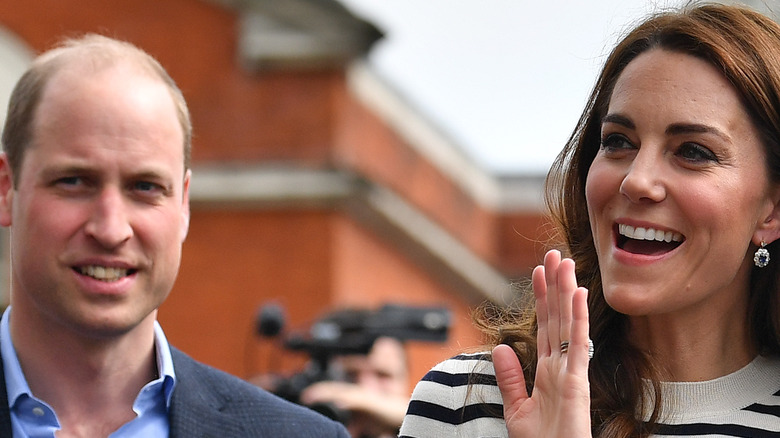 Wpa Pool/Getty Images
Prince William and Kate Middleton made their feelings on the ongoing Ukraine-Russia conflict clear when they posted a tweet in support of President Volodymyr Zelenskyy. "In October 2020 we had the privilege to meet President Zelenskyy and the First Lady to learn of their hope and optimism for Ukraine's future," the beloved couple wrote. "Today we stand with the President and all of Ukraine's people as they bravely fight for that future." The Cambridges signed off with an emoji of the Ukrainian flag alongside their initials.
As Page Six points out, it was an unusual move from active members of the royal family, who typically don't get involved in politics.  The royals don't even vote in British elections, nor can any member run for office, while their official site states unequivocally, "The Queen has to remain strictly neutral with respect to political matters." 
William and Kate's decision to speak out might have something to do with the monarchy's desire to appear more modern going forward, but only time will tell. Elsewhere, Prince Harry and Meghan Markle, who vacated their roles as senior royals in early 2021, also expressed support for Ukraine via a statement on their Archewell website. Tellingly, though, the public reacted completely differently to the Sussexes standing with Ukraine as the Cambridges doing likewise.
The Sussexes were roundly mocked for having the audacity to speak out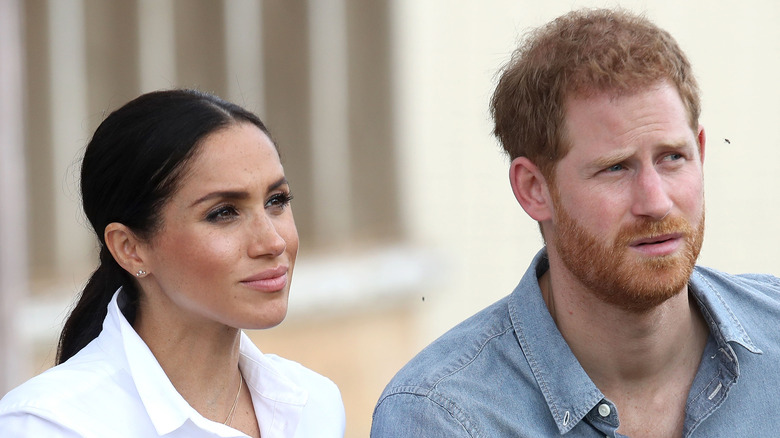 Chris Jackson/Getty Images
As Newsweek points out, the reception to Prince William and Kate Middleton's statement on the Ukraine-Russia conflict has been overwhelmingly positive while Prince Harry and Meghan Markle have been summarily mocked for saying something relatively similar. Naturally, one of the couples' biggest critics was Piers Morgan, who sarcastically quipped on Twitter, "This will really rattle Putin" while sharing a post about Meghan and Harry's statement. Likewise, Morgan's Daily Mail colleague Richard Eden similarly joked, "It's all over for Putin."
Tabloids including the Mail itself and The Sun also published damning coverage of Meghan and Harry's statement, mocking them for arrogantly thinking their words could have any effect on the ongoing crisis. However, in an article for the Mail, Eden notably acknowledged Harry had recently met Defense Secretary Ben Wallace. He pointed out that the meeting was scheduled before Russia invaded Ukraine, though, so they were unlikely to have discussed the situation. Meanwhile, both newspapers heralded William and Kate for speaking out in support of Ukraine, with glowing reports about their bravery. 
Social media continued to mock the Sussexes for echoing the Cambridges' stance, with notorious right-wing commentator Paul Joseph Watson arguing on Twitter that Meghan and Harry had no place speaking out "from the safety of their £11million [$14.74 million] California mansion." The fact William and Kate live a lavish life didn't seem to bother anybody, however.