The Truth About Jim Carrey's Only Child
Though the comedian has been a household name for decades — and even reprised his 1996 role from "The Cable Guy" in a 2022 Super Bowl commercial — Jim Carrey's personal life remains relatively mysterious. His fans know little about his marriage to Melissa Womer, which lasted from 1987 to 1995, and even less about their daughter, Jane Carrey, a singer and media personality with a limited online presence. 
Because of her famous father, Jane Carrey has been in and out of the public eye throughout her life. And in 2010, she became a mom with her then-husband, heavy metal singer Alex Santana. Carrey told People before welcoming her son that she was thrilled to learn she was having a boy. "I'm excited about it because I never really got along with girls growing up ... I was a little afraid that if it was a girl that she would not like me, you know?" 
In a 2011 interview with Access Hollywood, Jim Carrey reflected on his daughter's life-changing news; "it was like, 'Grandfather? Really? Wow. Let me process that one.'" He even joked that his publicist asked him to keep it a secret since the title could potentially age the then-47-year-old actor.
She appeared on Season 11 of American Idol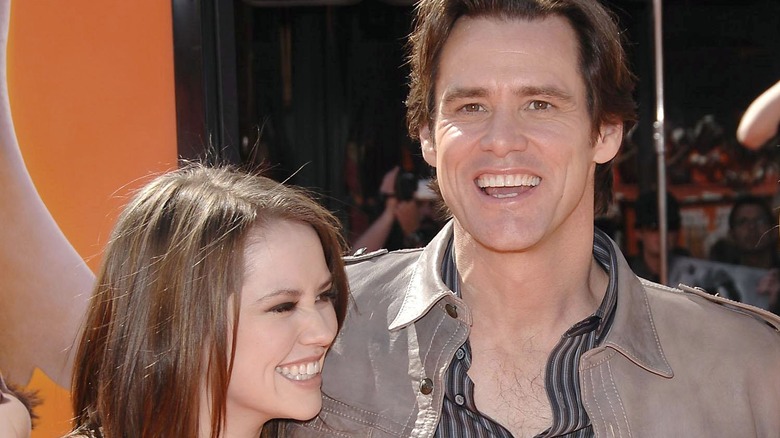 Everett Collection/Shutterstock
Sadly, Jane Carrey and her husband Alex Santana separated in 2010, after less than a year of marriage. Carrey filed for divorce in late 2011, citing "irreconcilable differences," though the parents agreed on joint custody of their son Jackson (via Today).
But Carrey's divorce didn't stop her singing career in its tracks — she continued playing with The Jane Carrey Band and even appeared as a contestant on Season 11 of "American Idol." Carrey showed off her powerful voice and nailed her first audition, but the singer's performance was shakier during Hollywood Week, and she was eliminated. In a post-elimination interview Jane said that her dad was there to help her through the rejection, and told her, "I've been said no to a bunch of times." She reasoned, "It worked out for him, so hopefully I have a shot." Jim Carrey's advice echoes what his own father told him growing up — the comedian shared in a 2014 commencement speech, "I learned many great lessons from my father, not the least of which was that you could fail at what you don't love, so you might as well take a chance on doing what you love." 
It seems like Jane Carrey is certainly following her famous father's advice; after her brief "American Idol" stint, she has had guest spots on MTV's reality show "Catfish" and even collaborated with her dad as a backup vocalist on his Netflix special "Jim Carrey: I Needed Color" (via IMDb).