Jim Carrey's Super Bowl 2022 Commercial Is A Serious Throwback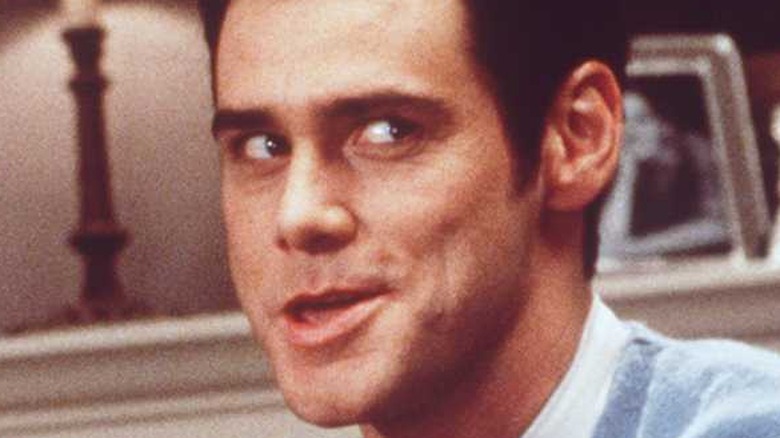 Getty Images/Getty Images
The 1990s were the decade that launched Jim Carrey to superstardom. If you grew up watching "In Living Color," you had a front row seat for watching Carrey flex his comedic muscles. He continued his comedic performances in films like "Dumb and Dumber" and "Liar Liar." Carrey also expanded his acting skills by branching out into other genres, with performances in "The Truman Show" and "Eternal Sunshine of the Spotless Mind." Carrey's performances in all these films are ranked among his ten best, according to Variety.
"The Cable Guy" is another one of Carrey's best known performances, although it took time for the movie to attain its cult favorite status. According to Vulture, some early audiences were a bit thrown by the darker aspects of Carrey's character, since it was a departure from the more straightforward, lighter comedy of roles like "Dumb and Dumber." Producer Judd Apatow told the outlet how much fun the movie was to make. While audiences may have been a little scared of Carrey's portrayal initially, Apatow points out that with subsequent viewings, "you realize that it's just wall-to-wall jokes."
If you are a fan of "The Cable Guy," you may spot a familiar face during the Super Bowl 2022 commercials.
"The Cable Guy" returns to promote a streaming world
Jim Carrey is reprising his role as "The Cable Guy" in an ad promoting Verizon's 5G Internet capabilities. The 1996 dark comedy starred Carrey in the title role, along with Matthew Broderick and Jack Black. Carrey was paid an astounding $20 million salary, the first actor to earn such a high salary for a single film (per Business Insider).
Verizon has posted two different ten-second teasers on YouTube for an upcoming Super Bowl commercial. In "Peephole" a women looks through her peephole to discover Jim Carrey calling out "cable guy" while banging on her door. The knocking, along with a pulsating Verizon Logo, emulates the 1996 film's trailer, which features a similar technique on the Columbia Pictures logo.
"Suiting Up" begins with tight close-ups of Carrey adjusting his gear, including using a lint roller on a familiar cable company uniform. Next it cuts to a big reveal of Carrey's face while he wields a power drill.
The full ad will be 60 seconds. Andrew McKechnie, Verizon CCO and SVP, told Adweek that the commercial was a first for Carrey. He said the actor was excited to reprise his iconic role. McKechnie also said, "Hopefully, when the viewers see it, it will feel like a great story both from a cultural standpoint and, in terms of 25 years later, what 'The Cable Guy' ultimately represents."