Jill Biden's Face Mask Made A Statement At Her Latest Appearance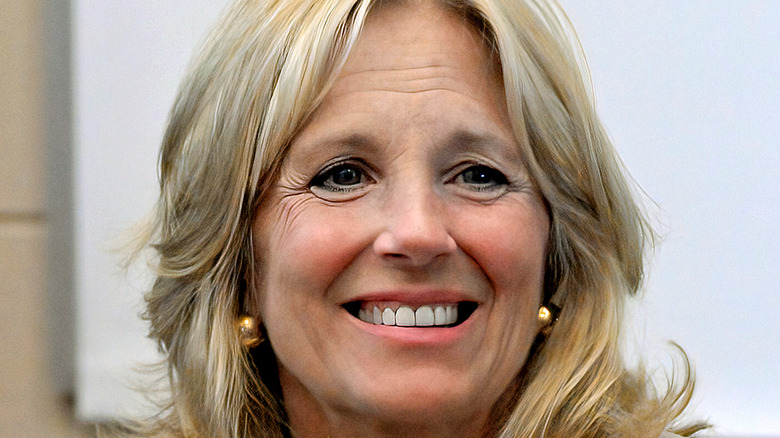 mark reinstein/Shutterstock
Despie the low approval rating of her husband, President Joe Biden, first lady Jill Biden has received respect from her peers. Even as she has moved her life into the White House, she continues to work as a professor, where she is admired by her students (via Insider). She always planned to become the first-ever first lady to hold a full-time job along with her duties at the Nation's Capitol and has successfully accomplished that. 
Biden has also sent messages with her fashion choices. On a trip to Europe last year, she wore a jacket with the word "love" on the back, which the public noted as a sharp conrast to a controversial jacket Melania Trump wore during her tenure as first lady that read "I really don't care, do you?" (via Politico).
After Russia invaded Ukraine, the first lady decided to make a statement similar to the one of love on her jacket. The subtle statement of support was another respectable action by the first lady.
Jill Biden wore something special in support of Ukraine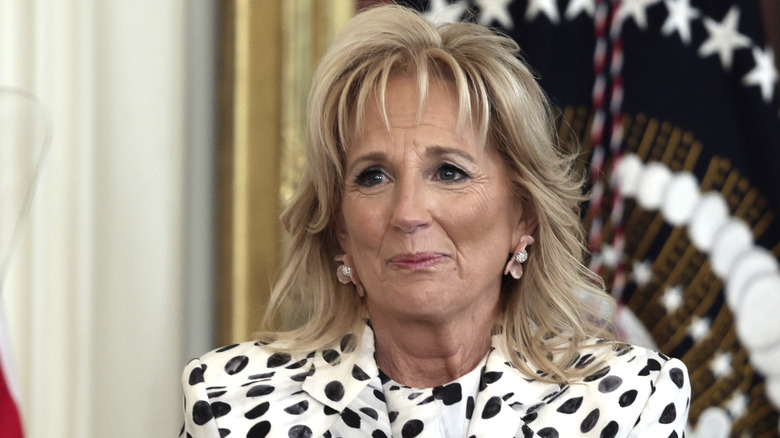 Anna Moneymaker/Getty Images
In a recent appearance at a celebration of Black History Month at the White House, Jill Biden was seen wearing a face mask with an embroidered sunflower on it. While it was a fashionable mask, it also had a special meaning as, per People, the sunflower is the national flower of Ukraine.
The subtle show of support did not go unnoticed by the public. The support the first lady has shown to Ukraine has many comparing her to Melania Trump and the now-infamous "I really don't care, do you" jacket (via SheKnows).
One such user tweeted, "Our first lady wears her sunflower mask in support of Ukraine. It doesn't get better than this. This is the America I love," adding, " See the difference between class like Jill Biden and trash like Melania when she wore her 'I don't care, do U?' jacket?"