What We Know About Iowa Governor Kim Reynolds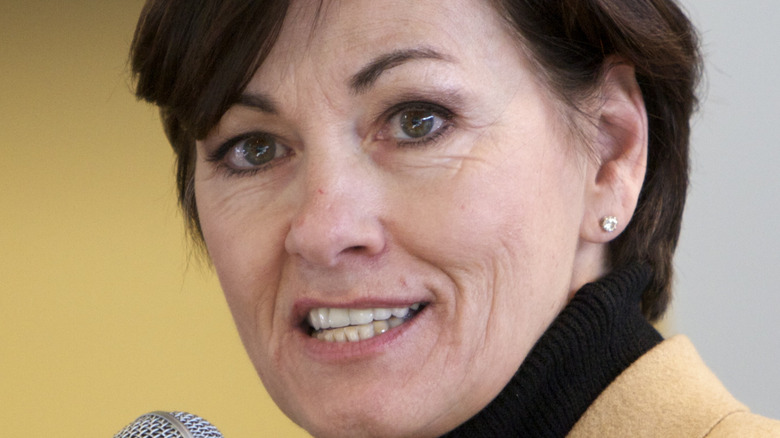 Rich Koele/Shutterstock
On Tuesday night, President Joe Biden will be delivering his first State of the Union address amid tense conflicts between Ukraine and Russia, the beginning of the midterm election season, skyrocketing gas prices, and the ongoing COVID-19 pandemic (via CNN). Last week, it was announced that Iowa Governor Kim Reynolds would be delivering the official Republican response to the president's State of the Union address. Often, the distinction of delivering the response to the president's address is given to up-and-coming members of the opposing political party.
As NBC News reported, Reynolds, who has been the governor of Iowa since 2017, has been a popular conservative voice in recent years, as her staunch opposition to COVID-19 mandates and critical race theory has earned her fans like Senate Minority Leader Mitch McConnell. "While Washington Democrats fail working Americans, Republican governors are fighting and winning for families. Governor Kim Reynolds' brave, bold, and successful leadership for Iowans has put her right at the front of that pack," McConnell said in a statement, per NBC News.
It is expected that Reynolds will be covering several topics during her State of the Union address response, including inflation, immigration policy, the pandemic response, and the conflict in Ukraine. Given that Reynolds will be seeking re-election this year, Timothy Hagle, a political science professor at the University of Iowa, told The Gazette that she will also likely reference her political accomplishments during the response.
Reynolds' conservative views and support of Donald Trump have earned her notoriety
Mario Tama/Getty Images
When former Iowa Governor Terry Brandstad resigned to take on a role in former President Donald Trump's cabinet, Republican Kim Reynolds, then Brandstad's lieutenant governor, stepped up to take his place, becoming the first female governor of the state. In 2018, the 62-year-old was elected to serve her own term as governor. According to USA Today, since taking office, Reynolds has become a fairly popular conservative figurehead, fully coming into her own during the height of the COVID-19 pandemic, when she opposed mask mandates and expanded exemptions for those who did not want to get the COVID-19 vaccine.
Reynolds has also maintained a close relationship with Trump during her time in office, and, though she condemned the January 6 riot, she did voice her support for the claim that the 2020 presidential election was stolen from Trump. In fact, due to her rising popularity and friendship with Trump, many have theorized that she would make a good running mate for Trump during his expected run for the presidency in 2024, as The Gazette reported.
The Iowa governor has also maintained a rather combative approach to President Joe Biden's policies, which has secured her popular position in her state and throughout the country. "Republican governors across America are leading the charge in defending liberty and securing unmatched economic prosperity in our states," Reynolds previously said, per NBC News. "The Biden Administration is governing from the far-left, ignoring the problems of working-class Americans while pushing an agenda that stifles free speech, free thought, and economic freedom."