The Surprising Gig Volodymyr Zelenskyy Had Before Becoming President Of Ukraine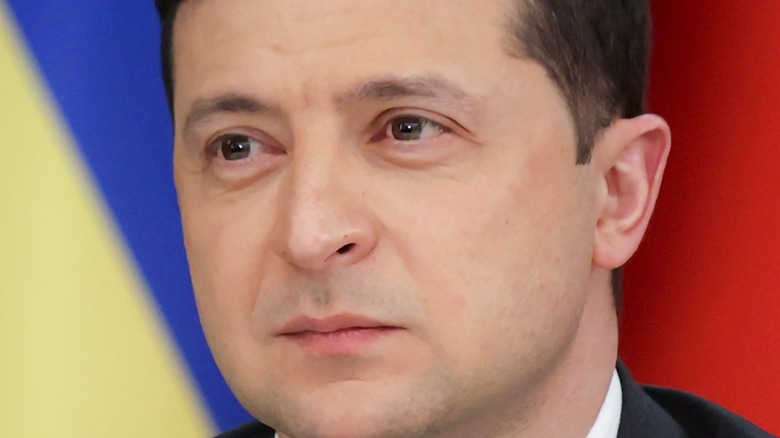 Photographer RM/Shutterstock
Ukraine's president, Volodymyr Zelenskyy, has been making headlines for his hands-on efforts to fight off Vladimir Putin's Russian invasion on his home soil. Called the "modern-day Winston Churchill" by some, the 44-year-old politician has become widely respected (via USA Today). While Zelenskyy was advised to leave his country as Russia invaded because he would be considered the top target, he decided to stay and fight for Ukraine. An American intelligence agent recalled Zelenskyy saying, "The fight is here; I need ammunition, not a ride."
According to People, when offered a chance out of his country and to a safer destination, he denied it and joined the frontlines. He has ultimately become a voice of hope for his people. "We are not putting down arms. We will be defending our country, because our weapon is truth, and our truth is that this is our land, our country, our children, and we will defend all of this," Zelenskyy has said. "That is it. That's all I wanted to tell you. Glory to Ukraine."
While he is now a respected politician leading his country through a humanitarian crisis, Zelenskyy's previous gig before taking office might surprise you.
Zelenskyy was once popular in the entertainment industry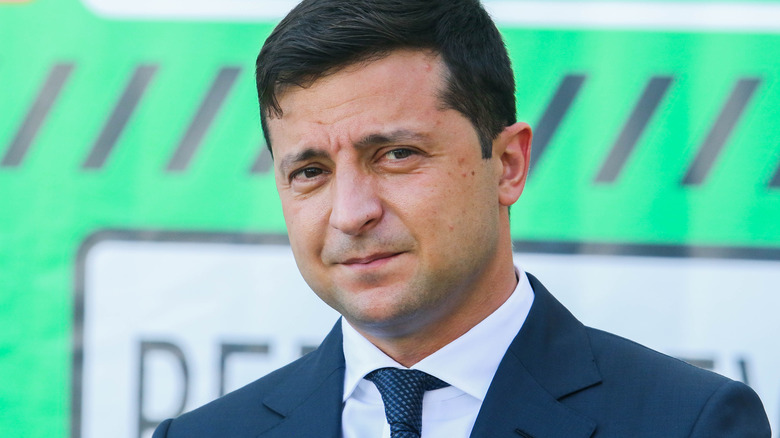 Oleh Dubyna/Shutterstock
According to NBC News, recently unearthed videos of President Zelenskyy show a different side of him. Before becoming the leader of Ukraine, he was an actor and comedian, even starring in the political satire show "Servant of the People," which stopped airing in 2019.
That's not where his entertainment career started, however. Zelenskyy was so popular Ukraine that he had a spot on, and won, its version of "Dancing With the Stars." One Twitter user found a video of his appearance on the show and posted it, tweeting, "[S]o apparently Zeleneskyy won the Ukrainian version of 'Dancing [W]ith the Stars' in 2006, and the tape is even better than whatever you're imagining."
He was even the voice of the lead bear in the Ukrainian version of "Paddington Bear 2" (via The Hollywood Reporter). Ultimately, Zeleneskyy was one of the most popular and beloved comedians and actors in Ukraine before he ascended to the nation's highest position. Who knew?