Maks Chmerkovskiy Details His Complicated Escape From Ukraine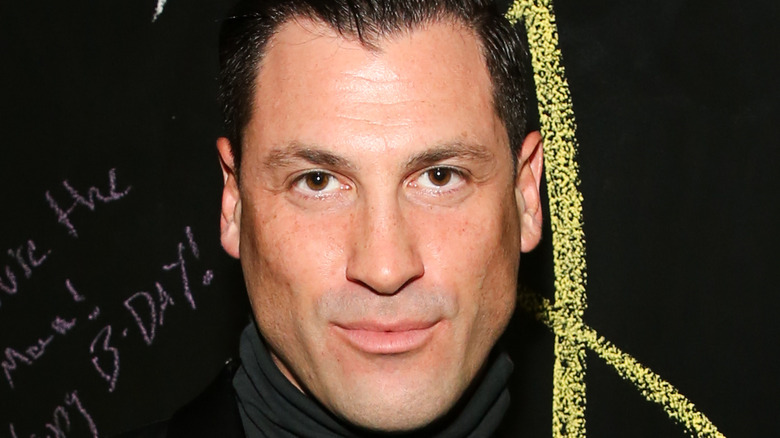 Paul Archuleta/Getty Images
On February 24, 2022, Russia invaded Ukraine in an unprovoked act of war. Since then, there have been nightly air raids of major cities in Ukraine while Russian soldiers march towards Kyiv, intent on taking the country's capital.
As the invasion nears its one-week mark, the number of people who have been displaced continues to grow. The BBC reports that the European Union (EU) estimates up to "four million people may try to leave [Ukraine] because of the Russian invasion," with over 660,000 people having already left their homeland. Poland, Romania, Slovakia, Hungary, and Moldova are the countries who are taking in the most Ukrainians at present, with over 377,000 refugees being taken in by Poland. According to The Washington Post, Ukrainian displacement will be Europe's "worst humanitarian emergency since 2015," when over one million people fled Syria, Iraq, and Afghanistan.
With so many people fleeing their homes, the journey to safety is long and arduous. Wait times at borders are up to 60 hours in Poland, while lines to cross into Romania are up to 12 miles long, per Reuters. But even the journey to the border is life-threatening. Margarita Chornobryvet, a 16-year-old from Kyiv, told The Kyiv Independent that "marauders" tried to attack her and her mother multiple times in the 28-hour drive to the Polish border.
Getting to the border doesn't even ensure families can stay together. Ukrainian President Volodymyr Zelesnky ordered the conscription of men between the ages of 18 and 60, meaning they aren't allowed to leave (via The Hill).
Why Maks Chmerkovskiy left Kyiv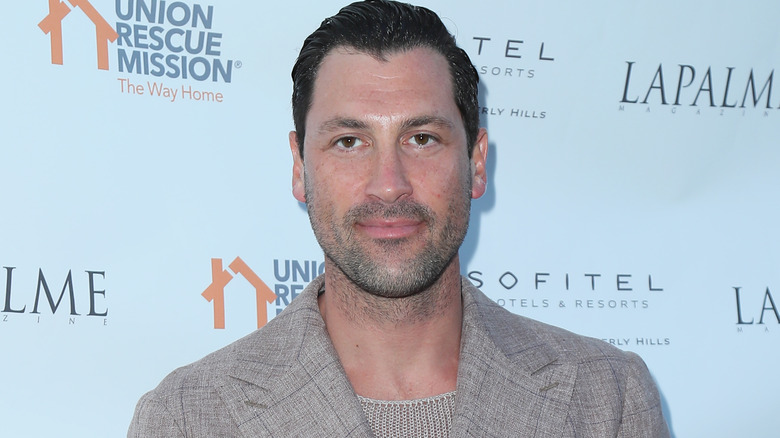 Leon Bennett/Getty Images
Maks Chmerkovskiy, known for "Dancing With the Stars," was in Kyiv when Russia's invasion began. He had been keeping followers up to date with what was happening on the ground through videos posted to his Instagram account, and had been planning on staying, per the Daily Mail. The dancer and choreographer spent the last six months "falling in love" with Ukraine again. "I love Ukraine, it's an incredible pleasure to spend six months now on the ground," he explained in an Instagram video (via Entertainment Weekly). "I know now who these people are, what this country is, and what it stands for."
But staying was not an option for the dancer and choreographer. "There's a lot of fighting everywhere, the streets are crazy," he explained in another Instagram video. "At one point I got arrested like a foot outside of here... That was probably the least traumatizing moment in this whole thing as far as Ukraine is concerned" (via Vulture).
After admitting in the five-minute video he wasn't in the right "mental state to unpack what happens," Vulture reports he told viewers he wanted to head to the border. "My options are better than most people," he admitted, and not just because he had the resources to leave the country. "I was watching an eight-ish year old boy," Chmerkovskiy explains in one Instagram Story, "hysterically crying and not wanting to let go of his father. Verbatim: 'if you stay I want to stay too because if they kill you I won't be able to help'" (via the Daily Mail).
This is how Maks Chmerkovskiy was able to escape Ukraine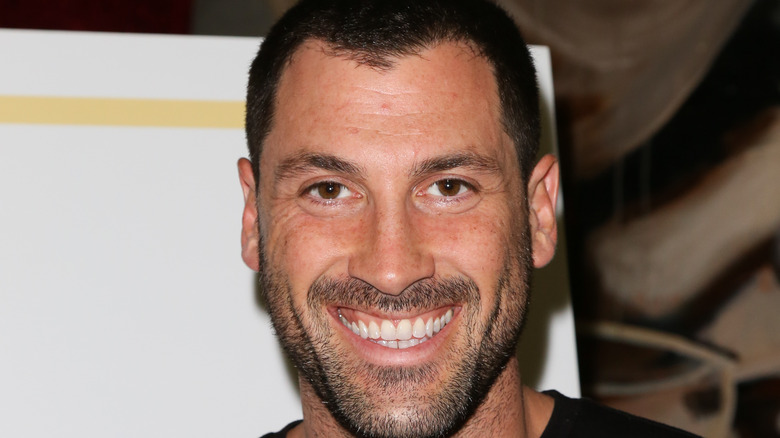 Paul Archuleta/Getty Images
While he was born in Ukraine, Maks Chmerkovskiy has a United States passport, so he isn't affected by Ukraine's draft. His parents emigrated to the United States when he was young, and he's now understanding why. "'This does feel like the way it was when and why we left in the '90s," he told Instagram followers over the weekend (via the Daily Mail). There he detailed his travels to the Polish border, giving a face to the emotional toll Ukrainians are facing.
According to Chmerkovskiy's accounts, just getting on the train was harrowing. "The situation at the train station is insane," he told Instagram followers, per the Daily Mail. "AT first it feels manageable, but it get A LOT worse when it comes time to actually board the train." Train cars meant to only hold 30 people needed to fit over 150. For the dancer and choreographer, it was "sweaty" and "claustrophobic" despite the freezing temperatures people were standing in, hoping to be able to get on a train out of the country.
During the 31-hour journey, he chronicled evidence of the war happening around him. In one post, he shows a car he says was "shot at while trying to escape the war." In another video, he shows unarmed civilians allegedly stopping a Russian tank.
Entertainment Weekly reported that Chmerkovskiy made it out of Ukraine to Poland on March 1. "POLISH PEOPLE ARE AMAZING!" he wrote in an Instagram Story. "THANK YOU FROM THE ABSOLUTE BOTTOM OF MY HEART AND SOUL."