The Lack Of Face Masks At The State Of The Union Address Has Twitter In A Tizzy
Bloomberg/Getty Images
The American people have become accustomed to seeing our lawmakers wearing face masks given that the COVID-19 pandemic began two years ago. But tonight, viewers of the State of the Union were shocked to see the likes of Nancy Pelosi and Kamala Harris maskless. Members of the Supreme Court also filed in with their faces in full view as did First Lady Jill Biden and then, in a room full of maskless senators and congresspeople, President Joe Biden strolled in sans mask.
As The Hill reports, mask mandates were relaxed this week in the House chamber. The decision comes as Capitol Hill doctor Brian P. Monahan cited dropping cases of the virus (via NBC News). The CDC also revised its face mask guidance, saying wearing one is a personal preference for people in areas with low transmission, like Washington, D.C.
But Twitter is reeling about the lack of masks nonetheless.
Meghan McCain and Mark Meadows have something to say about the maskless SOTU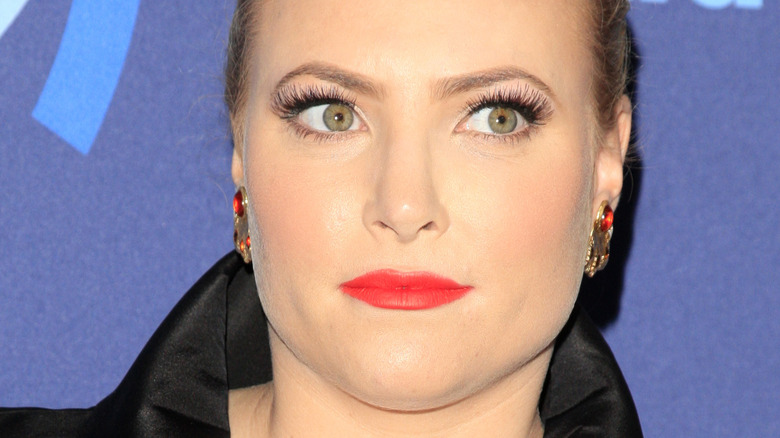 Kathy Hutchins/Shutterstock
As soon as the SOTU began Meghan McCain quickly commented on Twitter, "Our politicians at the State of the union aren't wearing masks and I'm still trying to find a preschool in the DMV area that won't require a 2 year olds to be masked."
Her opinion was seconded by Mark Meadows who tweeted, "Democrats across the country fought to keep masks on kids in school for two years... but the day Joe Biden needs to give a State of the Union with his poll numbers plummeting, the masks come off. It was never about science."
It wasn't just political insiders who had a lot to say on about the lack of face masks at the State of the Union. "It's an airborne pandemic & the President of the United States of America made masks optional at the State of the Union where many of the most powerful people of the country will be," observed one viewer who was clearly questioning the decision.
And someone else dryly noted, "I am so glad the science changed just in time to remove masks for the State of the Union. Science is fascinating."