The Subtle Nod Lawmakers Made To Ukraine Through Their State Of The Union Outfits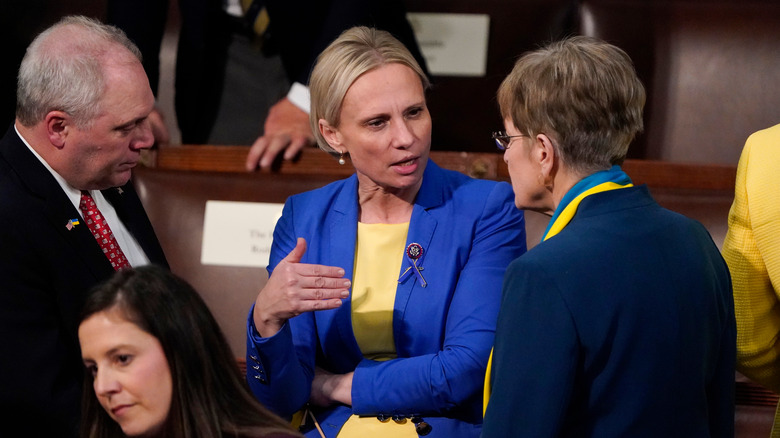 Bloomberg/Getty Images
The conflict in Ukraine is on the minds of every American this week, as we see heartbreaking images coming out of the country being described as war torn after Russia's invasion. The topic was also top of mind on Tuesday night during President Joe Biden's State of the Union address, with lawmakers from the House and Senate all on hand in one room. Many wanted to show their support for Ukraine, with blue and yellow ribbons reflecting the nation's flag being handed out before the telecast (via ABC News).
To make sure viewers saw the important gesture, lawmakers took to social media with messages like this one shared by Congressman Raja Krishnamoorthi, "At the State of the Union tonight, I will be wearing a blue and yellow pin to honor Ukraine and the bravery of the Ukrainian citizens, military, and government as they fight off a brutal dictator."
In addition to the ribbons, it seemed that most representatives were also honoring Ukrainian with their outfit choices. 
Many lawmakers chose to wear blue and yellow to the SOTU
As WGAL noted, both Republicans and Democrats alike came together to share support for Ukraine by donning blue and yellow jackets, ties and accessories. For instance, Rep. Cheri Bustos shared her commitment to stand with the country by wearing a blue suit and yellow shirt and posted a photo of her attire for the SOTU to Twitter. Rep. Grace Meng waved a small Ukrainian flag in a Twitter post announcing she was standing in solidarity with the nation while also wearing a yellow and blue pin and scarf.
Twitter users were clapping their figurative hands for the touching clothing selections, with one person commenting, "It's so amazing and speaks volumes to see the blue and yellow of Ukraine represented during this state of the union. It speaks [to] America's commitment to supporting democracy."
Meanwhile, another person movingly tweeted, "watching the state of the union and immediately started to cry seeing so many people wearing blue and yellow, and waving ukraine flags."