What A Body Language Expert Noticed About Jill Biden's State Of The Union Embrace - Exclusive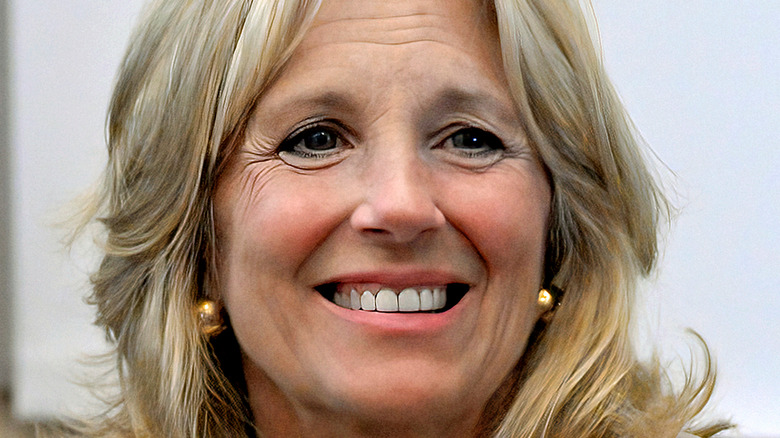 mark reinstein/Shutterstock
President Joe Biden might have been front and center during his State of the Union speech to Congress Tuesday, March 1, but others stole the spotlight during an address that covered topics including Russia's invasion of Ukraine and the president's plan to combat inflation in the United States (via CNN). 
Twitter fell in love with the smiling 13-year-old Joshua Davis, who suffers from Type 1 diabetes. He served as an illustration as to why Biden wants to reform the prices of many prescription drugs, such as insulin. Vice President Kamala Harris and Speaker of the House Nancy Pelosi also captured attention for the number of times they stood and clapped during the president's talking points.
However, it was Oksana Markarova, the ambassador of Ukraine to the U.S., who received a thunderous standing ovation at the U.S. Capitol during Joe Biden's speech. Holding a representation of her country's flag in her hand, Markarova appeared emotional as Biden spoke about the strength of the Ukrainian people, who have shown resistance to Russian forces since they invaded the country on February 24, per The Guardian. 
The Ukrainian ambassador attended as a guest of first lady Jill Biden, who wore a blue dress adorned with an embroidered appliqué of a sunflower, the national flower of Ukraine, sewn into its sleeve. As the standing ovation for Markarova continued, Jill Biden embraced the other woman in a further show of support, and at least one body language expert believes the gesture held significance for both women.
Jill Biden offered 'maternal comfort' during the State of the Union address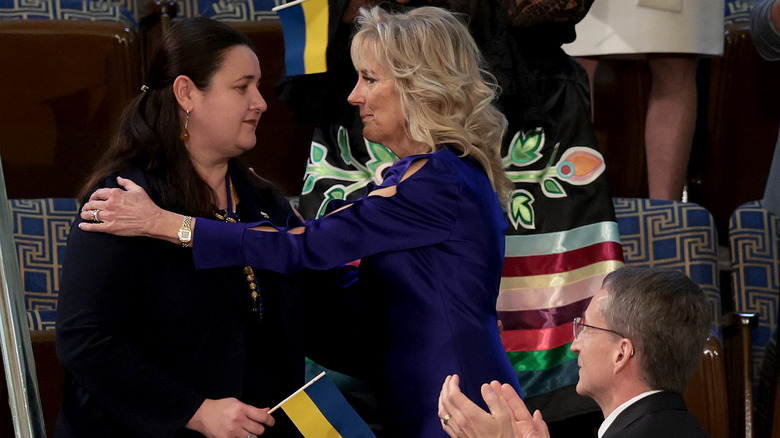 Win Mcnamee/Getty Images
Body language expert Dr. Reneé Carr is a political advisor and media commentator who often provides well-informed, unbiased TV commentary for breaking news and key issues. In an exclusive interview with The List, she said she felt Congress' show of support for Ukraine moved ambassador Oksana Markarova nearly to tears during President Joe Biden's State of the Union speech. "The Ukrainian ambassador was emotional but strong when the cameras were first directed onto her," Carr observed. "Her face was reddened as she held back tears hearing of Biden discuss the reality of her country's despair."
When first lady Jill Biden embraced Markarova, Carr said the ambassador's body language reveals how meaningful the gesture was to her.
"It's clear that she found a maternal comfort in First Lady Biden's embrace," Carr said. "This is evident in the ambassador restraining herself from hugging the first lady back with both arms...her right arm went up and then she changed her mind — as if giving a fuller hug would be comforting but would also unleash her tears she was working to hold in."
One thing that was also made clear from the exchange is that the United States will stand behind the people of Ukraine because, as President Biden stated, "light will win over darkness. (via The Guardian).