Twitter Named The Star Of The State Of The Union And It Wasn't Biden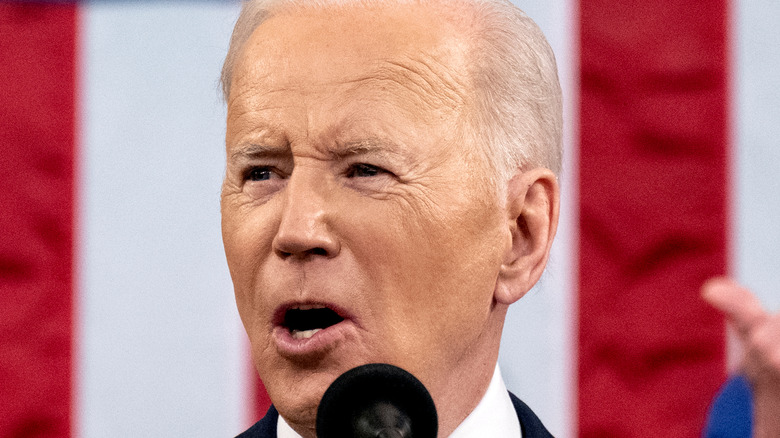 Bloomberg/Getty Images
President Joe Biden took to the floor of the United States Capitol Building on March 1 to deliver a rousing State of the Union address. From discussing his plans regarding the COVID-19 pandemic response, to the country's allyship with NATO amid the Ukraine crisis, to his vision for the country moving forward, Biden hit just about every topic on the bullet-pointed list. In presidential tradition, Biden also took the time to acknowledge designated members of the audience, like Ukrainian Ambassador Oksana Markarova and retiring Supreme Court Justice Stephen Breyer, as well as invited guests.
Extending an invitation to the State of the Union to regular, run-of-the-mill citizens dates back to President Ronald Reagan, who used the address as a means to further expand his political agenda and talking points by bringing a face to an important issue (per TIME). Biden – along with the number of presidents who have followed in Reagan's footsteps – followed the 40th president's precedence and invited designated members of the public to the important political theatre. One such guest of honor completely stole the show – here is everything you need to know about 13 year old Joshua Davis.
Guest of honor Joshua Davis caught Twitter's attention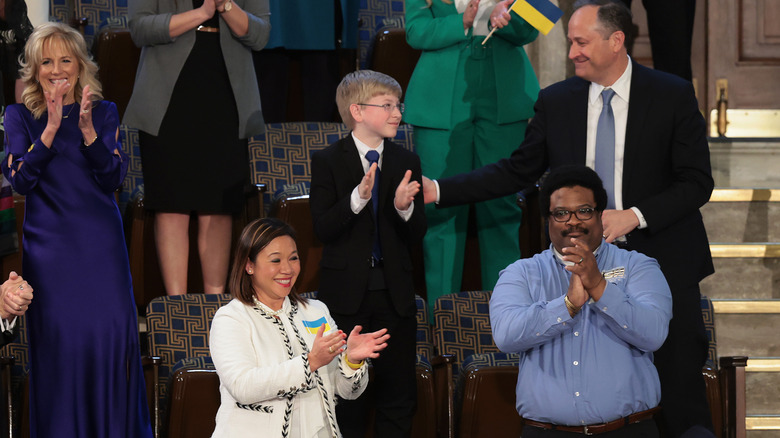 Win Mcnamee/Getty Images
During his State of the Union address, President Joe Biden made a point to highlight the ever-growing medical costs that everyday Americans face. In order to bring humanity to his charge, Biden introduced the crowd to 13 year old Joshua Davis, a young man who suffers from Type 1 diabetes. As per the full transcript of Biden's speech, both Davis and his father battle the disease, and while insulin only costs manufacturers $10 a vial to develop, the Davis family pay about 30 times that amount.
"For Joshua, and for the 200,000 other young people with Type 1 diabetes, let's cap the cost of insulin at $35 a month so everyone can afford it," Biden said while the cameras panned to young Davis smiling. In that moment, the teen stole the hearts of many, some of which took to Twitter with their lovely sentiments.
"Imagine being told happy birthday by the President of the United States at the State of the Union. Joshua will never forget that kindness," one Twitter user wrote. "He was adorable and proud!" wrote another. The young man even got a shoutout from the first lady herself, Dr. Jill Biden. "Joshua, thank you for being by my side tonight," the first lady wrote. "Joe and I are so proud of you."