Britney Spears Opens Up About Her Botched Cosmetic Procedure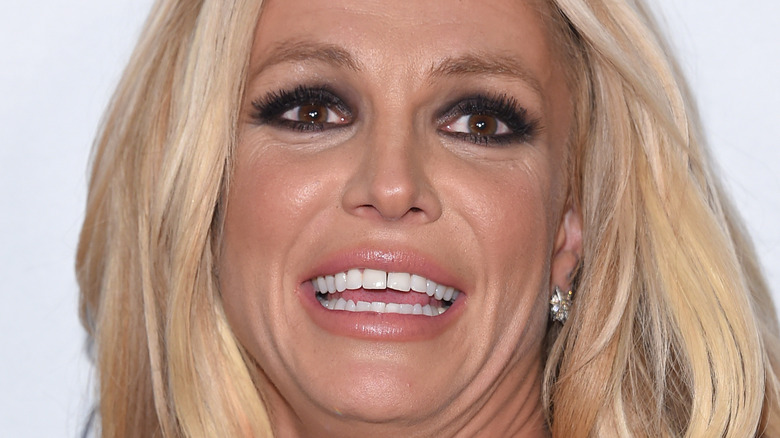 DFree/Shutterstock
Pop star Britney Spears often chronicles her workouts and eating habits on her Instagram. So, we know she works hard on her body and that she looks great due to all that effort. In another candid share, the singer is confiding that she had a cosmetic procedure to keep up appearances as well. And let's just say it didn't exactly go as planned.
As BuzzFeed reported, Spears has been chronicling her recent travels on her social media. In one video shared to her Instagram, we see the giddy star having fun while on a private plane. Meanwhile, in the caption, the recently engaged 40-year-old confessed, "Anyways I'm really debating on getting botox !!!"
"I think I'm getting subtle lines on my forehead," she also admitted, adding, "but the last time I did it my eyebrow was raised like the funny girl in the movie 'Just Go With It.'" Of course, Spears was referring to Rachel Dratch's character who had comically high brows in the Adam Sandler movie. He plays a plastic surgeon she consults for help reversing the botched look.
Spears goes on in her post to share that her Botox procedure gone wrong resulted in her eyebrow being "raised" for three weeks, adding, "it wouldn't come down, it stayed up there !!!"
Botox complications happen, Britney
Luckily for Spears, eventually her eyebrows returned to normal following her botched Botox procedure. "Sounds funny but it actually wasn't !!!" she confided in her Instagram video, confiding, "I thought it was permanent ... I mean I'm surprised people don't sue ..."
Sounds to us like she ought to skip getting more Botox if she had a bad experience and many of her fans agreed, with one person writing in the comments section, "You're beautiful just the way you are! No need for Botox." Noted another fan, "You don't need Botox queen! Lines and wrinkles are a normal part of being a human and you are gorgeous with or without them."
Meanwhile, according to WebMD, the list of potential complications from Botox is long and scary-sounding. The side effects range from poor eyelid closure to bruising under the skin. But the National Institutes of Health note Botox is largely considered safe and that side effects typically resolve on their own, like Spears' did. Thankfully.