Lauren Boebert's Outburst During Biden's State Of The Union Has Everyone Saying The Same Thing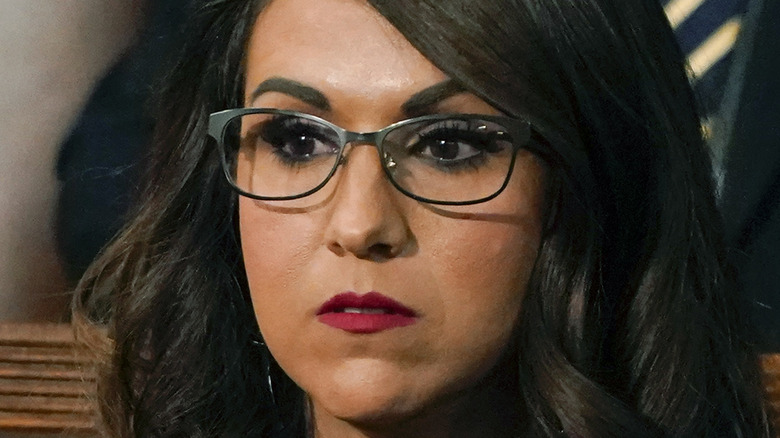 Pool/Getty Images
On March 1, 2022, President Joe Biden gave a sweeping State of the Union speech in which he touched on everything from the ongoing COVID-19 pandemic, to Russia's invasion of Ukraine, per CNN. In particular, the latter was a key topic throughout the speech, and Biden's show of support for the Ukrainian people was backed by both party members when he received a "standing ovation" following his remarks, according to CNN. 
Switching points, the president also went on to talk about the country's heroic veterans, and of the need to support these brave men and women. It was at this point that his speech became personal. "Our troops in Iraq and Afghanistan faced many dangers," Biden said, according to People. "When they came home, many of the world's fittest and best trained warriors were never the same. Headaches. Numbness. Dizziness. A cancer that would put them in a flag-draped coffin. I know. One of those soldiers was my son Major Beau Biden." Just as Biden was referencing his late son who died of brain cancer in 2015, Colorado Republican Representative Lauren Boebert interrupted his words. An interruption like this is rare, as listeners will typically keep quiet even if they do disagree with a president's remarks — so naturally, Twitter had plenty to say about the outburst.
Lauren Boebert's choice to interrupt Biden's speech didn't go over well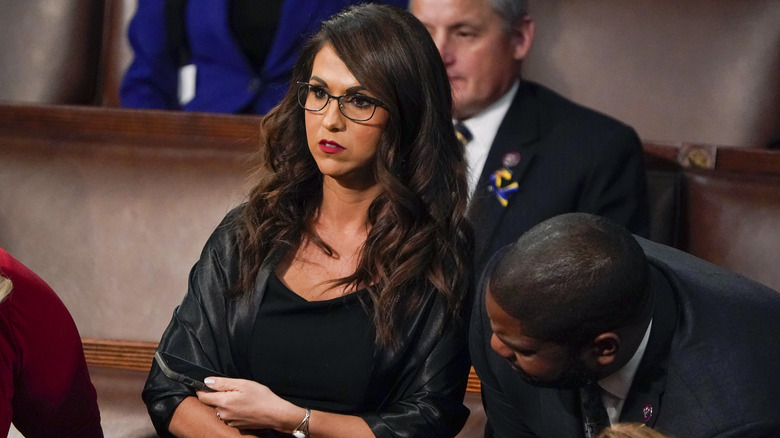 Pool/Getty Images
According to People, Republican Lauren Boebert yelled "13 of them," just as President Biden was mentioning his late son, Beau Biden. This number was in reference to the 13 troops who were reportedly killed when the U.S. left Afghanistan in August 2021. This wasn't the only time that Boebert interrupted Biden, as People reported that she could also be heard shouting, "Build the Wall." Unsurprisingly, Twitter did not take kindly to her ill-timed outbursts.
"Lauren Boebert is vile to interrupt Biden just as he is about to speak about his late son Beau," one Twitter user wrote about the Colorado representative's actions. Another took a shot at Boebert's personality, saying, "Lauren Boebert just wasn't going to let an opportunity to be the most classless person in the room pass her by." Yet another social media user felt that Boebert's actions  were reflective of the entire Republican party. "@laurenboebert never misses an opportunity to be a shameful disgrace, trying to interrupt as Joe Biden speaks of his dead veteran son. This is today's Republican Party. Vote them all out. Every one of them," he tweeted. As The Hill reported, Boebert's outburst also shocked attendees at the State of the Union speech. Democrats were allegedly shocked, though Biden continued on with his speech and did not address Boebert directly.