Royal Fan Opens Up About Her Sweet Behind-The-Scenes Interaction With Kate And William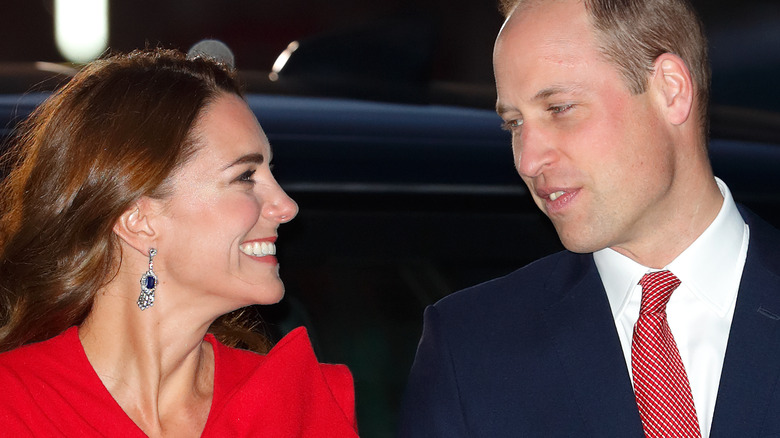 Max Mumby/indigo/Getty Images
Wherever they travel, the Duke and Duchess of Cambridge are greeted by fans. According to a 2021 survey by YouGov, Prince William and Kate Middleton are the second and third most popular members of the British royal family, while the Queen takes the top honors. As senior royals, William and Kate are active in public engagement. During 2021, Prince William completed 227 royal duties, while his wife participated in 115 (per Mirror).
Even during closures at the start of the pandemic in 2020, Kate and William fulfilled their duties virtually. The Duke and Duchess held a number of video calls to offer messages of care and support throughout the pandemic. As Tina Daheley, a reporter with the BBC, told the Daily Mail, "[Prince William and Kate] like that you can have an in-depth one-on-one conversation with people." As she chatted with the royal couple, Daheley was struck by what Kate and William were really like off-camera. The pair were more down-to-earth than she expected. "The thing that always strikes me is how normal they are," Daheley remarked.
After spending a day with the Duke and Duchess to commemorate their 10-year anniversary, Chris Floyd, a photographer, told Us Weekly, "I was made to feel welcome in their home. ... I have to say like by the time I left that day I felt like I'd known them for years." Whether the event is virtual or in person, William and Kate excel at making people feel at ease, as is further evidenced by the couple's recent trip to Wales.
Kate and William are super approachable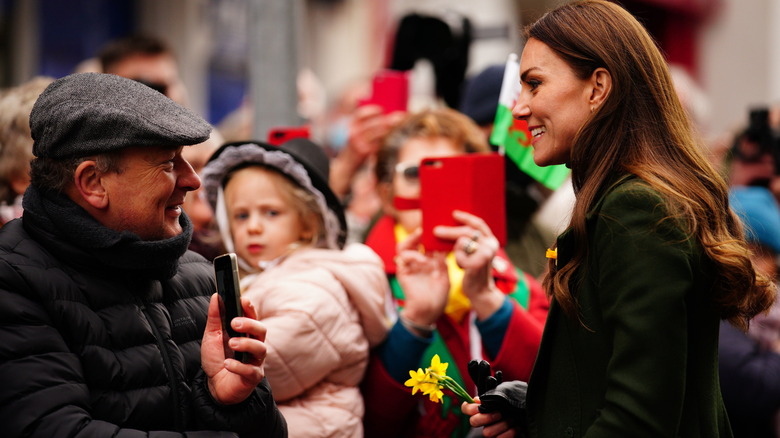 Wpa Pool/Getty Images
Since Prince William and Kate Middleton are so welcoming and hospitable, "people sometimes forget" that they are senior royals, Tina Daheley told the Daily Mail. For example, on March 1, 2022, the Duke and Duchess of Cambridge made an appearance in Wales to honor St. David's Day (per People). The couple visited a goat farm named Pant Farm, toured the youth center, Blaenavon Hwb, and made a stop at Abergavenny Market.
At the market, one of the vendors experienced a royal-etiquette conundrum. Upon meeting William and Kate, Nicky Hurst — who operates the cheese stand, Country Fare Wholefoods and Fine Cheeses, — was uncertain of the proper way to address the couple. While the Duke and Duchess are no strangers to following weird rules, they're gracious when others are unfamiliar with protocol. Rather than "Your Royal Highness," Hurst told People, "I called them 'Kate' and 'Will,' and they were really relaxed." Hurst was even able to give the Prince his favorite cheese: Kaltbach, a rare type of Swiss. After the meeting, Hurst summed up her opinion of the couple as "lovely."
The Duke and Duchess of Cambridge typically balance fun and play at their public appearances. During her recent visit to Denmark, the Duchess visited the Copenhagen Infant Mental Health Project to learn about their work supporting the mental health of families. Kate finished her day with a thrilling ride down the big slide (in heels!) at the Lego Foundation PlayLab (per Hello!)