Everything We Know About Winnie Harlow's New Skincare Line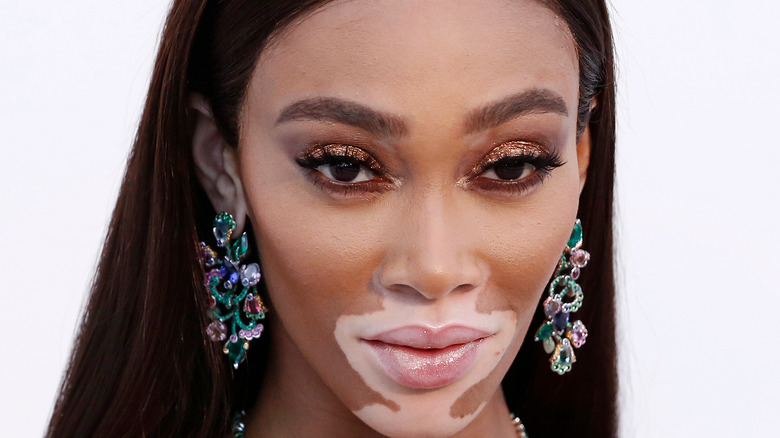 Andrea Raffin/Shutterstock
Supermodels have made a career out of being beautiful, and while some may envy them for it, we also can't get enough of them. Fortunately, we now live in an era where models use their platforms and influence for good. The industry is no longer solely about promoting toxic beauty standards; instead, we have models like Bella Hadid opening up about mental health struggles (via Vanity Fair). Or, you have Ashley Graham promoting body positivity by rejecting the label "plus-size" and insisting on not having her photos touched up, per Insider.
Since entering the modeling scene, Winnie Harlow has been an inspiration to many. In fact, the Canadian model has taken a hammer to beauty standards. Harlow was diagnosed with vitiligo when she was four years old and never could have imagined that she could be so successful in a business centered around beauty standards, but she has continuously reminded the world that "beauty comes in all forms," as she told CNN. 
Harlow has always been a skincare fan. Speaking with Vogue once, she shared, "I've always had a great relationship with my skin and learned from a young age how important it was to take care of it." While fans remain in awe of her stunning skin, Harlow's decided to help everyone out and formulate her very own skincare products.
CAY Skin provides sun care for every skin tone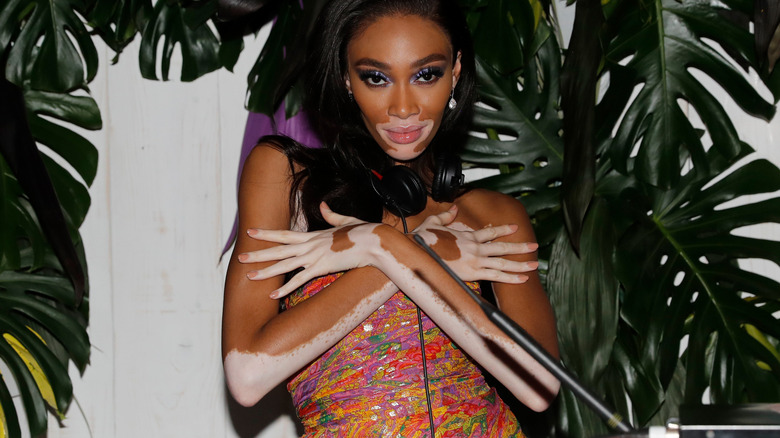 David M. Benett/Getty Images
Winnie Harlow's skin has undeniably been the most iconic thing about her beauty, so it's only natural that she would pursue a skincare venture. On March 1, 2022, Harlow launched her skincare brand CAY Skin. Speaking with Vogue, Harlow has explained the importance sun care plays in her skincare. "My mom taught me the importance of washing my face at night, using lots of sunscreen, and drinking water to keep my skin hydrated," she told the outlet.
CAY Skin places the same emphasis on sunscreen, with every product containing SPF and designed to target sun protection. Harlow explained to People how the brand is inspired by Caribbean beaches. "I wanted it to represent me and my roots,"  she explained, adding, "We went through a few [names], but they just didn't feel true to me. So I started thinking about different things that would be beautiful to name it that had to do with the Caribbean."
CAY Skin's first drop consists of four products: the Isle Glow Face Lotion SPF 45, Universal Mineral Face Lotion SPF 55, Isle Lip Balm SPF 30, and Isle Body Oil SPF 30. Harlow explained on Instagram how the brand came to fruition after she suffered severe sunburn. "The sun damage changed the look of my vitiligo forever," she explained. "That's when I knew that I had to create something better for every single skin tone." Now, she's sharing her wise knowledge about skincare with the world.