The State Of The Union Moment That Turned Nancy Pelosi Into A Meme Once Again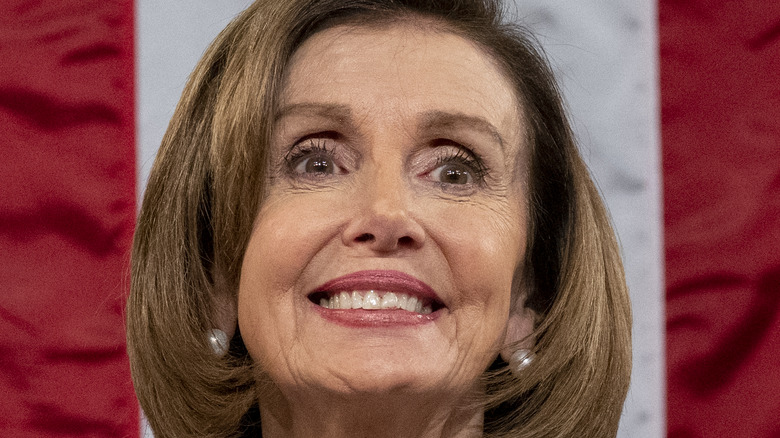 Pool/Getty Images
On Tuesday (February 1) history was made when, for the first time in United States history, two women sat behind a president during a State of the Union address. Vice President Kamala Harris and House Speaker Nancy Pelosi sat overlooking President Joe Biden during his first address. "Madam Speaker, Madam Vice President, our First Lady, and Second Gentleman," President Joe Biden said at the start of his address, per USA Today. Last year, during a joint session in the House Chamber, Biden said the very same thing, though it was followed by, "No president has ever said those words from this podium, and it's about time."
Pelosi, who has been Speaker of the House since 2007, became the first woman to ever sit behind a president during a State of the Union address when former President George W. Bush gave his that year, according to USA Today. In the past, Pelosi's actions during several State of the Union addresses have raised eyebrows; they've even inspired a few memes. 
For example, in 2019 during a State of the Union address given by former President Donald Trump, Pelosi was seen ripping up a copy of his speech in a clear sign of defiance, per Vox. Shortly after, her action was turned into countless memes and praised by many who viewed her action as a classy way to voice her disapproval for Trump.
Nancy Pelosi's actions during Joe Biden's State of the Union address have landed her in meme territory once again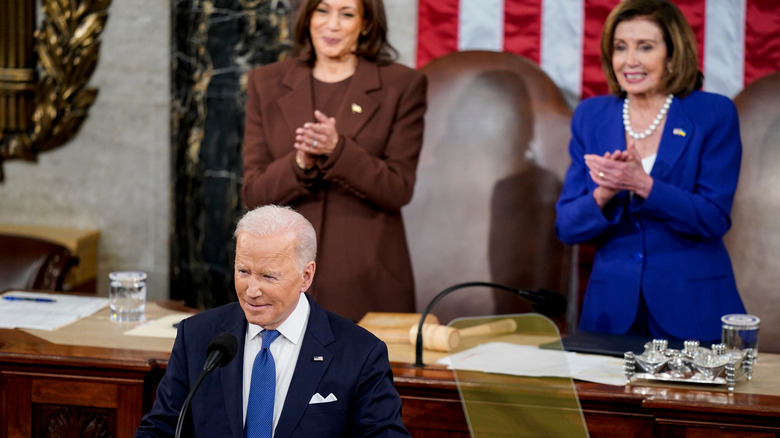 Bloomberg/Getty Images
Though President Joe Biden touched on topics including the conflict in Ukraine, inflation, rising gas prices, minimum wage, and COVID-19 during his first State of the Union address, it was comments that he made regarding veterans that elicited a now meme-worthy response from Nancy Pelosi. In his address, Biden outlined programs designed to help United States veterans receive job training, housing, and healthcare. 
"Our troops in Iraq and Afghanistan faced many dangers. One was stationed at bases and breathing in toxic smoke from 'burn pits.' Many of you have been there," Biden said during his address, according to the New York Post. While Biden was speaking about this grave topic, Pelosi had quite a strange reaction. She stood up and appeared to grow giddy by smiling as she rubbed her hands together, almost as if she was waiting to applaud.
As you might imagine, her strange reaction to burn pits elicited quite a few comments from confused viewers on Twitter and other social media platforms — and, just like in 2019, Pelosi's bizarre antics during the State of the Union address were turned into countless memes. "When I see the brownies about to come out of the oven," journalist Grant Addison captioned a video of Pelosi's reaction on Twitter. "*plastic wrapper crumples* my dog:," another Twitter user captioned the video.