Volodymyr Zelenskyy's Aptly Named Sitcom Is More Popular Than Ever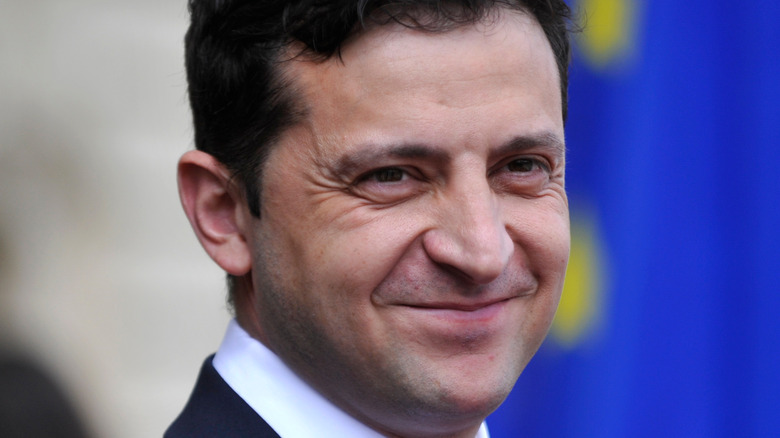 Sergei Chuzavkov/Shutterstock
Until recently, most Americans weren't familiar with Volodymyr Zelenskyy. But that all changed once Russian President Vladimir Putin invaded Ukraine in February 2022, in a breach that President Joe Biden called "unprovoked and unjustified." That was when the world began to become acquainted with Zelenskyy, not only as the president of Ukraine, but also as a brave and determined man who refused to abandon his country in its hour of need. Case in point? CNN reported that the leader refused to leave Kyiv, even after the United States offered to help him evacuate from the capital city. "The fight is here. I need ammunition, not a ride," he said.
Various world powers have responded to the Russia-Ukraine conflict, with many throwing their support behind the Ukrainian people. Per CNN, the U.S. imposed stringent sanctions on Russia, targeting the Nord Stream 2 gas pipeline, and removing them from the SWIFT international financial network. Likewise, the European Union is weighing its options, debating whether to send military support and/or potentially allowing Ukraine to join the European Union. On March 1, President Biden further backed the Ukraine in his State of the Union address, and many members of Congress wore the country's colors of blue and gold in solidarity. But one of the most unusual shows of support thus far has come from a British TV station, which is treating UK viewers to a blast from Zelenskyy's past.
Ukrainian President Volodymyr Zelenskyy was once a TV star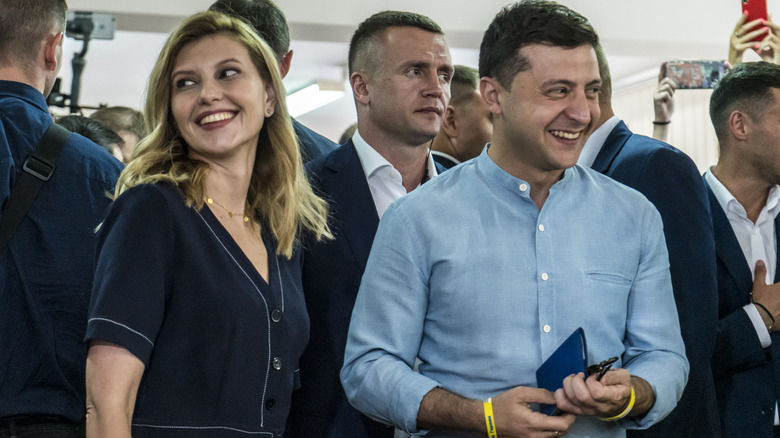 Brendan Hoffman/Getty Images
Though we see Volodymyr Zelenskyy as a kind of war hero now, he established himself in the entertainment world long before ever entering into politics. According to The Washington Post, Zelenskyy began his career as a sketch comedian in the '90s. His credits include a stint on the Ukrainian version of "Dancing With the Stars" and a role as the voice actor for Paddington Bear in the Ukrainian release of the movie series. However, Zelenskyy's biggest success was as the star of a sitcom called "Servant of the People." Per The Washington Post, the series featured Zelenskyy as a high school teacher who is unexpectedly elected president after voicing his political views. The show ended in 2019, shortly before Zelenskyy took inspiration from his role and launched his own successful run for the Ukrainian presidency.
As TMZ reported, British TV station Channel 4 bought the series and will begin airing it on March 6, in a show of support for Ukraine. A clip provided by the outlet shows a scene in which Zelenskyy's character receives a call from German Chancellor Angela Merkel, who invites Ukraine to join the European Union. Only after Zelenskyy's character eagerly thanks her does she realize that she'd meant to call the president of Montenegro instead — and his reaction is both comic and profane. Will the United Kingdom embrace Zelenskyy and his cause even more fervently once they've seen his acting talents? That seems to be the network's goal.