The Bold And The Beautiful Marks Major Milestone In Two Huge Ways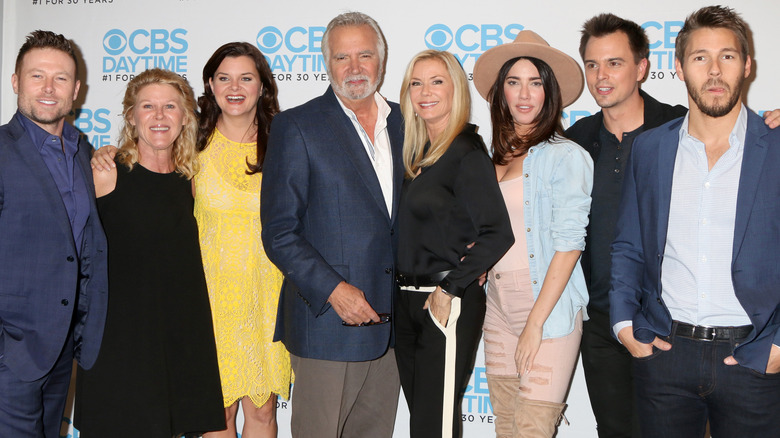 Kathy Hutchins/Shutterstock
On March 23, 1987, a new half-hour soap opera premiered on CBS to air right after its long-running drama, "The Young and the Restless."
"The Bold and the Beautiful" was created by the same husband-and-wife team that gave the world "Y&R," Bill Bell and Chicago talk-show host Lee Philip Bell. The soap opera is set in the glamorous fashion world of a fictional version of Los Angeles.
CBS and Bradley Bell — the son of the late creators, who has been at the helm of the soap since 1992 — have some good news for fans as well as some special plans to honor the show's 35 years on the air.
On March 24, 2022, the day after the soap celebrates its milestone anniversary, expect to see a blast from the past that will bring back fun memories for fans who have followed the life and loves of one particular character since day one. 
And that character, plus other "B&B" faves, will officially be sticking around a little longer.
CBS renews The Bold and the Beautiful for two more years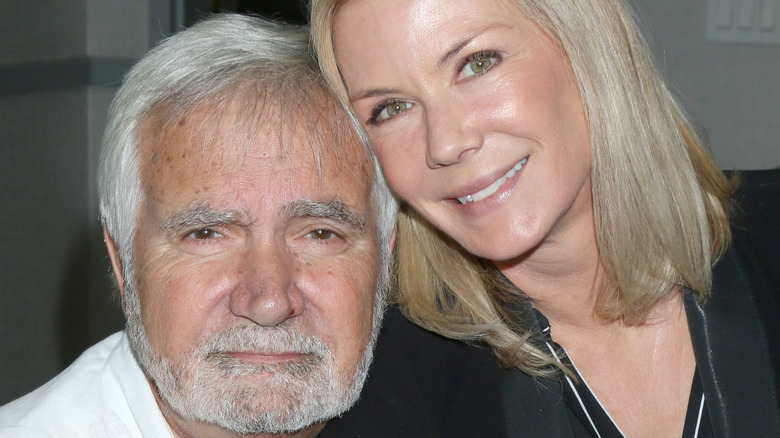 Kathy Hutchins/Shutterstock
For fans who can't get enough of their favorite fashion-forward characters, here's some good news: CBS has decided that "The Bold and the Beautiful" is going to stick around, giving you 30 minutes of drama each weekday afternoon. On March 2, 2022, the network announced that it renewed "B&B" for two more years, according to Variety.
"For 35 years, 'The Bold and the Beautiful' has been a cornerstone of our #1 Daytime lineup," said Margot Wain, senior vice president of daytime programs at CBS, in a statement (via Variety).
"Congratulations to our talented cast and crew, as well as Bradley Bell, who have made this show a creative and ratings success, and thank you to 'B&B's' dedicated fans, whose passion for these characters and stories is unrivaled."
Bradley Bell also thanked the show's loyal global fanbase for its longevity. After all, with an audience of 3 million, "B&B" has more viewers than any of the three other remaining daytime dramas thanks to its global distribution in countries like Italy, Finland, Belgium, and South Africa.
"Thirty-five years ago, I would have never imagined what was in store," Bell said (via TVLine). "Since our premiere in 1987, it's been a fantastic journey and incredible experience for all of us. We would not be here if not for the invaluable support of CBS and our millions of fans around the globe for their loyalty and support."
A Brooke-centered anniversary special is coming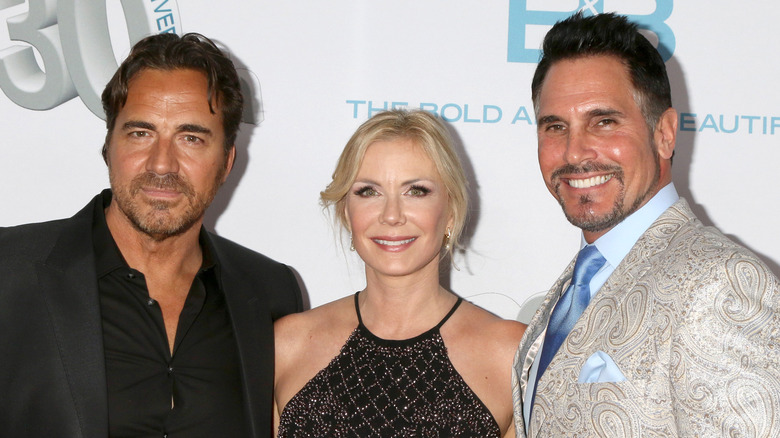 Kathy Hutchins/Shutterstock
Two performers have been on "The Bold and the Beautiful" since day one — Katherine Kelly Lang and John McCook, who play Brooke Logan Forrester and Eric Forrester, respectively. However, nobody on "B&B" has had quite as many lovers as Brooke, a woman whom the late Stephanie Forrester (played by Susan Flannery) dubbed "The Sl*t From the Valley." 
On March 24, 2022, to commemorate 35 years of soapy goodness, fans will be treated to a standalone Brooke-centered episode in which several of her lovers will return for a visit — meaning two actors will be making a comeback, according to Soap Hub. Jack Wagner, who played Nick Marone from 2003 to 2012, and Winsor Harmon, who played Thorne Forrester from 1996 to 2016, will reappear in Brooke's life — but just for one day.
Since day one, there has always been one constant in Brooke's life, Ridge Forrester (played by Ronn Moss at first and now Thorsten Kaye). As of this writing, Brooke and Ridge are married but once again on the outs because she kissed an ex-lover, Deacon Sharpe (Sean Kanan), on New Year's Eve.
That led Ridge back to his ex-wife, Taylor Hayes (Krista Allen). As Brooke examines her life with men later in March, what will she discover about herself? You'll have to tune in to see.