The Top 5 Blooming Gels For Your Trendiest Manicures
We may receive a commission on purchases made from links.
Blooming gels are super trendy right now in the manicure world. For those who are unfamiliar with this manicure technique, Nylon explained that this type of nail polish is meant to be applied before you add colorful polish over it. Then, you apply color over the wet layer to let the polish bloom over the gel for a swirly, blooming design.
Lately, bright, psychedelic-inspired looks have been everywhere in fashion and makeup, and this blooming nail design is right on brand with the '70s look. Additionally, Byrdie pointed out that iridescent, multi-colored, marble, and tie-dye manicures are all on-trend right now. Buying a blooming gel can help you achieve these fun, free-spirited looks with minimal effort. While you may be tempted to go get your nails done at a salon, you can purchase affordable, high-quality blooming gels and do your nails at home to save time and money. We know which blooming gels will help your nails look runway-ready.
These are the best blooming gels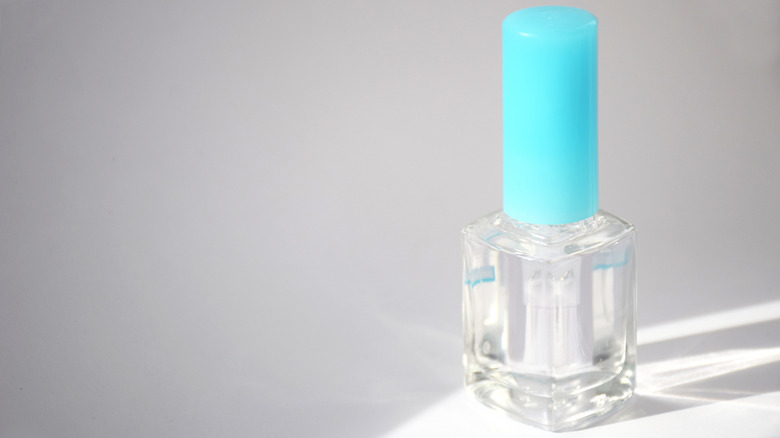 Iris_AN/Shutterstock
If you want to buy a blooming gel for your nails but don't know where to start, we've got you covered with all the best products to achieve that gorgeous marble look (via Heavy). To start, Spreading Effects by Mia Secret is currently available via Amazon for $12.50. Designed for a clear, glossy finish, this product has received a plethora of positive reviews. One customer went as far as to write "LOVE, LOVE, LOVE" in their review.
Up next, we recommend Nail Art Blossom Gel by Aimeili. This item is perfect for anyone on a budget, as it also received almost five stars and is currently available on Amazon for only $6.99 (via Heavy). Also available on Amazon is Burano's Blooming UV Gel. We love that this full-sized bottle also comes with a nail brush to help users get creative. If you're truly excited about exploring this type of manicure, you should get Elite99's Blossom UV Nail Gel received glowing reviews on Amazon. Although this item has been out of stock on Amazon, it's currently available on AliExpress, where it has four out of five stars. 
As noted by Allure, another great option is Luxapolish's Bloom Art Gel, which retails at present for $17. In fact, this gel has 4.9 out of 5 stars on Luxapolish's website. That sounds like a deal to us!
These are some more excellent blooming gels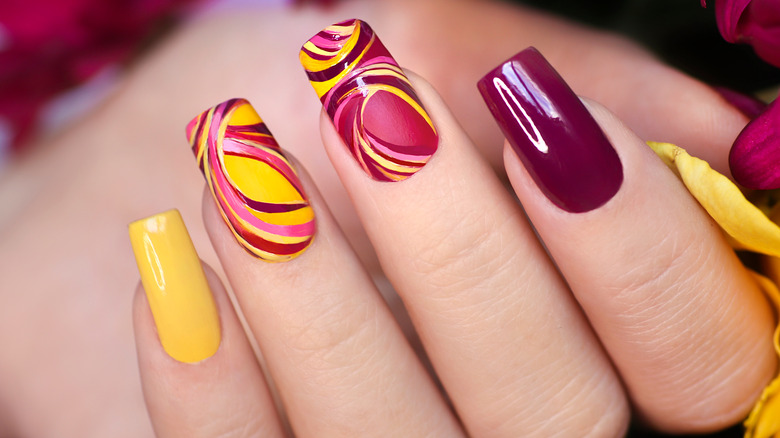 marigo20/Shutterstock
Blooming nails are perfect for all year, but especially for spring. After all, they're blooming, just like flowers once the vernal rains creep in. To make the best blooming nails, you just need the right gel, and we've got a few more recommendations. According to FindThisBest, one of the best blooming gels you can use is Modelone's Blooming Gel Nail Polish Set, which is currently $15.99 at Amazon. This set is perfect for you or as a gift, and it contains seven unique colors so you can mix and match to create countless sets of stunning nails.
FindThisBest also recommends Supwee's Blooming Gel Nail Polish set and Makartt's Clear Blooming Gel set, which currently retail for $14 and $12, respectively. Like Modelone's set, these both offer a variety of options, which allow you to customize your looks endlessly. What these also prove is that it will be worth your money to purchase a set rather than one or two bottles of polish, especially if you're someone who likes to switch their nail styles often. 
Finally, Allure adds that Essie's Gel-Setter is a good option if you have it around. While it wasn't manufactured specifically for blooming nail art, its formula provides similar results. Plus, you can keep it around to use for its intended purposes as a clear cloat, too. In this way, this gel might be the best bang for your buck.