Harry Hamlin Reveals Intimate Details About His Marriage To Lisa Rinna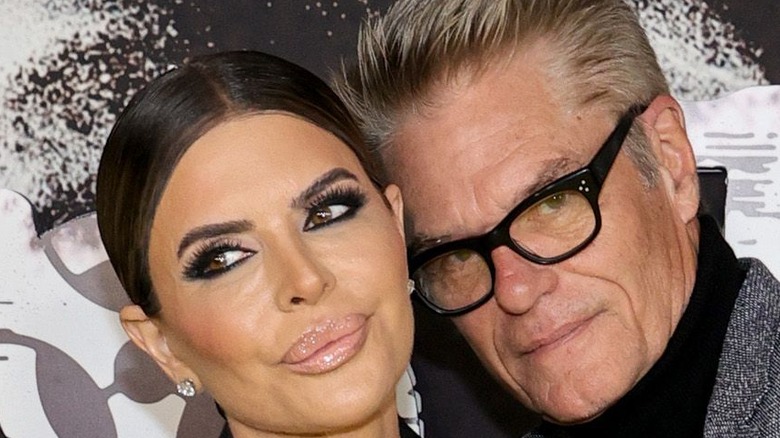 Jamie Mccarthy/Getty Images
When a new woman joins the cast of "The Real Housewives" her husband often ends up thrown into the mix by default. Considering the fact that most of the women entered the show married to affluent men they can often be familiar, but none quite as much as Harry Hamlin. Hamlin was a heartthrob dating back to the '80s and more recently known for his role on "Mad Men," per Bravo TV. Lisa Rinna joining "The Real Housewives of Beverly Hills" definitely garnered a lot of excitement from fans to get an inside look at her life, but they were equally as excited to get a bit of Hamlin screentime. 
The happy couple have been married for over 20 years now, and despite her cast members questioning how close they really are, Rinna has been insistent on how happy they are, per Screen Rant. Viewers have loved seeing a different side to Hamlin over the years on "RHOBH." He has come across as the super gentle, grounding member of their family that makes amazing pies and his now-infamous bolognese sauce, according to Bravo TV. The couple seem to be polar opposites. While Rinna is quite the busybody and delves into the drama, Hamlin would rather spend his time in his "quarantine garden," per Screen Rant. However, they've often opened up about how much they love each other. Hamlin once shared with People that them being "diametrically opposite" is their secret to a happy marriage. Well, this time he's opened up to Andy Cohen and dished on some juicy details of their marriage.
Hamlin denies using 'blue pill'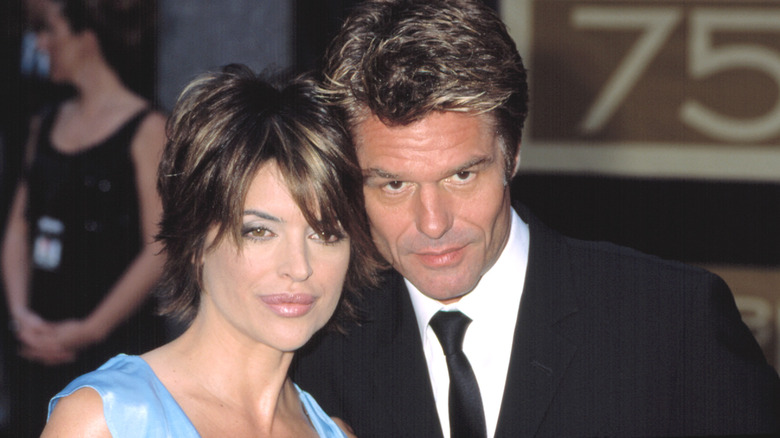 Everett Collection/Shutterstock
Ever since Lisa Rinna joined "RHOBH" alongside Harry Hamlin, reunion host and executive producer Andy Cohen has always been a big fan of Hamlin. So, it was only natural for him to sit down for a candid interview with Hamlin for Interview Magazine, during which they left no stone unturned. Cohen quizzed Hamlin on everything from his acting career to his need to get his acrylic nails done on a regular basis. But where the dirty deets were really spilled was when it came to his marriage with Rinna. 
Cohen wasted no time jumping right into it and asked Hamlin about their sex life, which he has always been very open about. Hamlin confirmed yet again how great his sex life with Rinna is, saying, "Of course it is, Andy! We're still married." When Cohen mentioned that most married couples seem to think the sex dwindles down and asked Hamlin how they've kept the fire burning Hamlin joked, "I'm sorry about that. A lack of ED [erectile dysfunction], perhaps?" Before denying taking any supplements to help him in that area, "I am Harry Hamlin. I've never had the blue pill. Is it blue or purple?" 
Rinna has revealed her own sex life secrets on the show, and Cohen made sure to question him on that too, "She'll say personal things about your sex life. I think she said last year, or the year before that, that you like a hairy bush." To which Hamlin supportively said, "She can say whatever she wants."