The Real Life Bold And The Beautiful Reunion You Never Expected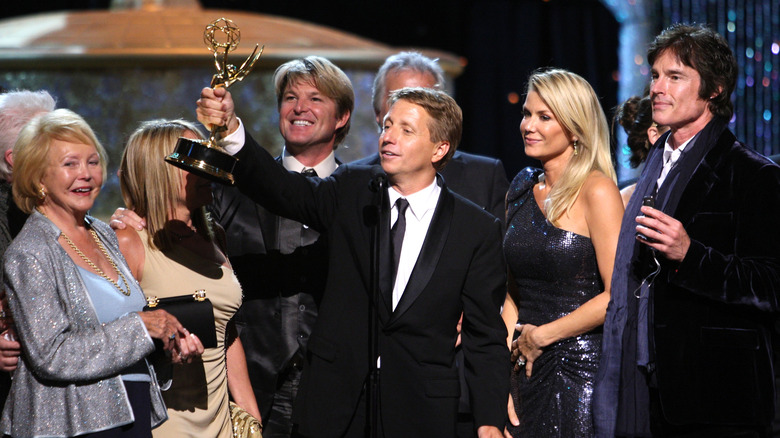 John Shearer/Getty Images
"The Bold and the Beautiful" began airing back in 1987, but the hit soap opera has never been more popular. As Variety reported, network CBS renewed it for two more years while simultaneously announcing a celebration of the show's 35th anniversary.
Although other soaps have been on the air for longer, few are as esteemed as "The Bold and the Beautiful." To date, the show has been nominated for an astonishing 300 Daytime Emmy Awards, winning 100, solidifying its position as the most-watched American-produced daytime drama in the world. Announcing the renewal, Margot Wain, senior VP of Daytime Programs at CBS Entertainment, confirmed in a statement, "For 35 years, 'The Bold and the Beautiful' has been a cornerstone of our #1 Daytime lineup."
Wain also thanked the ravenous fans "whose passion for these characters and stories is unrivaled." Executive producer Bradley P. Bell admitted he never could've foreseen "The Bold and the Beautiful" being as successful as it is, sharing, "It's been a fantastic journey and incredible experience for all of us." Key to the show's continued prosperity is its cast of talented performers who, as it turns out, remain close even after they've said goodbye to it. 
Former Bold and the Beautiful co-stars ran into each other in the real world
Soap legend Katherine Kelly Lang took to Instagram to share a sweet selfie with former co-stars Kim Matula, who played her daughter Hope Logan, and Linsey Godfrey, who played Caroline Spencer. The trio of talented ladies enjoyed a mini-reunion of sorts after a workout, with Lang sharing, "I ran into these girls at the gym yesterday." She added, "Miss you both! We must get together soon."
As Soaps.com points out, Matula appeared on the show from 2010 until 2016, while Godfrey was on "The Bold and the Beautiful" from 2012 until 2018, so there was significant overlap between them. Lang, meanwhile, has been with the hit soap since the very beginning. It's clear the "Bold and the Beautiful" cast is incredibly close, even despite all the surpsiring rules they have to follow on set.
Both Matula and Godfrey have been working consistently since saying goodbye to the soap, with Matula appearing in movies including "Fighting with My Family" and on TV in the likes of "LA to Vegas" and "Impeachment: American Crime Story." Godfrey, meanwhile, went on to star in another hit soap opera, "Days of Our Lives," as Sarah Horton. As for whether an onscreen reunion is on the cards, we'll have to wait and see.