These Are The Best Gold Nail Polishes For Luxe Nails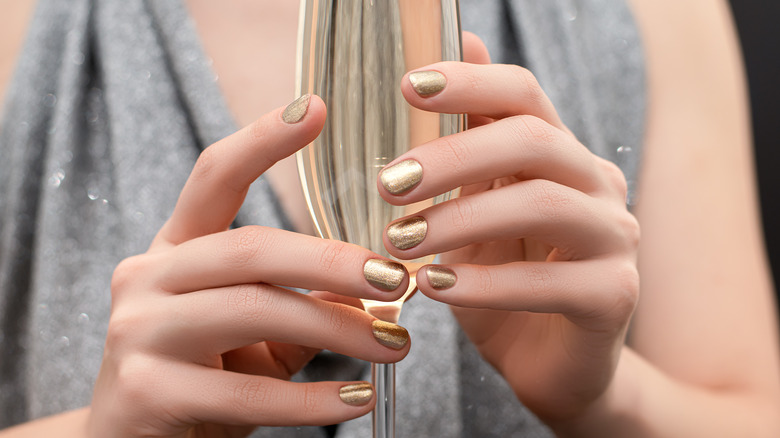 Dev_Maryna/Shutterstock
Getting a manicure is a beautiful form of therapy for many because it is a type of self-care. Even if things aren't going great in your life, a decent manicure can make you feel more put together.
You can pull nail inspiration from just about anywhere, but there are some things that are trending recently. For instance, OPI educator Cean Alphonso told Vogue, "While the coffin nail length and shape is still popular, I definitely feel that lots of people are opting for more natural lengths due to the COVID-19 pandemic." There is nothing dull about short or natural nails. And those who aren't fans of long acrylics can opt for gel nails, which look gorgeous but have their own set of disadvantages. For one, they can be expensive, and the UV light used to "dry" them can accelerate aging on the skin, per Allwomenstalk.
While #ManicureMonday is always trending on Instagram with plenty of inspiration, the pandemic did put a pause on many artsy designs due to nail salons being closed for a while. The pandemic brought out the artist within each of us. Painting your nails at home can be an affordable and less harmful way of getting pretty nails, and it doesn't have to be boring. While many people love sticking to neutrals or reds for everyday color, if you want to feel glam and luxe, you need to try gold nail polish. We think it makes a statement and works as a great accessory.
These gold nail polishes feel festive year round
You may think gold nail polish is just for special occasions, but you can rock gold nails on the daily. It is a bold color but less vibrant than an in-your-face neon. We rounded up some luxurious options that will look beautiful on all skin tones.
Cosmopolitan hyped up Essie's polish in shade Good As Gold. It is an opaque "silvery-gold" with a glossy finish. This metallic shade looks regal and is the perfect pick for a special occasion but subtle enough for everyday use. Elle recommended shade Shattered Souls from the Allure Best of Beauty award-winning brand, Smith & Cult. The vegan and non-toxic option has small and large glitter particles in a clear base. According to the brand, the inspiration for the color is, "I want a star on the Hollywood Walk of Fame. I want to do nothing to deserve it." 
For a truly luxurious feel, try Chanel Le Vernis Longwear Nail Color in shade Canotier, as recommended by Who What Wear. It is expensive, but this highly pigmented polish looks and feels sophisticated. As an added bonus, it is formulated with bioceramics and ceramides to improve the quality of your nails over time. Refinery29 recommended Sally Hansen Insta-Dri Nail Color in shade Go For The Gold if you are looking for an affordable pick. All you need is one coat, and it dries in 60 seconds; there is no way you will smudge it.