Is General Hospital Getting A Brand-New Trina?
Trina Robinson has been going through a rough time on "General Hospital" lately. She was drugged at a cabin getaway with her friends and doesn't even know it. She just believed she didn't handle the alcohol well. She's also been on the outs with her best friend, Josslyn Jacks (Eden McCoy), who seems to be using her to get revenge on bad girl Esme Prince (Avery Pohl) and the boy she loves, Esme's boyfriend, Spencer Cassadine (Nicholas Chavez), who is now behind bars for 30 days.
"Sprina," as they are known in the social media world, are finally starting to admit they have feelings for one another and Esme is trying to get her own revenge on Trina for nearly stealing her boyfriend by letting Josslyn believe Trina recorded her in bed with Cameron Webber (Will Lipton). With all of those soapy stories going on at once for one character, it looks like fans are going to have to get used to a big change with Trina as actress Sydney Mikayla, who has been playing the now-college freshman since 2019, is ready to concentrate on her own college career.
Sydney Mikayla is leaving General Hospital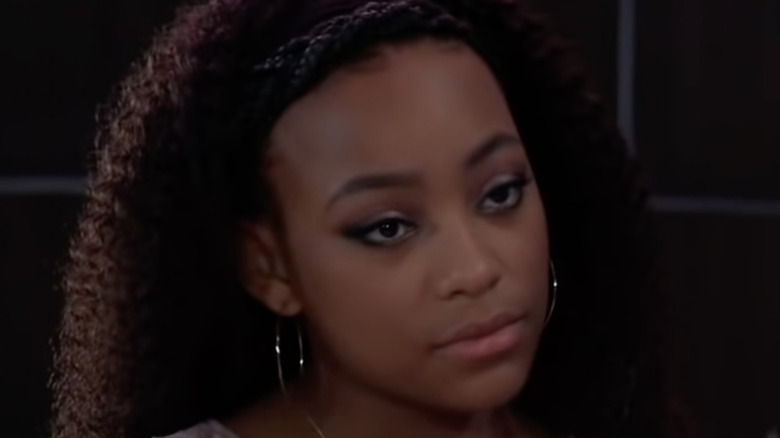 Sydney Mikayla started life as a UCLA freshman in the fall 2021 and is choosing to leave Trina Robinson behind as her college studies become her main focus. "General Hospital" announced her departure on March 4, 2022 with a statement from "GH" Executive Producer Frank Valentini.
"Sydney asked to leave in order to focus on college," Valentini told Soap Opera Digest. "We love her and are sad to see her go, but of course support her decision and wish her the best."
Mikayla herself offered her own two cents as she devastated "Sprina" fans from coast to coast. "I have loved working on 'General Hospital', but I feel like this is the right time to dive in and enjoy my college experience to the fullest," Mikayla told Digest. "The cast has become family and bringing the character of Trina to life has been one of the best experiences of my career thus far. Thank you to Frank and the entire team for believing in me and giving me this wonderful opportunity. I will miss working with everyone every day, but I am excited to see what is to come for the show."
Tabyana Ali, whose previous credits include "Shimmer and Shine," "The Big Show Show," and "New Girl," takes over the role on March 17.