Is Cerave Micellar Cleansing Water Worth It?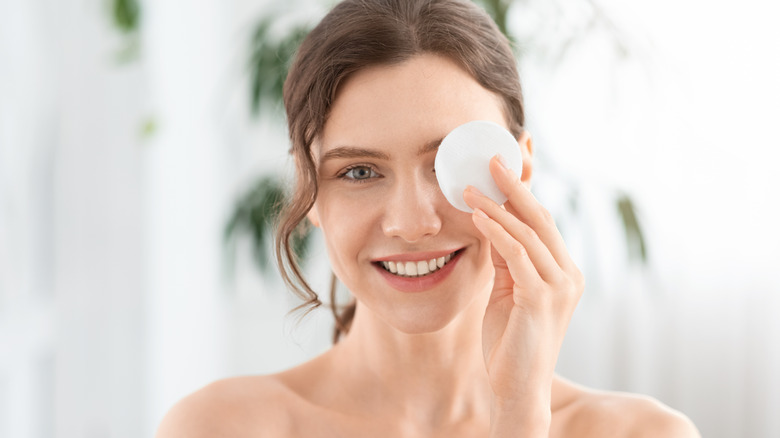 Prostock-studio/Shutterstock
We may receive a commission on purchases made from links.
Micellar water has become a staple in every skincare junkie's bathroom vanity because it promises clean and clear skin. It's also a favorite among dermatologists for its cleansing and hydrating properties. For those who've heard of the product but aren't sure what it is exactly, "Micellar water is a specially formulated solution that contains small, suspended surfactant molecules ('micelles') that by nature attract dirt and oil," Dr. Alexis Granite, CeraVe consultant dermatologist, told Women's Health. As Healthline reports, micellar water is the perfect soap-free, no-rinse cleanser — thanks to its purified water, moisturizers, and mild surfactants that work together to effectively remove dirt, oil, and makeup. The product is popular as it works for all skin types, and is easy to use, especially when traveling.
Just like micellar water, CeraVe is one of the most popular and efficient skincare brands out there, per Byrdie. The brand was developed by dermatologists and boasts a combination of three ceramides in every product to help strengthen the skin barrier. So, when CeraVe launched its own micellar water, people couldn't wait to try this powerful combo together. We have a feeling you might love it too.
CeraVe hydrating micellar water cleans, protects, and calms your skin
CeraVe hydrating micellar water is an ultra-gentle cleanser that efficiently cleans by removing all traces of stubborn makeup, excess oil, and dirt without the extra step of rinsing it off. According to CeraVe's website, it contains glycerin to hydrate the skin, as well as nourishing ceramides and calming niacinamide. Not only can the three-in-one product simultaneously cleanse, hydrate and remove makeup — but it's also noncomedogenic, fragrance-free, and paraben-free. It retails for $12.99 at Ulta.
Women's Health raves about CeraVe Micellar Water because (unlike other micellar waters on the market) it has the added bonus of ceramides to balance your skin's pH and protect the skin barrier. Thanks to the anti-inflammatory benefits that niacinamide provides, it's the perfect pick for sensitive skin. Byrdie considers the micellar water to be one of CeraVe's best products because it works for both morning cleansing and double-cleansing at nighttime. Because it doesn't sting, "It's also safe for sensitive eyes, which helps to safely remove eye makeup," board-certified dermatologist Jeannette Graf shared with the publication. Overall, the fact that the product works to simultaneously clean and hydrate your face is a fact that has impressed many customers.