Kurt And Steven Of Joe Millionaire Share Behind-The-Scenes Details - Exclusive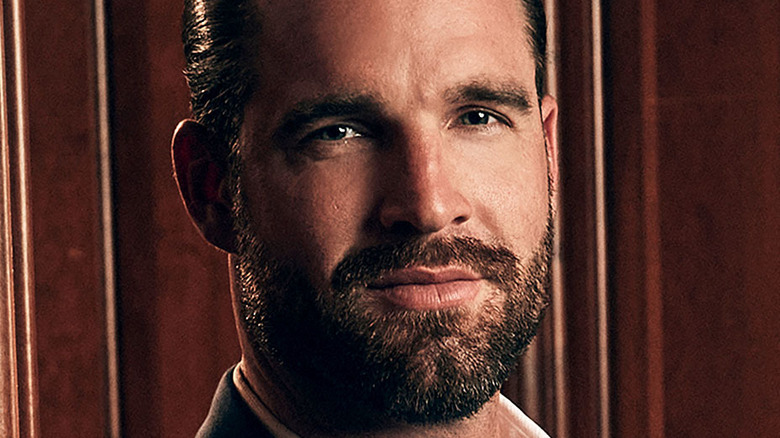 Drew Herrmann/FOX
FOX's new dating show "Joe Millionaire: For Richer or Poorer" follows a group of women competing for the affection of two eligible bachelors, Kurt Sowers and Steven McBee. It's based on the 2003 reality dating show "Joe Millionaire." However, in the 2003 series, the female contestants were dating a man who they believed was a millionaire when he really wasn't. The twist in the 2022 version is that one of the two men is a genuine millionaire. However, the women aren't told if the millionaire is McBee or Sowers.
Viewers seeing the romantic dates and fun locations the cast goes to throughout the show may think it's all very glamorous. But, in an exclusive interview with The List, the men of "Joe Millionaire" revealed what it was really like behind the scenes. They discussed working long hours, having cameras everywhere, and the challenges of dating in a reality TV setting.
They were 'ignorant' going into the show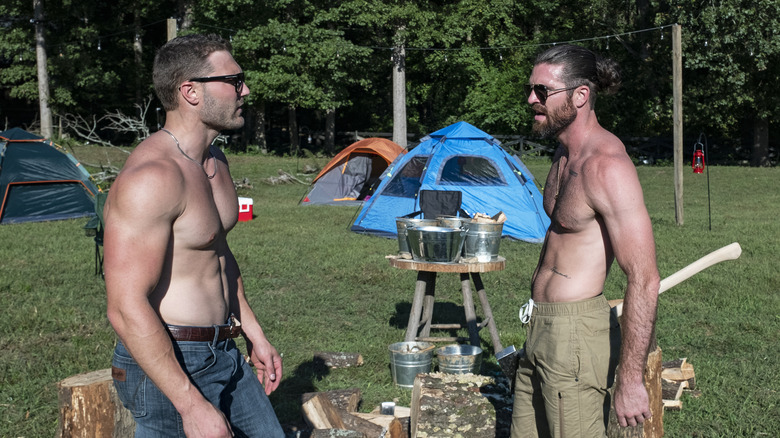 2022 FOX Media LLC. CR: Wilford Harewood/FOX
Neither of the two men sought out a spot on "Joe Millionaire: For Richer or Poorer." Kurt Sowers and Steven McBee only considered it after a casting agency approached them through Instagram. They'd never pictured themselves on a reality TV show. McBee explained, "​​for me personally, I know for Kurt as well, I don't even have cable in my house. I don't watch reality TV. Kurt doesn't even have a TV in his bedroom. We're not your typical reality TV show guys. This is not something I ever dreamed of." Because of that, both men went on to the show without any idea what to expect from it.
Sowers said he thought their naivety to the reality TV world was obvious in the series, "We were both so ignorant to what goes on [during] these shows and what situations you might be put in, even how things could be produced a little bit. I had no idea what I was getting myself into."
Sowers and McBee were a little lost when it came to reality TV in general, but they were also purposefully kept in the dark on specifics of the show until it started. "They purposely didn't tell us a lot about what we were getting ourselves into. They didn't tell us the nature of the show, how big the show was," McBee said.
Dating with cameras everywhere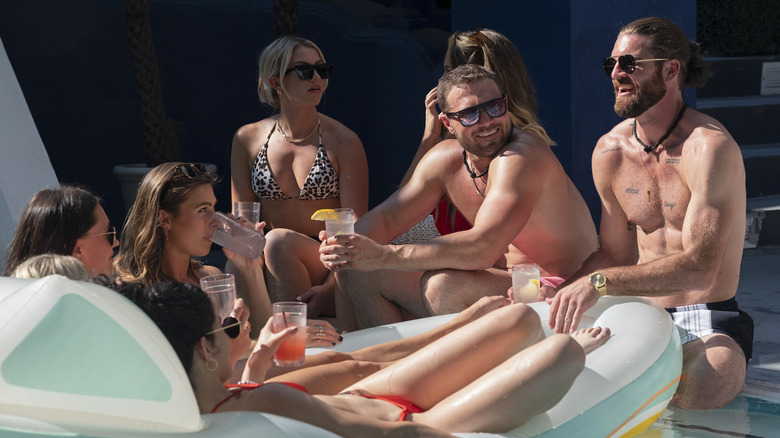 2022 FOX Media LLC. CR: Wilford Harewood/FOX
When Kurt Sowers and Steven McBee first arrived on set, they didn't know how big the production would be. McBee was worried it would be a small project. "My concern was going down there and being followed around by two or three cameramen using little handy cams ... because then I'd look like an even bigger fool." But, it didn't take long to see that wasn't the case. McBee described it, saying there were "200 people on set, there are ten huge cameras in your face at any given moment. There are cameras mounted to your bedroom walls."
Having such a big crew and limited time made it difficult for the bachelors to connect with the women they were dating at first.
Sowers described the early parts of the show when there were 18 women competing. "It looks like we spend a lot of time with these women, but the truth is you don't," he said. "We see them for short spurts at a time; the conversations are limited. Most of the time, their conversations are [interrupted] by other people and/or producers."
However, as time went on, they all got more used to having the cameras and crew around. McBee said, "by week two, you're so tired of the cameras it's like they're not even there. I found myself thinking halfway through the deal, 'Man, there's literally 25 people around me ... and I'm having like intimate conversations with these women and not even caring."
Managing their 'brutal' schedule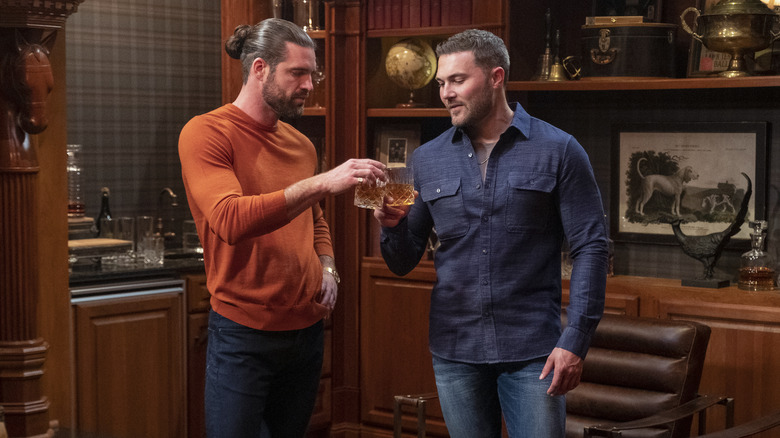 2022 FOX Media LLC. CR: Wilford Harewood/FOX
According to Kurt Sowers and Steven McBee, there are a lot of long hours behind-the-scenes of "Joe Millionaire." Both men run companies, and stepping away from work to film the show was quite challenging. Sowers described their daily schedule, saying, "Between 6:00 a.m. and 8:00 a.m. is when they allowed Steve and I to work ... From 8:00 a.m., we'd try to get a quick workout in, and we'd be in the chair doing interviews by 9:00 a.m., and then from 9:00 a.m. till, who knows, 2:00 a.m? We'd be shooting. Pretty brutal. We were running off next to no sleep almost the entire time."
McBee remembered trying to catch some sleep in any spare moments they had. "We'd be in a tuxedo, and they'd be like, 'All right, you have 45 minutes before we shoot.' And we're like, 'All right!' I'd go jump in bed in a tuxedo and nap." But, however hard they were working, they said they were amazed to see everything production was doing behind the scenes. "We were working 16, 18 hour days and as hard Kurt and I were working in front of the camera, everyone on the production side was working, literally, close to 20 hour days behind the scenes. It was pretty crazy to watch that happen," McBee said.
New episodes of "Joe Millionaire: For Richer or Poorer" air Thursdays on FOX at 8/7c. Episodes are available on FOX NOW the following day.