What You Don't Know About Michael Rainey Jr.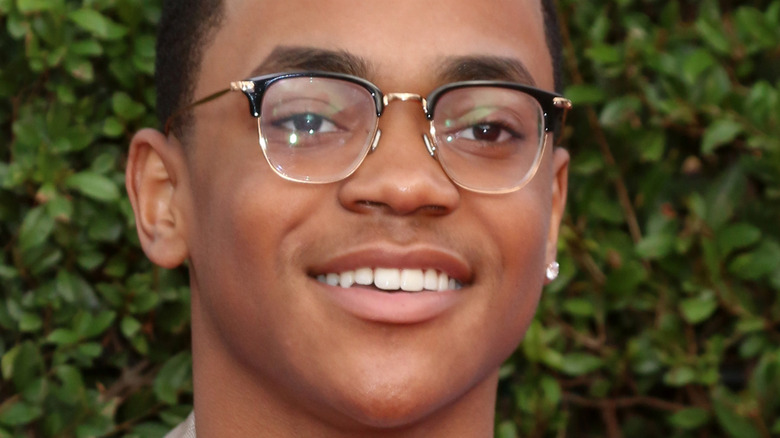 Kathy Hutchins/Shutterstock
Michael Rainey Jr. was cast on the hit Starz TV show "Power" back in 2014. As Tariq St. Patrick — one of the three children of the show's main character James St. Patrick and his wife, Tasha — Rainey Jr. was largely in the background of the show until he began to rise prominently before the death of his character's twin sister. Rainey Jr. was granted his own spin-off series, and "Power Book II: Ghost" kicked things off in 2020.
Joining "Power" in 2014 was a gamechanger for the young star, and he told Insider that being given his own show to star in has been an incredible part of his journey. As he put it, the transition from playing the child of a main character on a show to playing the main character of a show takes one thing. He explained, "To take on that type of responsibility, you need confidence. So I feel like I just had to just get the confidence."
These days, it certainly seems that Rainey Jr. has confidence in spades. And it turns out that there are a few things you might not know about the young lead of "Ghost."
He accidentally became an actor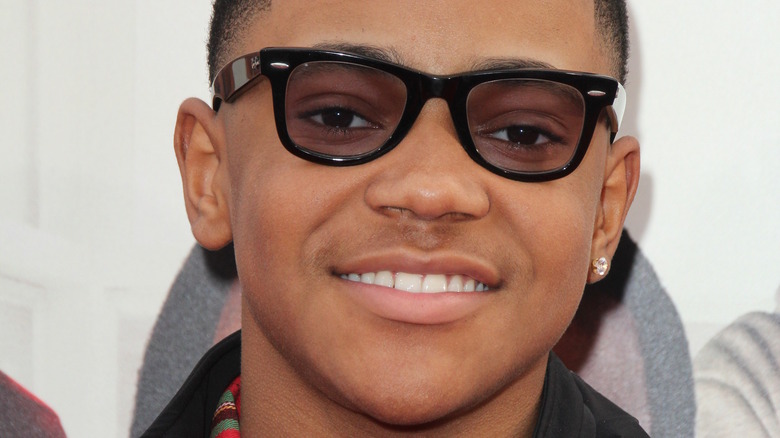 Kathy Hutchins/Shutterstock
Michael Rainey Jr. wasn't always sure that he was meant to be an actor. In fact, he was literally scouted while outside one day to do some print work. Then he did a music video, which basically led to him falling into acting by chance. As he told the Jamaica Observer's Splash, the music video was seen by Italian director Silvio Muccino, who knew Rainey Jr. was perfect for a role in his next film. He explained, "They flew us to Italy for 10 days to meet and the next thing I know we were back in New York packing our bags and heading back to Italy to do my first movie in Italian."
Rainey Jr. made his debut in the 2010 film "Un Altro Mondo" when he was only 10 years old. This was followed up by his 2011 film "LUV," in which he starred alongside Common (per IMDb). As he later told Regard Magazine, making "LUV" was the experience got him hooked on acting. He said, "I got in the business by accident. But, after doing the film 'LUV,' I knew that I definitely wanted to be an actor."
Michael Rainey Jr. has Jamaican ancestry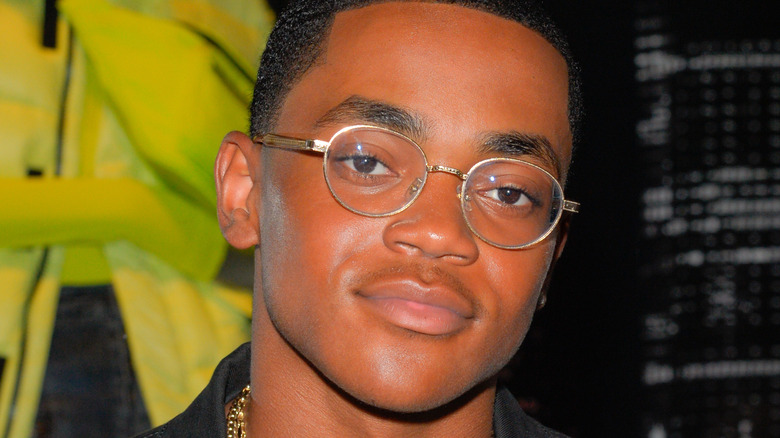 Ron Adar/Shutterstock
Michael Rainey Jr. was born in September 2000 and grew up in Staten Island, New York with his parents, according to SILive.com. While his father was born in the United States, it turns out that Rainey Jr. has Jamaican ancestry. His mother was born on the island and lived there until she was almost a teenager, as Rainey Jr. told OnStage. At that point, her family moved to the United States, where she has lived since.
In 2018, Rainey Jr. returned to Jamaica to apply for dual citizenship. As he explained to OnStage, he visits the island often to see his family, and they all even have a home in Jamrock (via Urban Islandz). He told the publication at the time that he was hoping to enjoy the island for vacation. He said, "I'm here just to enjoy myself. My family has a house here. I'm also here to do a charity for multiple homes as well."
The actor is a dedicated philanthropist
Eugene Powers/Shutterstock
While it might be easy to assume that a young man in Hollywood spends his off-screen time engaging in any number of activities, Michael Rainey Jr. has demonstrated an admirable commitment to philanthropy. While speaking to Jamaica Observer's Splash in 2018, he explained what kind of charity work he was engaging in on a trip to Jamaica that year.
Rainey Jr. said that he alternates between doing hands-on work in person in Jamaica and sending items that are donated in the United States to various homes and centers in the country. "When I was in Jamaica, I went to the Jamaica National Children's Home and we started to buy and collect things for the children," he said. "We will be sending down the things very soon. We also bought some baby items for another home." He added that it's his fervent hope he can get other people involved in the operation too.
50 Cent is Michael Rainey Jr.'s mentor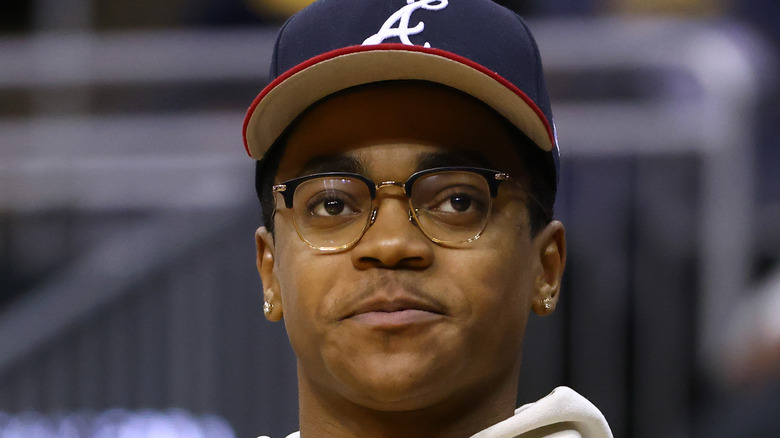 Rich Schultz/Getty Images
Rainey Jr.'s character, Tariq St. Patrick, grew up before viewers' eyes through the original series that started it all: "Power." While Tariq was a controversial character, especially in the last season or two of "Power," the Starz network greenlit his own spin-off titled "Power Book II: Ghost" in 2020.
Courtney Kemp, the show's creator, always knew there would be several "Power" spin-offs. Kemp told Entertainment Weekly that Rainey Jr. has gone above and beyond on his own spin-off, and show producer 50 Cent deserves some of the credit. The rapper has worked with the young actor for years and is a kind of mentor. As Kemp put it, the pair's relationship runs deep. She said, "He's stepped up on every level and I'm really thrilled with him. 50 has done such a great job supporting him. They worked together extensively during 'Power,' so 50 really knows him well and has done such a great job of supporting him and preparing him for this."
Rainey Jr. echoed this sentiment when speaking to Right On! magazine. While acknowledging the responsibility that both 50 Cent and Kemp have placed on him, he said that he has to keep going, noting, "50 and Courtney believed in me to take on the responsibility. I can't be shy about this; they gave me the responsibility. I got to take it, I got own, it, right?"
He has always wanted to be the star of his own show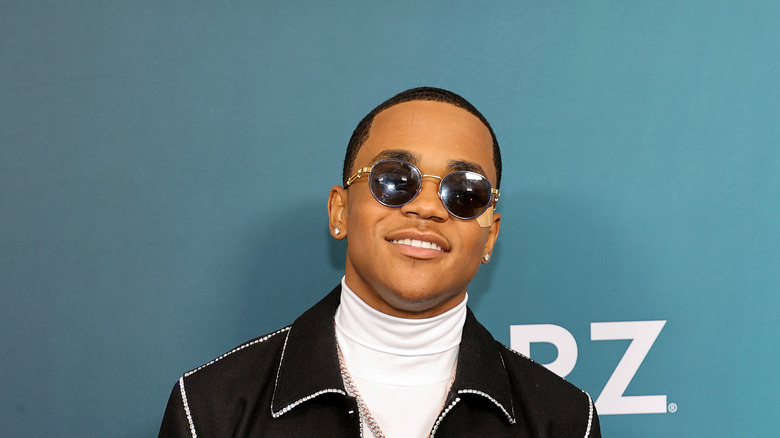 Jamie Mccarthy/Getty Images
Stepping out from playing the child of the lead actor on "Power" to owning the role as the main character on "Power Book II: Ghost" might seem like a lot for a young star, but Michael Rainey Jr. has said that he's wanted to be the lead role in a television series for quite some time. While speaking to Right On! magazine, he admitted as much, explaining, "I always wanted to be a main character in a TV show; once I started acting it was the one thing I've always wanted to do. So when it was told to me, I was just like I was just like, 'wow.'"
In fact, Rainey Jr. was in such a state of disbelief that he didn't even believe 50 Cent when the rapper told him about the spin-off focused entirely on Rainey Jr.'s character, Tariq St. Patrick. He admitted that he thought it was a joke until a few weeks later when show creator Courtney Kemp repeated the news. Rainey Jr. said it was at that point that it seemed "real."
Michael Rainey Jr. is also a rapper and YouTuber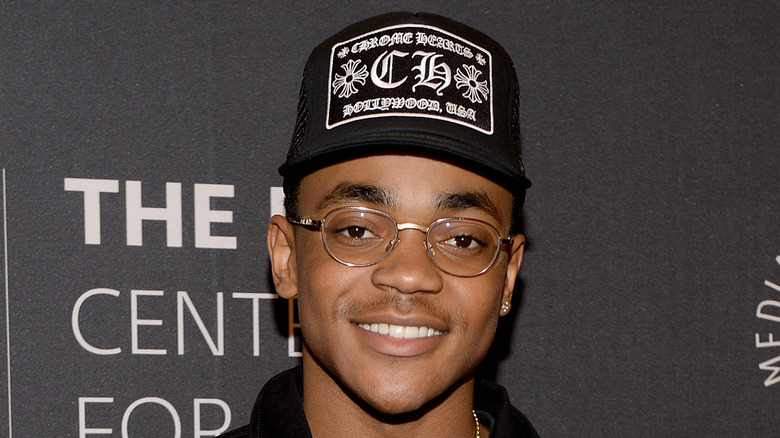 Brad Barket/Getty Images
While he's largely known for his roles on "Power" and "Power Book II: Ghost," Michael Rainey Jr. also has a side gig as a YouTuber. In fact, he has been sharing videos on his account "Where Is 22" since 2020. Where Is 22 is also the name he goes by when he raps.
While Rainey Jr. hasn't spoken publicly about his YouTube channel or the songs he has released over the years, he has already collaborated with other musicians, including Famous Dex. In 2018, Rainey Jr. shared a photo on Facebook of himself and Dex in the studio, noting, "When I'm not acting I'm in the studio making beats!"
His YouTube channel has proven to be quite popular among his fans, amassing over 183,000 subscribers to date. His videos are also viewed often, with some videos receiving hundreds of thousands of views. Part of the reason his videos do well could be that his "Ghost" co-stars make appearances. For example, Gianni Paolo, who plays Rainey Jr's best friend on the show, showed up in the video titled "Look At Where We Started."