Why We Can't Wait To Ditch Downturn Eye Makeup In 2022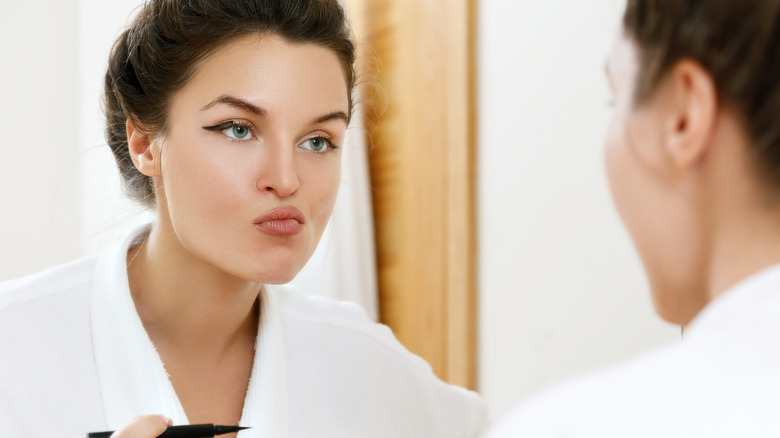 BLACKDAY/Shutterstock
Makeup trends come and go, but some iconic looks will last forever. Before the explosion of social media, consumers took makeup inspo from their favorite celebrities, but now there's the influx of fashion runways, Hollywood "It" girls, and Instagram influencers. Remember back in the aughts when women were tweezing their brows to almost nothing? We currently have international supermodel Cara Delevingne (and others) to thank for the return of natural, bushy brows. According to Allure, there are hundreds of products dedicated to brows today, including well-known brands like Benefit Cosmetics and Anastasia Beverly Hills.
The changing aesthetics of makeup is fascinating. While previous decades encouraged cakey, overly-contoured looks, Woman & Home reports that natural skin is once again in vogue. Per The Zoe Report, the 2020's have seen a rise in dewy, healthy-looking skin that allows your natural beauty to shine without the help of too much product — which is one trend that we can get behind! But while we're embracing our natural brows and skin, there's another trend that we can't wait to ditch in 2022: the downturned eye makeup trend.
Downturned eye makeup can make your eyes look smaller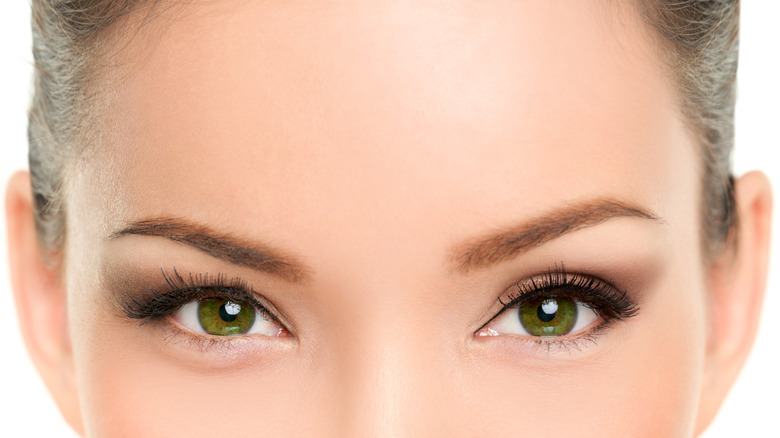 Maridav/Shutterstock
While makeup is all about creative expression, downturned eye makeup doesn't always appear to be flattering. Per Huda Beauty, makeup enthusiasts should aim to create a lift with eyeshadow application, "since a downturned eye can sometimes read as sleepy." Furthermore, shadows and liners on the outside corner of the eye may change the natural shape of the eye and give it a more downward slant. Despite this, there's still a rising trend among beauty enthusiasts of intentionally making the eye shape appear more downturned.
Makeup artist Kimara Ahnert tells InStyle why this is a no-no. For those trying to achieve an extended cat-eye, "Emphasizing the outer corner of the eyes make eyes look more open and lifted," she explains. Likewise, doing the opposite can make your eyes appear smaller and more closed, which seems counterintuitive. While the popular cat-eye trend helps to lift the eyes, it isn't easy to recreate on all eye shapes, especially those which naturally slant downwards. Those of us born with downturned eyes, including almond, hooded, or monolid eyes, have a natural shape where the eyes slope or tilt downwards at the outer corners, per Mind Body Green. According to Glamour, if you have downturned eyes and want to give up on liner, you can try the Korean beauty trend of "puppy eyes," where you draw the liner downwards to follow the natural curve of your eye. Bonus: it's super easy!