How Much Money Did Bob The Drag Queen Spend On Her RuPaul's Drag Race Looks?
DFree/Shutterstock
After the show became a cultural phenomenon, the stakes have been raised for drag queens who want to try their hand at the competition reality series "RuPaul's Drag Race."
Regardless of what changes, if you are hoping to get on the show, RuPaul offers sound advice (via Vanity Fair). "What happens is when you audition enough people, you realize everyone does the exact same thing," he said. "They behave in a way that they think I want them to behave. But the people who stick out are the ones who are authentic and are really just being themselves."
The famous drag queen continued, "The person behind the table is really looking to see different notes of your own personality and how it could fit into whatever it is they're doing, whatever it is you're auditioning for. The truth is, just be yourself. Be yourself. There's nothing more boring than someone who's putting on a facade that isn't authentic."
However, aside from being authentic, queens who are hoping to get on upcoming seasons of the show need to have more than just personality. They will have to have enough money to churn out unique looks on the runway each week (via The Richest). In fact, "RuPaul's Drag Race" carries a big cost that not many queens talk about, but some queens have been more earnest about how much they spent for the show. Among them is Bob the Drag Queen, the winner of Season 8.
Bob the Drag Queen paid less than many current contestants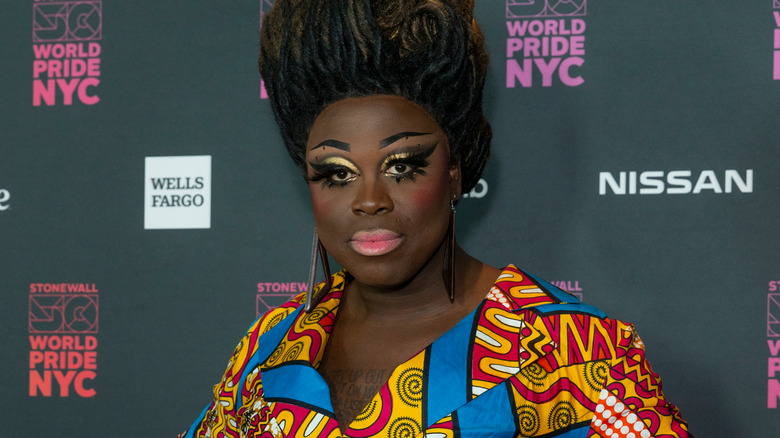 lev radin/Shutterstock
Queens who competed in earlier seasons of "RuPaul's Drag Race" did not spend as much as the current contestants have. While queens used to get away with outfits made with cheaper materials or constructed by hand, those looks would now get heavily critiqued by the judges, who are looking for something more as the show has evolved (via Them).
Bob The Drag Queen, who won Season 8 of "RuPaul's Drag Race," told Vice about how much money she spent on the show, and the answer may upset current contestants. "I did not spend a lot of money," Bob shared. "I realistically spent maybe, maybe $3,000 to go on 'Drag Race.'" Bob did add that she eventually forked over another $3,000 for her two grand finale looks, indicating that she $6,000 total for the main season and the grand finale. However, she won the grand prize of $100,000 — pre-tax, that is — so it was worth it in the end.
Bob added that if she were to go on the show now, given the higher stakes, she would have to spend between $20-40,000 to keep up with the new pressure.