The Chicago P.D. Episode You Forgot Brenda Strong Starred In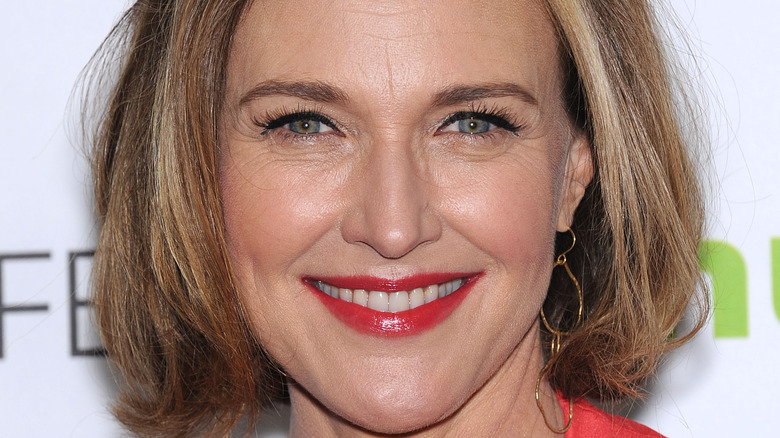 DFree/Shutterstock
Although Brenda Strong has been a small screen stalwart since the 1980s, she's probably most well-known for a role that didn't even require the actor to be onscreen for the most part. Strong portrayed the late Mary Alice Young, the "Desperate Housewives" narrator and the catalyst for some of the biggest drama on Wisteria Lane, at least in the beginning. As Us Weekly notes, during her final season of "Desperate Housewives," Strong actually booked a starring role on "Dallas" too. 
In the years since, the actor and mother of one has popped up in "Supergirl," "13 Reasons Why" and "Fear the Walking Dead." Clearly, TV is where she feels most comfortable, having cut her teeth in the high-profile likes of "Dawson's Creek," "Seinfeld" and "Twin Peaks." Strong has done it all, from comedy to drama, soap opera to sitcom, over the course of her career. In fact, she even joined the "One Chicago" universe with a notable appearance in the police procedural "Chicago P.D."
Brenda Strong took no prisoners on Chicago P.D.
Per IMDb, Brenda Strong appeared in a 2016 episode of "Chicago P.D." entitled "Now I'm God." She played Attorney Green, who's involved in investigating a case of suspected medical malpractice from Sergeant Voight's (Jason Beghe) past when a doctor he previously dealt with (played by Jeremy Shamos) is accused of overprescribing chemotherapy. Fandom confirms Dr. Reybold actually treated Voight's late wife at one stage, leading a distraught Voight to make it his mission to get the medic in question convicted. 
Strong shared a behind-the-scenes shot on Twitter of her and co-star Sophia Bush, who played Detective Lindsay on the hit show (she's since left). She captioned it, "Sad to leave such a dynamic and talented set of peeps on @chicagopd — hope to see you all again soon!" It remains to be seen whether Attorney Green will be back but, in the meantime, Strong is staying busy, even moving behind the camera on "13 Reasons Why." During a chat with Pop Culturalist, she opined, "I think every actor at some point should direct. It gives you a different perspective on what a collaborative effort filmmaking is." 
The TV star has carved out a space for herself on the small screen, and Strong remains grateful for every opportunity, sharing, "Television is a large operation. If one thing fails, the whole thing falls apart. I'm super lucky to be working with people who I already have relationships with, whom I respect and adore."