The One Chicago Universe Is Bigger Than You Think
With mega-popular shows such as "Chicago Fire" and "Chicago Med," the One Chicago franchise has dominated TV screens for years. The shows are amongst the most faithfully followed on NBC's docket, and stars such as Taylor Kinney and David Eigenberg have worked on them since their inception. It's a truly dedicated world of cast, crew, and fans. What you may be surprised to learn, though, is that the world is even bigger than you initially realized.
For instance, you're likely well-versed in the franchise's most recognizable shows. "Chicago Fire" has been on-air since 2012 and recently aired its 200th episode. "Chicago P.D." premiered in 2014, and "Chicago Med" followed a year later. All three are still dropping new seasons today. If you're more of a casual viewer, you may not be aware that there was another One Chicago show that never truly got a chance to fly. We're talking about "Chicago Justice."
As the titles imply, each series focuses on a specific subset of Chicago professionals. This one was all about the legal system. However, it only ran for a season before being cancelled. NBC Chairman Robert Greenblatt explained the decision as a "real estate issue," meaning that they were trying to focus on the best shows in the One Chicago world (via Deadline). That explains one short-lived addition to the world. Were you aware that these other shows are also in some way connected, all thanks to one man?
"Law & Order: Special Victims Unit" takes place in the One Chicago world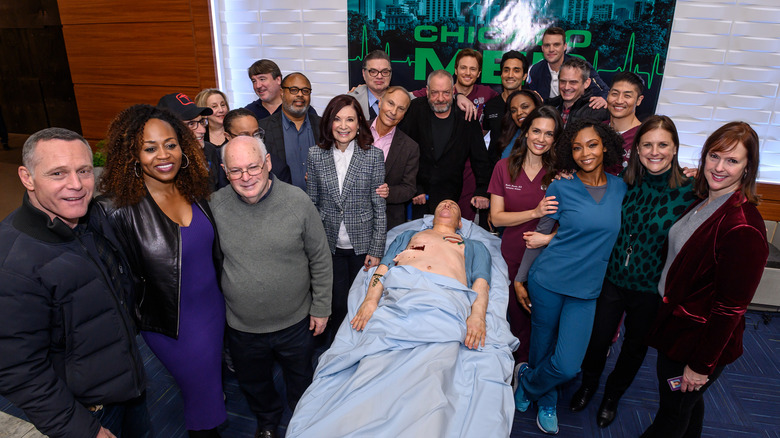 Timothy Hiatt/Getty Images
Longtime TV marvel Dick Wolf is an executive producer on the shows within the One Chicago universe (via IMDb). If his name sounds familiar that's because he's worked on a multitude of shows over the years. His resume includes series such as "Miami Vice," "Crime & Punishment," and, most recognizably, "Law & Order." The latter has special ties to the One Chicago franchise.
In fact, we know for a fact that the worlds are interlinked thanks to a series of crossovers between the two franchises over the years. Most notably, Law & Order: Special Victims Unit" has crossed over with several shows in the franchise (via TV Insider). Back in 2016, Wolf announced the impressive challenge of crossing over between all four of his shows simultaneously. The initial plans did not work out; however, the idea gave birth to an "SVU" and "Chicago P.D." crossover event (via Distractify). More have taken place over the years.
They may take place in different cities (Chicago versus New York City), but it's nice to know that there is a connection between the two beloved brands.
Dick Wolf pulled off a crossover event between networks by combining "Chicago P.D." and "FBI"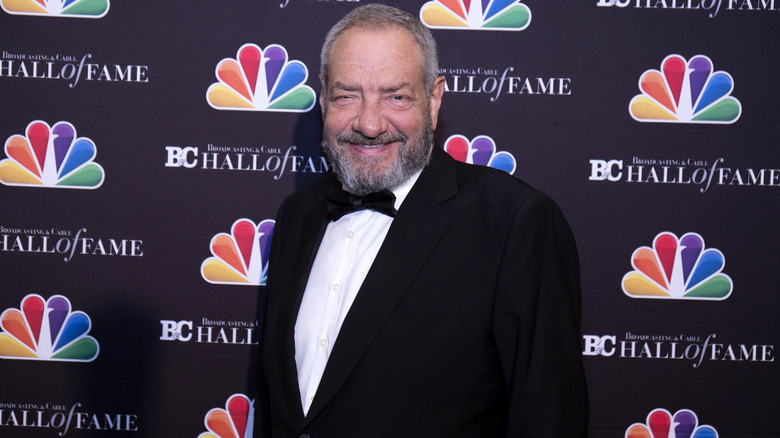 Santiago Felipe/Getty Images
The One Chicago shows run on NBC, which makes it easier for them to crossover. What happens if Dick Wolf is working with another network? Last year, we learned that the producer was able to pull that off when he created a crossover between NBC's "Chicago P.D." and his CBS show "FBI." Rumors began swirling about potential overlap in 2019 and came to fruition in 2020 (via TV Line).
How did he pull it off? "Chicago P.D." sent Hailey Upton (played by Tracy Spiridakos) to New York to help out with an assignment in the local FBI branch. Are you starting to see a connection here? "Tracy's character is a fan favorite, and I'm extraordinarily happy to be shining an even greater light on her and gaining new fans along the way," Wolf said at the time (via Deadline).
Since they pulled off the crossover event, that means that the "FBI" and One Chicago worlds exist in harmony. However, it doesn't sound like you should expect a lot more intermingling for "FBI." It's part of its own multidimensional world alongside "FBI: Most Wanted" and "FBI: International." An "International" showrunner told TV Insider that making the connections work across the greater distance was "harder than even the hardest Chicago crossover that we've done."
Even still, they pulled off one crossover in the franchise, which does technically mean the entire FBI world overlaps with One Chicago.