Why You Might Want To Ditch Leather Pants In 2022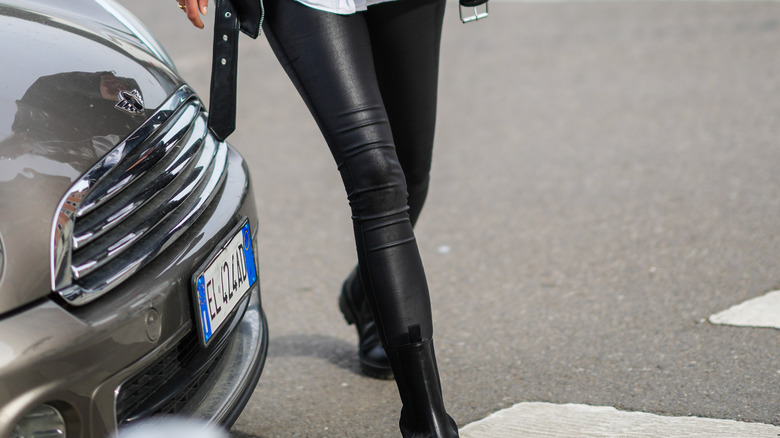 Edward Berthelot/Getty Images
Leather pants have been rock 'n' roll staple for decades. It's hard to imagine The Doors' Jim Morrison, U2's Bono, or Machine Gun Kelly without a sexy, sweaty pair while rocking on stage. You might have given in to the temptation to emulate your favorite icon and found that leather pants are challenge to wear with comfort.
Now leather pants have become extremely trendy as they give an edgy vibe to any look. The shopping app Klarna reported a considerable rise in the searches for leather clothing since 2020, 136% to be exact, with high-end designers including this nostalgic trend in their collections (via Shop TODAY). New York-based stylist Gloria Cospito explained, "Leather pants are extremely versatile, and now there are so many different styles available, there's really something for everyone." 
In the past, leather pants sent a very rebellious, rocker vibe, but nowadays, leather pants can be appropriate for many occasions. They might not be your first go-to outfit when you meet your future in-laws, but you can wear them for (almost) every event as long as you keep your overall look tasteful.
And, while every fashionista wanted a pair in their wardrobe, there are reasons many are considering ditching leather pants for good. Read on to find out why high prices and ethical concerns have many turning away from leather.
Wearing leather pants is an unkind and unethical practice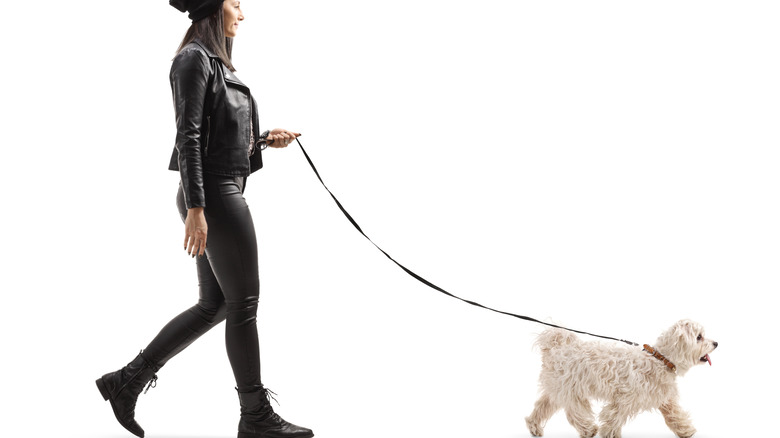 Ljupco Smokovski/Shutterstock
Before you invest in a pair of leather pants, be aware that genuine leather will not be cheap. According to Liberty Leather Goods, the cost of decent pair of leather pants starts from $60 and goes up to thousands of dollars with a designer tag. 
But, for many, there are ethical reasons to avoid leather as it made from the tanning, or chemical treatment, of animal skins and hides. Some people see wearing animal skin as cruel and immoral and cannot justify it for the sake of fashion. According to a study from the University of Oxford, going vegan may be the single biggest way to reduce our environmental impact, lowering an individual's carbon footprint by 73%.
If you love the look of leather pants, you can always invest in vegan leather, faux leather, or coated denim because they have the same aesthetics. But, be aware, according to Harper's Bazaar, much of what is labeled as "vegan leather" is polyurethane-based –– meaning it's not without its own environmental concerns, and can take years to degrade. Like everything else on your shopping list, it is important to research the brands and materials that you're spending your money on as there are valid concerns on both sides.